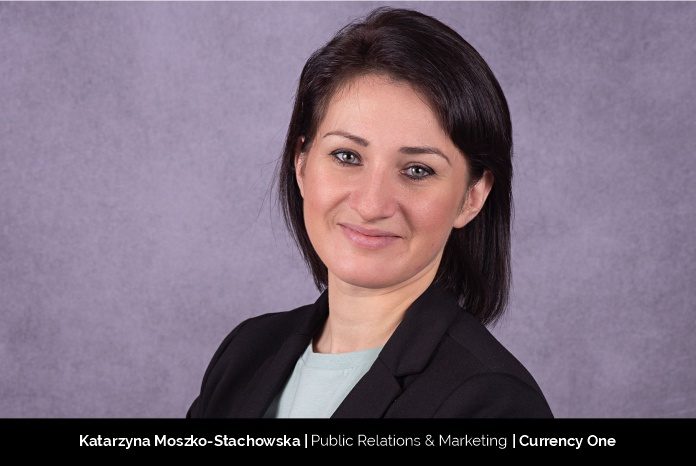 Every leader defines success from his/her own journey. For Katarzyna Moszko-Stachowska, PR manager and Communications Manager of Currency One SA, Open mind, non-standard approach, respect for people and their ideas, and work-life balance form the essence of true success. She states, "Success is not only results but also the joy you derive from your job."
With her invigorating energy, she delivers the best in her job. Having led the communications and employer branding department in Currency One for about 9 years, she has gained ample experience in the field and is perfect in her role. She enjoys working in the technology industry as it keeps proffering more and more opportunities for career growth. Also, she is fascinated by the informal internal organizational culture where everyone is considered as an equal team member.
Valuable Lessons Learnt from Challenges
Being a challenge-loving person, Katarzyna feels that they can help in learning life-long lessons but only on one condition. Elaborating it, she says, "You have to have good people, friends, family, boss supporting you at each step. They could help you learn something when you make a mistake; they will always act as your constant dose of strength and positivity."
When she began the operations of her PR agency, she was only 26 and lacked quite a lot of hands-on experience. Owing to this, she had to face a plethora of hardships in her professional life, such as witnessing the collapse of her company, meeting dishonest people at work, undertaking unsuccessful projects. However, during all these difficult moments, she always received constant support from her friends and family. This has helped her a lot since she is quite emotional. Working for numerous years means having a good experience; however, new challenges and new people add fresh perspectives on public relations.
Brief on Currency One SA
Being the 1st currency exchange service in Poland, Currency One SA has risen to become one of the biggest companies in the online currency exchange market in Poland, with around 780,000 customers. All this has been possible with the help of 2 Currency One platforms named Walutomat.pl and InternetowyKantor.pl, which facilitate different users to exchange currencies in a quick and safe manner.
Also known as the first currency exchange Fintech company in Poland, Currency One also focuses on international money transfers. Further, it has also joined SEPA and SEPA Instant and RippleNet. Integration with these global networks gives Currency One's customers new standards of money exchanges and transfers.
Having a culture that promises work-life balance is a superb aspect that she loves in Currency One SA. She adds, "We focus on supporting the employee, subsidizing sports activities and passions. We also organize events and family picnics. In the office, we have a chillout room, comfortable workstations, scooters, showers, parking space for bicycles, fresh fruit, and vegetables every day. Small things improve the comfort of work."
Katarzyna's role in refining the fintech industry.
As the first company to introduce online currency exchanges in Poland and Europe, Katarzyna was mainly involved in building the credibility of the brand. Being the first in the market, people were unaware of the smooth operations and were afraid to take the risk. She knew that she needed to make them trust their brand's services and let them know about secure financial operations.
She adds, "My task was to build public relations, trust, and recognition for InternetowyKantor.pl and Walutomat. For a few years of my work as PR Manager, it has been successful. Both websites are known in Poland, in the media, and have gained more than 780,000 customers and excellent reviews on the Internet."
She is proud of her work as the Employer Branding Manager as Currency One has now become a firm with an unusual organizational culture which makes it perfect for working. The company has even been considered a desirable employer in Poland.
The Fintech industry is famous for its dynamic nature, and thus, forecasting its future now is difficult. She further shares, "For sure, customers will expect fast, and cheap international payments, processed immediately, facilitations related to the relationship of financial operations performed on mobile devices while maintaining the security of transactions and the industry is developing in this direction."
Life before Currency One SA
Katarzyna had always dreamt of becoming a sports journalist and be the first woman to comment on the football sport. Due to this, she pursued graduation in journalism and management in Poznan. She could complete her dream halfway and became a journalist.
Thus, she worked as a journalist in the press and television for quite some time and then shifted towards becoming a PR specialist in a reputed PR agency. She explains, "PR is closely related to the media, so when I was offered a job at the agency, I accepted it. Each new client/collaborator and each good publication are challenges that make you happy and motivated." After learning about the ins and outs of this field, she planned to start her own company. Ever since 2012, she joined forces with Currency One SA and is progressing in this domain.
Paving the way for excellent Work-life balance
She is recognized as an energetic professional who is confident of her skills and passionate about everything she does. "As a PR manager, I care about the continuity and quality of communication with the outside world. I supervise social media, create press releases for Polish and foreign media to clients. I work with influencers and supervise employer branding activities, internal communication, and the image of the company as an employer," says Katarzyna. Further, she is responsible for working closely with the marketing teams to curate new and exciting ideas for the company's branding.
For her, maintaining a balance in professional and personal lives is highly crucial for higher productivity. Moreover, she has even read several scientific pieces of research that have proven that a satisfied employee brings higher growth prospects for the company. Thus, a perfect work-life balance is a key to staying motivated at work and attaining higher satisfaction levels at work.
She herself keeps a work timer and completes all her tasks within 8 hours so that she can enjoy her digital detox time with her family after that. With this defined limit of keeping her computer and phone off after work, she never feels tired and always turns on the computer the following day with a happy face.
Charting out future goals
Katarzyna will keep following her responsibilities to deliver excellent content and build brand presence to furnish company image globally. She also shares, "My personal goal is to be satisfied at work and to be a happy person, happy wife, and mother to my two daughters."