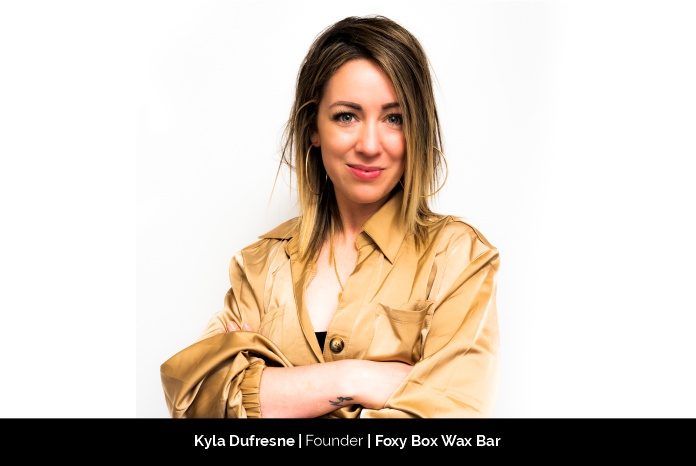 Bringing happiness to everyone is the definition of success for Kyla Dufresne, Founder of Foxy Box, and she is steering her business in the right direction to fulfill that goal. She wants to empower the woman's community by making them aware of their own bodies and offering proper education. She aims to spread the roots of Foxy Box in the whole world, helping and empowering women.
Laying the foundation of the company
Kyla never wanted to settle for a day-to-day job and wanted to grab new opportunities and explore new challenges. Soon, she started her own clothing line with the brand name 'Lyrik' and started selling t-shirts at music festivals and a few selected stores. This initiative sparked her entrepreneurial zeal.
She adds, "I could see that if I put in more work, I would reap more rewards and financial gain. Although I couldn't figure out how to scale a clothing line, the idea of running my own business really resonated with me. I wanted to put in my hard work and see the payoffs personally instead of just working so creatively and hard for someone else."
In 2012, Kyla started Foxy Box with a mission to inspire and empower women. She expresses, "The foundation of the brand was really my deep desire to create better opportunities for myself and those around me. I've always admired business owners. From a young age, I idolized them like rockstars. And now that I've had the opportunity to own and operate my own successful businesses, I want to inspire other women to follow their dreams."
The intent behind the company was franchising and taking over the world one box at a time. Kyla wanted the Foxy Box Brand and Energy to be felt by women around the globe. Through a lot of hard work, trials, and tribulations, currently, the brand has seven locations across the province and an incredible group of franchise partners.
She adds, "Through hard work and dedication, we've succeeded in systemizing our processes and creating a winning brand that can be scaled and easily replicated, all while keeping our culture alive. I can't wait to see what we achieve together next!"
Embracing the hurdles along the way
Kyla believes that failures provide the best education, so it is important to learn lessons from them rather than losing hope. The biggest challenge in her life was stepping into the franchising world without having proper knowledge about the norms and other protocols. The first business association went sideways but allowed Kyla to mature and do things correctly.
To overcome this pitfall, she hired a franchise coach and worked with her for a year to systemize everything. She adds, "From our pre-opening processes, look and feel guide for construction, and guides for everything like how to hire, how to make tough decisions, seasonal marketing strategies, dress codes, training curriculums, we've got all these things buckled up tightly. We now stand over-prepared to go to market and support our Foxy Franchise Partners."
There were several other challenges in her life that allowed her to hone her leadership skills and structure her current brand in the correct way.
She expresses, "At the end of the day, I'm actually very grateful for each of these experiences. Every single bump in the road has taught me something important about my company and at the risk of sounding a little cheesy about myself and about life." Crossing the hurdles in her past allowed her to be more confident and spearheaded her brand in the right direction.
Empowering women with quality services
Foxy Bar is a Wax + Laser Franchise that offers the quickest, most effective, and most fun hair removal services on the market. She adds, "We don't see waxing and lasers as just means of hair removal. We are co-creating a movement to make women feel energized and powerful in their bodies. We're on a mission to inspire and empower women to celebrate their uniqueness and rock what they've got."
The company offers Total Convenience, Unmatched Consistency, and The BEST Hair Removal Experience Ever. She adds, "We've done the work to determine who we are and why we exist, and who we want to align ourselves with as a brand. To be a part of the Foxy brand, you must have three things – a positive attitude, self-responsibility, and empathy. We have decision-making funnels and guidelines of how we want every end-user that experiences our brand to leave feeling, which makes decision making easy."
Tapping into the world of franchising
Kyla wants to take the Foxy movement worldwide, so she stepped into the world of franchising. Starting with two corporate locations, they have now expanded to six stores, with two more coming this Spring.
She expresses that Foxy Box Franchise is a wonderful investment opportunity, and the notion is backed up by several facts.
She states, "We have an extremely impressive potential ROI for franchise owners. With a typical start-up cost for a business and applicability in most markets, the concept is financially sound. The numbers are extremely impressive in the franchise marketplace."
Their model is operationally simple and can be replicated in markets across Canada. The flagship prototype locations are being run efficiently with high levels of service, systematic processes, repeat customers, and professional and friendly staff.
She further adds, "Our model is adaptable nationally (and internationally) as long as the brand is focused on growth in markets that have the proper density of clientele. We expect the franchise will be readily accepted by the customer base in any market with qualifying demographics. We have a specialty niche market that allows us to focus on what we do best, hair removal and female empowerment. This helps us attract the best staff as well as informed customers."
The business model is designed to be simple in order to remove operational complexities and shorten the ramp-up time for someone to generate cash flow and profitability in their franchise.
The team is fully prepared and offers a phenomenal investment opportunity with excellent working methodology and warm culture and environment.
Leading upfront by wearing the hat of the founder
Taking the onus of the role of the founder of the company, she constantly looks for ways to innovate to rise to new levels. Other than that, she supports her franchisees in the success of their businesses.
She looks to surround herself with the most talented team and enjoy the work rather than feeling crazed or stressed. She believes in celebrating every success, no matter how small or big.
Future prospects of the company
Kyla wants to launch Foxy Foundation in the coming years to give something back to the community directly. She adds, "Other plans for Foxy Box include expanding across Canada and entering the US market strategically. Not growing beyond our means and support structure but growing methodically and thoughtfully instead. I want to continue creating fulfilling and enjoyable employment for women across the continent and then the globe."