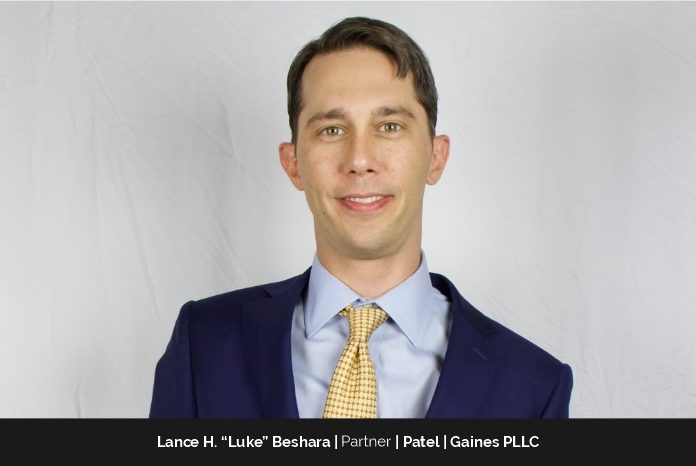 A partner at Patel | Gaines PLLC with over 18 years of legal experience, Lance H. "Luke" Beshara harnesses imagination and creativity to devise strategies and solutions to resolve the issues facing his clients in both a practical and cost-efficient manner.
As part of his transactional and dispute avoidance and resolution practice, Luke advises clients on proper strategies for business formation, negotiation of contracts, and resolution of disputes. Luke's client base is diverse and includes individuals as well as businesses spanning across most industries. As part of his practice, Luke regularly assists clients with matters involving real estate acquisition, leasing, and disposition; secured transactions; commercial litigation; property tax; bankruptcy (creditor); antitrust; construction; securities; lender liability; insurance coverage; employment; consumer protection; personal injury; and probate planning and litigation.
Work Ethic & Discipline Shape the Representation
The proud son of an Air Force pilot and a loving mother, Luke was taught the value of hard work and integrity, which serve as the blueprint of his practice: "From my youngest years, I always knew that hard work was the only way to succeed in life.  My mother and father instilled a work ethic, discipline, and pride that drive me in every aspect of my life."
A native of Aledo (a suburb of Fort Worth), Luke graduated from Texas A&M University (College Station) in 2001 with honors with a degree in genetics, and then graduated with honors from The University of Texas School of Law in 2004.
As an attorney, Luke to help his clients: "Still to this day, I realize that the most important part of my job is helping people in need, and it is an honor and a privilege to have the opportunity to do so."
The Mission of Luke's Practice
When he joined Patel | Gaines PLLC, Luke was tasked with assisting existing clients as wells as expanding the footprint of the firm to the D/FW metroplex. Luke credits his partners, Rahul Patel and Grant Gaines, for allowing him to take the next steps to further his career: "Their confidence in me and our firm made my decision quite easy, and I heed their words of wisdom daily in my practice: 'Our profession requires us to find a solution even when it appears impossible.' This mission statement sums up the purpose of my career."
Focus on the Benefits to Clients
Luke's goal in his dispute avoidance and resolution practice is to assist clients to efficiently and cost-effectively to avoid if possible and resolve, if necessary, disputes, whether before state or federal courts, or private arbitral bodies.
In his transactional practice, Luke advises clients on best practices and procedures to structure transactions and business entity formations to achieve the goals of the transaction and prevent costly and protracted disputes.
Results-Oriented Representation
Luke thrives when presented with challenging legal issues because they present him with opportunities to achieve the best results for his clients: "When presented with difficult issues, I excel in achieving results for my clients due to the breadth of my experience. I have encountered such a variety of issues but remember every one, which allows me to provide unique insight on a wide variety of matters."
Luke measures success one matter at a time and by the results he achieves for his clients. "Every representation I accept, my goal is to make sure my client achieves the best possible result in the most cost-efficient manner. Therefore, it is imperative that, from the outset, I discuss my client's goals to make sure the client's interpretation of success is possible to achieve."