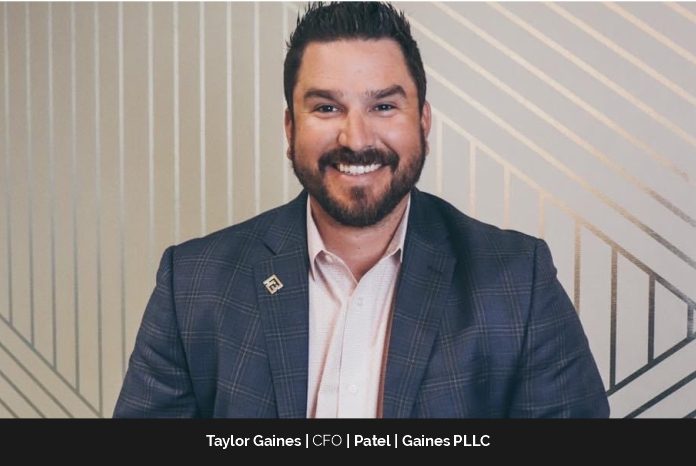 Taylor Gaines, CFO of Patel | Gaines PLLC, wasn't always enthusiastic about doing tax returns and bookkeeping. His passion lay in the great outdoors – hunting and fishing.
Having obtained a Bachelor of Business Administration in Accounting with a concentration in Income Tax Accounting from Texas A&M Corpus Christi, Taylor went on to earn a Master's degree in 2015 from Texas A&M – San Antonio.
Having the resilience to bounce back from setbacks
Before joining Patel Gaines, Taylor worked as the office manager and accounting assistant at San Antonio Accounting Firm. In addition to managing the company's operations, he worked closely with clients to meet their accounting needs, such as payroll, financial paperwork, and the preparation of both corporate and individual income taxes.
After that experience, Taylor worked in tax accounting for a few years, primarily focusing on bookkeeping and tax return preparation. "After a few years, I realized that I didn't want to do tax returns for the rest of my life. I decided to pursue my ultimate dream of being a fishing guide on the Texas coast," he states.
Taylor made the leap, moved to the coast, and started guiding, but was cut short after only eight months of moving down to Rockport. "Hurricane Harvey made landfall which ultimately destroyed everything I had there. Hurricane Harvey kicked me back to San Antonio, which led me to where I am now," he reveals.
That's when the opportunity came up to join forces with his brother, Grant Gaines, and his brother's legal partner, Rahul Patel at Patel Gaines. The rest is history. "I believe everything happens for a reason, and what seemed like a giant scar and setback on my career, led to another door opening to the successful path – the great team I am currently working with," Taylor declares.
The drive to excel as a professional
Taylor admits that, from a young age, he always looked up to individuals that have had a dream or goal professionally and made it happen. "I've always looked up to people like my parents and older brothers, Grant and Greg. Being the youngest sibling in my family, my brother's success professionally has always driven me to be a better person professionally," he observes.
As Patel Gaines' CFO, Taylor mostly collaborates with the firm's partners to supervise its accounting and financial procedures. He oversees the accounting department and is responsible for creating and upholding budgets, making forecasts, planning all bookkeeping, supervising accounting records, and guiding the company's financial expansion.
Because of his past experience, Taylor has the expertise to know the ins and outs of accounting, record keeping, preparing and filing tax return paperwork, and corresponding with the IRS. His strong background, experience in finances, and keen attention to detail, indisputably make him an instrumental part of the firm.
Successfully navigating the challenges of COVID
Taylor believes that success can be defined differently for every person and comes in stages as you grow in your professional career. According to him, when you set goals and accomplish them, that is ultimately success. These accomplishments or goals, and what the impact has been from those actions on the people around you and in the world, can define what you individually feel like is success.
Taylor notes that challenges and roadblocks are essential building blocks to one's professional success. He maintains that if the road was easy, then everyone would do it, but it's when the road is tough that defines how much you, as a person, strive to accomplish your goals to be successful.
"I have had many roadblocks and challenges so far in my career, but the one that sticks out the most recently, was in having to navigate COVID, and all the changes and uncertainty that came with it. It was a challenge to make sure that you, not only as a business owner were able to keep your employees working and paid, but also had to navigate working with our clients and understanding their challenges, so we can support them in the best way possible," he recalls.
Taylor does take pride in his biggest accomplishment, which he feels was in overcoming and working through the adversity and challenges they faced in the last two years of business. "We take great pride in our employees. I believe it was a great achievement for us to say that we didn't have to let go of any one of our employees, and we kept everyone employed and paid during the pandemic," he remarks.
Taylor proclaims that he wants to show this upcoming generation that hard work, being a steward of ethical practices, and understanding that it takes a team to ultimately achieve your goals, are very important to a long successful career. "My father used to always tell me as a business owner, that 'you are only as good as your employees'. I still live by this principle today," he reveals.
Turn loss into a gain & grow professionally from it
In terms of work-life balance, Taylor believes in the saying: Work hard, play hard. "You work hard to be successful and make your team successful. If you can't make the time to go enjoy your personal life, then what are you working for? Work is a means for you, as a leader and business owner, to help others achieve their goals," he observes.
When he isn't working, Taylor might be found hunting, hanging out with friends and family, or watching sports. He also spends a lot of his leisure time on the Coast, engaged in his passion of being a fishing guide.
Taylor's personal goals as a business leader are to try and be the best at whatever role he is in, and to ultimately impact his team and other professionals around him in ways that help them achieve their goals or guide them to take those leaps of faith.
"As a leader, I encourage others to strive to be the best they can be and take every loss as a learning experience. There is no such thing as a loss if you take away lessons from it. Turn it into a gain and grow professionally from it," he advises.
Taylor's advice to aspiring business owners is that "You will get knocked down many times in the business world but continue to get back up and push forward. When one door closes, you can always find another door opening, if you work hard enough."