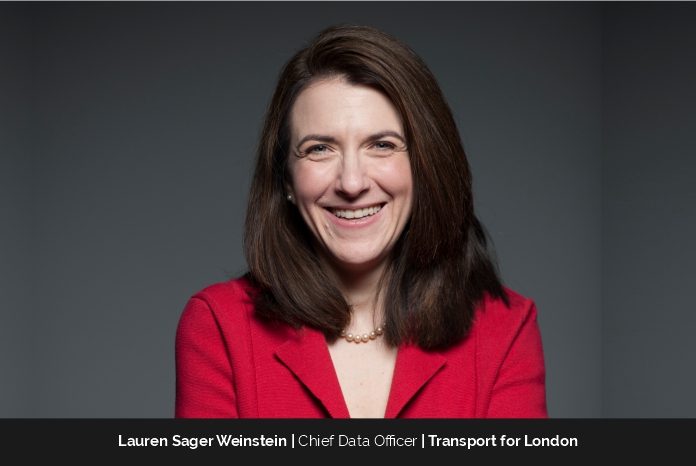 As kids, we all had goals of what we wanted to be when we grew up. These goals and dreams depend on various factors and help us stay headstrong on our journey to achieve them. Lauren Sager Weinstein, Chief Data Officer of Transport for London, came from a family of scientists and technologists, where she was always surrounded by tech at home. She grew up in the suburbs of Washington DC, the USA's Capital, with friends and family who worked in Government, so it's no surprise that her career has been shaped by her childhood experience.
Lauren studied Public Policy and International Affairs at Princeton University, and then moved to Los Angeles and worked for a Council member at the City of Los Angeles. "I was responsible for constituent and planning services for the exciting Fairfax/Melrose neighborhood. I'd been interested in the role that transport plays in shaping cities' development over time, but my early job gave me the chance for on-the-ground training on how transport networks influence how cities function" she says. She completed a master's degree in Public Policy at Harvard's Kennedy School and then, in 2002, hopped across the pond and has worked at Transport for London (TfL) ever since. She has worked across many areas at TfL, from business planning to finance at the London Transport Museum, and she has been instrumental in helping develop the Oyster card and Contactless ticketing systems before building up TfL's data function.
Success Is No Accident
Lauren states that success for her is the ability to do something useful, with a purpose for society, and positively impact the city that she serves. That is what keeps her going. Answering phone calls for the City of LA and dealing with issues from tree pruning to traffic levels, she learned that success is just as much about getting the little things right as the big things. "Success in terms of technology and data is much the same. It is not just about having the tools to hand, but how we use and apply them that counts. Looking at the opportunity for data to measure our success is also exciting – there is so much understanding to be gained that can help to inform how we work in the future" she explains.
Setbacks Are a Vital Part of Growth
"I think it is vital to understand that truly making a difference takes resilience, and sometimes things do not work as well as expected or intended. The ability to take this head-on and embrace feedback is fundamental to emerge from challenges" states Lauren. "If you are trying to achieve something big, you will likely face a setback at some point. Having the patience to persevere and look at how you can learn from this is what turns that setback into an opportunity for growth," she adds.
Transport for London and Its Services
TfL is responsible for overseeing the day-to-day operation of London's public transport network, including the Tube, buses and some rail services, as well as managing the capital's roads, running a cycle hire scheme and being the strategic planning body for transport. The role of data is key in this and has proven particularly valuable throughout the pandemic.
Understanding how people are travelling is quite interesting normally, but the pandemic and the uncertainty it created has enabled TfL to look at what was going on across the city in a new way. "We have already discovered some interesting patterns, such as certain station groups seeing more demand than others, which helps us to map out the situation clearly and effectively" Lauren explains.
She says that the nice thing about TfL is that, because it is a city-wide public sector transport provider, they get to take an integrated look at how to encourage people to travel more sustainably rather than having to focus on competitors. "It is a win-win for TfL and our customers – we can learn from different agencies and collaborate across the transport sector, sharing knowledge and best practice."
The Change Brought About by Transport for London
For many years, TfL was looking at how to modernise the way that their customers pay for their travel and, in 2014, they were able to achieve this with the roll-out of contactless payment across the network. Contactless payment acceptance allows customers to use their bank cards or phones to touch in and out for travel, avoiding the need for them to buy a separate ticket and pioneering a more accessible transport system for all. Lauren led the initial customer proposition and business design for contactless payment acceptance, and she says that it was very exciting to see how an idea – planned out in early workshops with a handful of people – came to life and transformed the way that people travel, not just in London, but now across the world.
Transport for London led the way in the transport industry and the process helped shape the payments industry's strategy. It has made life easier for TfL's customers and has allowed them to make savings in the cost of revenue collection, enabling them to reinvest money back into London's transport network. "It was so rewarding and exciting to stand in a station when our service went live and watch this in action" she exclaims.
Lauren believes there is an opportunity moving forward to understand how to support more sustainable travel in the city, starting with walking and cycling, and to transform how TfL uses data to understand the vital role the organisation has in decarbonising London's transport network.
Roles And Responsibilities as Chief Data Officer of Transport for London
Lauren's role as Chief Data Officer is to lead TfL in using their vast amounts of system data to transform how they plan and operate transport in London. She supports decision-making and improves customer service by providing the data tools and algorithms that TfL uses to plan and run the transport network. In a single day, TfL collects millions of pieces of data – for example from ticketing transactions and vehicle telemetry. "Under my leadership, the team of developers and data scientists transform this vast amount of data into tools for action. I built our Data and Analytics department – a team of data scientists, data software developers, and analytics translators who provide data tools for TfL to understand customer travel behaviour, and analytic tools to operate and plan London's vast transport network," she reveals.
Her workdays vary – from meetings with policy and planning colleagues about how London is recovering from the pandemic, to speaking to operational teams as well as colleagues across TfL's Technology & Data department about how they can better use data. One of Lauren's favourite days is her team's Sprint Review Day – which is when, once a month, the Data & Analytics development streams present the work that they have been doing over the previous four weeks. "Essentially, much of my time and my team's time is spent designing, creating, and implementing specific data tools to support various business functions, such as real-time busyness information at Tube stations or network demand reports, so that we can take action based on our data," she explains.
Achievements As a Leader
Lauren feels very fortunate to have led TfL's data during two momentous times: back in 2012 during the London Olympic and Paralympic Games, and then over the course of the pandemic. Both of these periods were times when there was a great interest in understanding travel patterns across London. During the 2012 Games, London opened up to the world and TfL was responsible for ensuring that athletes and spectators made it to venues whilst the rest of London travelled around the city. "I led TfL's data analytics support during this time, and it was so exciting to know that my team's data analysis helped contribute to London's success during the Games" she states with pride.
From the very start of the pandemic in March 2020, Lauren's team has been providing information to understand the impact of the coronavirus in order to inform TfL's operations and more broadly to inform the UK's public policy. They have continually monitored travel trends to see how customers were adhering to advice and regulations during the different stages of the pandemic, and their ability to share that information with partners such as the Department for Transport has helped others to understand what was happening and alter public and stakeholder messaging accordingly.
"Data has consistently been used to respond, shape, and underpin policy; it has had a clear operational impact too in helping us run our services. The TfL Go journey planning app has been essential in keeping their customers informed of quiet and busy times at stations so that customers can plan their journeys more effectively."
Work-Life Balance
"You need to create a team environment that enables people to feel energised and motivated while offering a good work/life balance" says Lauren. She mentions that, within the workplace, facilitating a sense of community and shared purpose is also extremely valuable.
She knows that building space in a busy life for meditation and exercise helps support health and wellbeing for herself and for her team. And for Lauren, it's important to build in time for joy in her life as well—which she does as a Soprano in London's Voce Chamber Choir.
Lauren's advice for aspiring businesswomen is that they should be bold and open to new challenges. She has always loved the intersection of technology, policy, and public service and knowing that other people are also fascinated by creation helped her gain the confidence she needed to progress with her career. She also notes that you do not have to have it all figured out – and has herself had help from others further along in their career paths, inspiring her to become an active member of networking organisations such as Women in Data, and a board member for Women in Transport. Realising that there is more out there is what kept her going – you either find it or you build it!