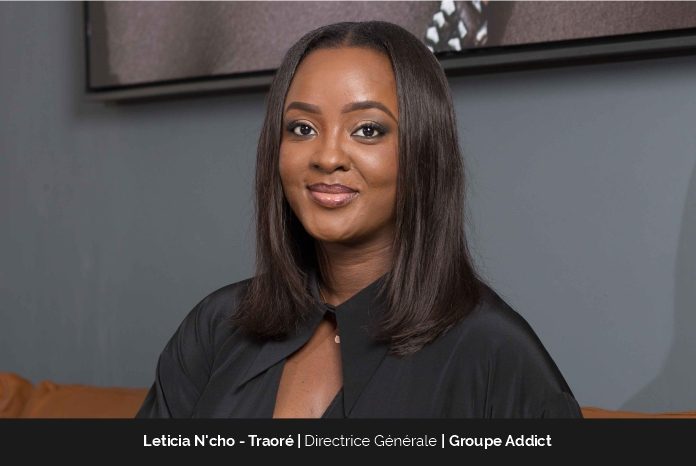 Leticia N'cho-Traoré was honored with the Woman Entrepreneur of the Year award at the MEDEF event held in Nairobi on March 7, 2018. Although her academic background includes training in accounting, finance, and political science, Leticia has predominantly worked in marketing and communication. She views this field as a calling and has pursued it based on her interests and the opportunities that have come her way. Leticia's career path has been unconventional, and she possesses a remarkable ability to adapt to changing circumstances. She is passionate about learning and regularly pursues additional degrees to expand her knowledge. Leticia's personal experiences have made her a natural at public relations, and she is easy to approach while remaining demanding of myself and others. She thrives on challenges and relishes the chance to overcome obstacles.
As CEO of Groupe Addict, Leticia's primary responsibility is to concentrate on devising the company's growth strategy by dedicating her time and resources towards exploring expansion possibilities that align with the company's vision. In addition, she manages her team to ensure that they meet their goals. Consequently, she spends most of her time establishing and maintaining relationships with current and prospective business associates in Côte d'Ivoire and globally. Her work entails planning sessions with the board of advisors, partner meetings, traveling to negotiate contracts, and performing extensive financial analysis.
Prior Professional Experiences
Leticia pursued an accounting career before transitioning into consulting. In 2004, she founded her first company in France. Following her return to Côte d'Ivoire, Leticia held various positions such as strategy and development manager, sales and marketing director, deputy general manager, and general manager responsible for 26 French-speaking African countries within sub-Saharan Africa. Despite having extensive experience, Leticia returned to Côte d'Ivoire and accepted a job with a significantly lower salary than what she had been earning in France. This was because she wanted to continue learning and start from scratch in her new environment, working her way up the corporate ladder. She says, "My biggest achievement is to now be recognized as a professional with an eye for detail, as a leader, and as someone to be reckoned with."
Groupe Addict
Groupe Addict is a company specialized in assisting companies in strategy consulting (corporate and marketing strategy and business development). Today, Groupe Addict is particularly dedicated to assisting small and medium-sized organizations with various issues inherent to the life of a company. Its values are respect, integrity, service, excellence, and passion. The group is composed of 5 subsidiaries in the fields of communication, luxury conciergerie, catering and agribusiness, and real estate. The company's perfect knowledge of the African economic environment is the keystone of the success of its recommendations.
Learnings from Mistakes
Leticia also opened and closed several businesses throughout her career, and she, too, made some mistakes along the way. Her mistakes were mostly beginner mistakes, such as mishandling earnings and failing to meet commitments, which resulted in damaging some business relationships. She realized that earning a lot of money at a young age could cause her to lose sight of her vision and drift away from her goals. Leticia also understood that being organized was not sufficient; she needed to have formal contracts in place and not neglect the crucial administrative aspects of running a business.
Leticia holds the belief that a leader, regardless of gender, confronts similar challenges and objectives. The key is to demonstrate one's own capability to accomplish the job and to establish oneself as a skilled and competent leader. As a young leader, regardless of gender, it is vital to showcase one's abilities. However, as a female leader in today's society, the primary challenge lies in managing all the roles that come with being a woman, while also dealing with the societal expectations and pressures that come with those roles.
Working as Consultant
Through her past failures and experience as a former general manager overseeing operations in 26 sub-Saharan African countries, Leticia gained a better understanding of the business environment. This knowledge has allowed her to develop a level of confidence in her ability to assist others in building successful businesses. Over time, Leticia became a coach, mentor, and advisor to managers, even those who were older than her, due to the need for guidance in the process of business growth and the loneliness often associated with the managerial position. This has led to the growth of the coaching movement, which can be seen everywhere today.
According to Leticia, consulting services have a promising future. Small and medium-sized enterprises (SMEs) often lack the financial capacity to hire senior managers, and thus require the outsourcing of consulting services. As a result, consulting services are not going anywhere and will continue to be in demand.
Success for Leticia
Each person has their own unique background and journey, and therefore, one should not compare themselves to others. Leticia aims to demonstrate that hard work and determination can lead to success, regardless of one's humble beginnings—a goal that resonates with her as well. In her opinion, success means accomplishing one's goals, and even though Leticia is grateful for what she has achieved so far, she still has other goals she has yet to reach. Therefore, she does not consider herself "successful" at the moment, as she is still working towards her objectives.
Finding True Passion
Like many other children, Leticia went through several dream professions as she grew older. At some point, she wanted to be a pharmacist, and at another time, an ambassador. However, business has always come naturally to her, and she has always been drawn to the idea of making money. From a young age, Leticia was interested in creating opportunities for herself to make money and attain financial freedom. She caught the "entrepreneurial bug" at an early age and sold various items in middle school to supplement her pocket money. This entrepreneurial mindset eventually led her to start her first business in France at the age of 24. She spent a year preparing and working on the project before launching it, but the decision to start a business was a no-brainer for her.
As someone who has a passion for business and entrepreneurship and has gained valuable experience as a business owner on two continents, becoming a serial entrepreneur was the natural next step for Leticia. Her desire to create value regardless of the business type led her to pursue consulting as a viable option. Leticia's goal was to provide businesses with the support that she wished she had when she started her first business. By offering her expertise and an objective perspective, she aimed to assist companies in making informed decisions and achieving growth.
Supporting Others
Leticia finds her journey in leadership to be fulfilling, as she has been able to assist companies in improving their management and achieving better results. She also takes great pride in giving back to up-and-coming businesses through mentoring. To Leticia, true leadership means being of service to others. While she appreciates the notion of power, she believes that it should be utilized in the service of others. For Leticia, a true leader can transform people's lives through their words and help them access power. This includes the power to be oneself, the power to perform tasks effectively, and the power to assist others.
Following Smart Ways to Achieve Balance
Leticia surprises many by treating every aspect of her life as a project and approaching each one with the same level of rigor. She is a big fan of planning and organization, which helps her navigate life smoothly. She uses a digital calendar that syncs across all her devices to keep track of everything. Typically, Leticia starts her day by taking care of herself and her family before heading to work or any scheduled meetings. She asserts, "The real problem people face is that they want to separate things as if they were living multiple lives. You are all things at the same time, so you deal with things as they come."
Message for Aspiring Leaders
Leticia's message to aspiring black professionals and businesswomen is to stay focused on their own vision and goals. She advises them to ensure that their vision and goals are crystal clear and not to borrow someone else's dream or seek a blueprint to success. Leticia believes that each individual is unique, which makes life interesting and colorful. Therefore, she encourages people to have their own experiences, obtain the necessary education and training, and position themselves as experts in their field. Leticia emphasizes that while no one is irreplaceable, one's absence should be noticeable. She also advises people to identify with the values portrayed by role models rather than their own lives and to write their own stories, which will make them more beautiful because they are uniquely theirs.
Bringing Everyone to Achieving Common Goal
Groupe Addict's identity is pan-African, and it remains open to the world with the ambition of being a major player in the economic development of Africa. When it comes to motivating her teams, Leticia does her best to lead by example and communicate her vision clearly. She makes a conscious effort to let employees know that their contribution is valuable. She wants to make sure that they understand that everyone plays on the same team. She states, "If the company does well, we all benefit from that success, and the opposite is also true. It sometimes translates into joining them on certain tasks and dipping in and out of operations on certain projects."
At present, Groupe Addict is focusing on growing the agribusiness and luxury parts of the business so that it can become leaders in those industries in the near future.