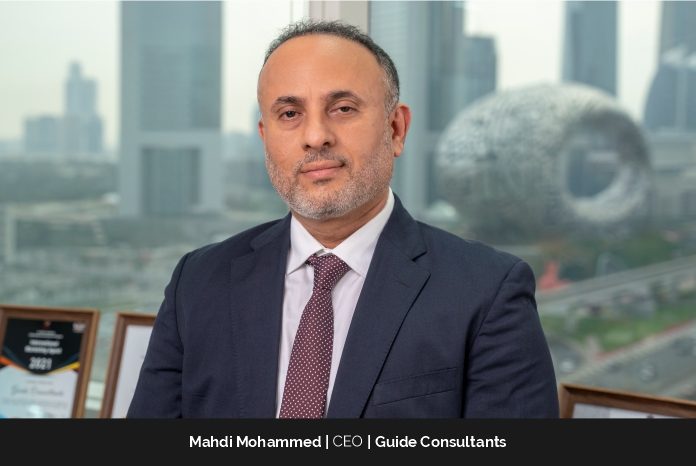 Like most great businesses, Guide Consultants was founded to solve problems affecting citizens of many nations from the Middle East, Asia, Africa, and beyond. As a global businessman and entrepreneur, Mahdi Mohammed, founder and CEO of Guide Consultants is intimately familiar with the importance of being able to travel, work, and live freely around the world, without being stymied by country-specific entry and residency restrictions. Increasingly aware of the personal and professional difficulties experienced by investors and their families facing movement constraints, Mr. Mohammed began thinking about starting a company that specialized in helping people obtain citizenship and residency by investment. His belief is that "no one should be limited by their citizenship."
Guide Consultants' growth under Mr. Mohammed's exclusive leadership
From a single employee to over 30; from one office to seven offices globally; from tens of clients to thousands; Guide Consultants has grown at a remarkable rate from the time Mr. Mohammed started the firm in 2016. In addition to the individualized citizenship services provided at Guide Consultants, they now own and operate multiple informative websites across the economic citizenship landscape. As Guide Consultants' business has expanded, these websites have also experienced rapid growth. For example, last year, VisaIndex.com hosted just 2,000 visitors per month. This year, traffic rose to an average of 1.1 million monthly visitors, to an average of 13 million viewers per year. Another of their websites, SchengenVisas.com, has an average of 7 million visitors per year.
So, between the official Guide Consultants website, www.guideconsultants.com, and www.visaindex.com and www.schengenvisas.com websites, they have about 26 million visitors per year. These page views do not include the traffic garnered from their other websites, which include: www.TurkeyVisas.com , www.DubaiVisas.com, www.SaudiVisa.com, www.QatarVisa.qa.
Mr. Mohammed, states that as the founder and CEO of Guide Consultants, he is the chief architect of the company's overall strategy, responsible for orienting its future direction and setting the standard for his employees.
The beginning of Mr. Mohammed's career as a global businessman
In 2010, Mr. Mohammed was approached by a businessman who wanted his help acquiring a second citizenship. "My first client was extremely satisfied with my role in his ultimately successful citizenship application, and I found that I derived great satisfaction from helping him achieve his unique goals," he says.
Mr. Mohammed realized that he was not only good at this, but that he enjoyed it and found it interesting. He also realized there was space in the industry for someone like him: an outsider with a fresh perspective and genuine interest in an individualized approach to client services.
"As a leader, there is no greater recognition than the positive testimonials I receive from clients who report excellent interactions with my employees," states Mr. Mahdi Mohammed.
Success is a constant and ever-evolving pursuit
One should always be open to re-defining what success means to oneself. Mr. Mohammed personally thinks it's wrong to conceive of success in terms of money or objects. As in, "I'm a success because I made this much money or because I own this type of car." Nor is it helpful to imagine success in static terms, as a kind of final destination you work to arrive and remain at indefinitely.
He believes what distinguishes successful people from the rest, is that their definition of success isn't the single-minded pursuit of a specific objective, but rather, forward motion toward an ever-moving target. He states that he has a healthy appreciation for what he has achieved professionally.
"While I respect where I am today, complacency has its own kinds of risks. If you're not being challenged, you can't grow—my professional career is a testament to this adage," Mr. Mohammed says. He further states that his current success is the result of his past professional failures. How he responded to those failures, what he learned from those challenges; all of this informed his approach to Guide Consultants.
Attaining professional success by overcoming challenges
"I am where I am today because of the challenges I faced earlier in my professional career," states Mr. Mohammed. He was jobless for a year due to the 2008 financial crisis. With the support of his family and not much else, he decided to enter the Citizenship by Investment (CBI) industry. Undeterred by the poor economic climate – and the fact that he had no background in CBI, he took the leap.
Despite his unfamiliarity with the industry, as a Yemeni, he was intimately aware of the advantages of holding dual citizenship. "My nationality–instead of holding me back—in this context helped me relate to my clients and understand their goals," he claims. This unique perspective, along with persistence and a commitment to attaining an expert level of relevant knowledge helped him overcome significant barriers to ultimately emerge as an industry leader. "Had I not been faced with unemployment; I perhaps never would have shifted careers. As a businessperson, you should always be seeking out challenges, and encouraging your employees to do the same. This is how success is achieved, maintained, and perpetuated," explains Mr. Mohammed, who defines himself as a 'Survivor'.
Mahdi Mohammed's plans for the future of Guide Consultants
Mr. Mohammed claims that he has achieved many of his dreams but he's nowhere near finished dreaming. He is a curious person, and he has a lot of ideas and interests that he hopes to explore.
Going forward, Guide Consultants aspires to exist definitively as the #1 company for second citizenship, golden visa programs, and visa services. On a personal level, Mr. Mohammed would like to establish an academy where young people can learn different coding languages to gain an advantage in an increasingly crowded job market.
Staying motivated to maintain a work-life balance
"I am still trying to figure out how to balance work and home life," Mr. Mohammed states. As a father of five, he wants to set an example of hard work and discipline but also be an active presence in his children's lives. He feels lucky to have a wonderful wife, Eman, who has helped him achieve a degree of equilibrium.
Mr. Mohammed is motivated by a sincere interest in what he does, the satisfaction of knowing that his work is meaningful, and the awareness of his responsibility to their clients. He looks to hire people who are similarly motivated – who understand the importance of what they do and take professional pride in delivering high level services. In addition, he also tries his best to be as accessible and visible to them as possible, believing that if they see him working hard, they will try to match his enthusiasm and efforts.
Mr. Mohammed's message to everyone out there is: Never give up on your dreams! Be prepared to face challenges and adapt to overcome them. If you are not failing, you are not growing – this motto applies to life as much as it applies to business.