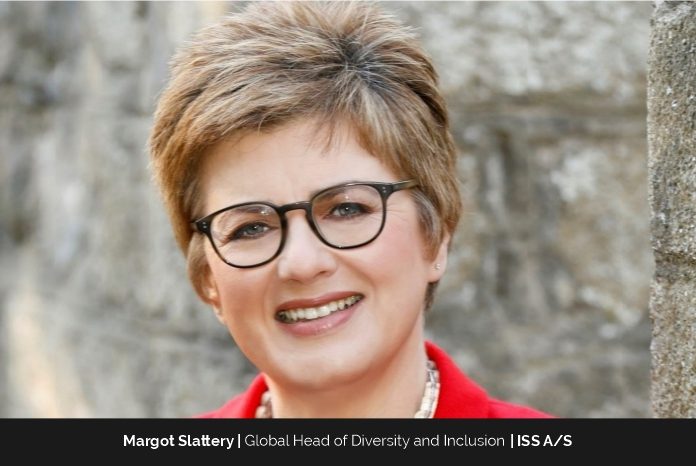 A workplace that values and celebrates diversity can lead to higher job satisfaction and lower turnover rates among employees. This is because employees feel valued and respected and are more likely to be engaged and invested in their work. Companies that are seen as diverse and inclusive can attract a wider pool of talent and customers. This can also positively impact on the company's reputation and brand image.
Margot Slattery, who serves as the global head of diversity and inclusion at ISS A/S, is highly regarded for her dedication to promoting diversity and inclusion and empowering women in the business world. She has been included in the Financial Times' list of "Top 100 OUTstanding LGBT Business Leaders" since 2015. In 2018, she was honored as the FM Leader of the Year at the Facilities Management Awards in Ireland and received a Business Leaders Award at the WXN 25 Most Powerful Women in Ireland Awards. In recognition of her contributions to diversity, inclusion, and support of women in business, she was awarded the Chevalier de l'Ordre National du Mérite by the French Ambassador to Ireland in 2017.
Career Journey in Diversity and Inclusion Advocacy
Margot, hailing from Limerick and raised on a farm, earned her degree as a trained chef from the Galway Mayo Institute of Technology. Margot's passion for the food industry and creativity led her to start her career as a chef in the hotel industry. She launched her culinary career in well-respected establishments in Dublin and later in London, before taking on a junior management role with a top Irish contract catering company. This company was eventually acquired by Sodexo, where Margot rose through the ranks, eventually becoming the managing director in 2012 and country president in 2015.
In 2019, Margot was appointed as the Global Diversity and Inclusion Chief at Sodexo. As country president, Margot was tasked with overseeing corporate governance and guiding the growth of various business segments in the Republic and Northern Ireland, including corporate, government, education, healthcare, and homecare.
In September 2018, Margot took on the role of global chief diversity and inclusion officer at Sodexo, where she continued to drive diversity and inclusion initiatives.
In May 2021, Margot left Sodexo to become the Global Group Head of Diversity, Inclusion, and Belonging at ISS, headquartered in Denmark. Here, she is working closely with the board and executive team to transform ISS into a truly inclusive global workplace.
Margot is dedicated to advancing the causes of diversity, inclusion, and belonging, both within and outside the workplace. She actively participates in various boards and NGOs to support social and climate justice initiatives.
According to Margot, effective leadership involves serving others, fostering a sense of belonging, and exhibiting empathy. A leader who sets a positive example through their actions is considered crucial in this style of leadership.
be the change you want to see … Ghandi
ISS A/S
As a company with over 120 years of history centered around valuing people, ISS has always prioritized social sustainability. This is reflected in its unique culture of equity, fairness, and respect for all individuals. With a focus on Diversity, Inclusion, and Belonging (DIB), ISS is committed to taking concrete actions that align with its ambitions, policies, and strategies in this area. The company strives to consistently demonstrate its commitment to DIB in all aspects of its operations.
ISS recently announced its new cultural ambition, "Global Company of Belonging," with the goal of creating an inclusive environment where all individuals are valued and can be their true selves. This includes opportunities for personal and professional growth as well as a positive impact on customers and society. This initiative is a part of ISS' broader commitment to social sustainability and improving the lives of its employees and the communities in which it operates. Additionally, ISS believes that promoting a culture of belonging will not only benefit its employees and society but also attract and retain top talent, drive innovation, improve performance, and contribute to the company's growth.
ISS places a strong emphasis on maintaining a culture of integrity, beginning with its recruitment and onboarding processes. This involves communicating its values and having clear policies, such as a "speak up" policy, that promote transparency and encourage open communication. The company creates a supportive environment that prioritizes psychological safety and promotes a sense of unity among its employees. By doing so, ISS ensures that its team members have the opportunity to voice their opinions and feel secure in doing so.
Being a Woman Leader
Margot acknowledges that her journey has not been easy, as there were numerous stereotypes and biases to overcome. As a woman in the business world during the 80s and 90s, she faced many challenges due to a lack of representation and role models, especially as a member of the LGBTQ+ community. Despite these difficulties, she has been able to overcome them with the support of her peers and colleagues in the industry.
She believes that the best recognition she can receive is from her colleagues and peers, and she is grateful for the opportunities she has had to make a positive impact and support others in their careers. To her, the ability to create actual change and help others along the way is the most fulfilling aspect of her journey.
Taking Initiatives to Boost Progress
As a leader in ISS, Margot is tasked with implementing the company's global strategy for diversity, inclusion, and belonging (DIB), and realizing its ambition of becoming a "Global Company of Belonging." She leverages her personal background, education, and professional experience to create an inclusive environment and promote diversity among the workforces.
Since 2021, ISS has ramped up its efforts in this area, introducing new initiatives across the organization. Margot works closely with the Executive Group Management and Board, reporting to the Group Chief People and Culture Officer and having a secondary reporting line to the CEO.
Margot's goal at ISS is to successfully execute the current strategy for Diversity, Inclusion, and Belonging (DIB) and realize the ambition of becoming a "Global Company of Belonging." She is committed to continuously improving and raising the bar in promoting diversity, equity, and inclusion within the company.
Maintaining Balance
Margot stays in balance by having a good quality of life, engaging in physical activity through walking, embracing a positive outlook, and appreciating the present moment. She strives to have a growth mindset and to create opportunities for others. Essentially, she maintains an optimistic attitude and focuses on the bright side of things.
Work to Make a Difference
Margot's passion for promoting change, equity, equality, and inclusion inspired her to pursue a career in diversity, inclusion, and belonging (DIB). Despite the shift in roles, the hospitality industry provided Margot with the opportunity to work with and for people and to make a positive impact. Her time as an "activist CEO" in Ireland taught her about the power of organizations to make a difference. This motivated her to dedicate more time to DIB efforts and bring her experience as a CEO to the table to drive tangible change.
Margot believes it is important to set an example for future generations and create a positive impact on their experiences in the workplace. This involves making the workplace a safer and healthier environment and promoting inclusive practices. By doing so, she hopes to help shape the future of work in a positive direction. She encourages rising female leaders to embrace their individuality and use their leadership to make a positive impact on both others and the world. She emphasizes that meaningful change starts with one person taking action.