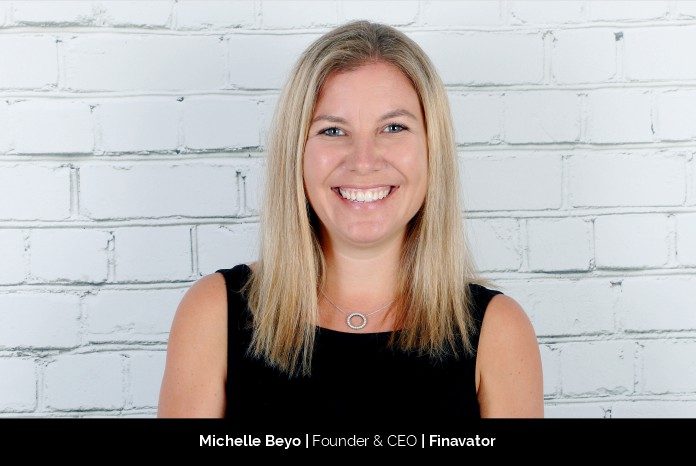 Passion has always driven an exponential growth trajectory in all fields. Many inspirational leaders backed by passion and innovation have attained the zenith of success, and one among them is Michelle Beyo, the founder and CEO of Finavator. Her passion for using payment technology to gain high financial inclusion is immense, and she believed it could help empower other women in this field as well. Owing to this, she came up with Finavator and had been living her dream life since then.
She says, "Today, Finavator holds a unique position within the Canadian financial services space, which is helping to create a more collaborative ecosystem by bringing stakeholders together to build more innovative products and services for consumers."
Lessons learned via the hurdles along the way
Starting up a business and maintaining that same pace holds many aspects to consider. One of the crucial ones still is to just go for it. Michelle had to constantly motivate herself that she can make it! She adds, "I learned that imposter syndrome is very real, but it's important to not focus on it and to build good habits. Even if you have decades under your belt, self-doubt, and fear of failure can erode growth and success for your business."
Rest growing the network is another obstacle; however, over the years, she has overcome it by surrounding herself with like-minded people and other hard-working personalities in the same domain.
Michelle's Contribution in the Fintech Industry
Michelle started Finavator, an award-winning strategy consultancy to fill the gap between FinTechs and traditional banks. She further explains, "We work with our clients to build innovative payment and digital services that allow them to stay competitive, offer their customers relevant solutions as well as find new revenue opportunities. Finavator has expertise in a variety of areas, including Payments, Prepaid Solutions, Open Banking, Challenger Banks, E-Commerce, Affiliate Marketing, Micro Loans, Rewards, and Loyalty."
Her strategic partnerships and other consistent efforts have brought her laurels. She says, "Through my passion for building a more collaborative ecosystem, I am an honored Money 20/20 2019 Rise Up alumni, Women in Payments Global Council Committee Member, Canadian Prepaid Providers Organization Membership Chair, and NFCA Payment Advisor. Additionally, I am currently a strategic advisor to a number of FinTechs."
She firmly believes open banking will rule the Fintech industry's future. Owing to this reason, she has kept Finavator's policies in such a manner that when the time comes, they can easily adapt them. She further adds, "As a Board Member at the Open Banking Initiative of Canada (OBIC), I have joined a group of like-minded individuals who share a deep bench of industry expertise."
Core values and Vision for Finavator
Finavator's team believes in honesty, respect, lifelong learning, and boldness that have helped them stay abreast of the competitors. She says, "I believe that company values are important ingredients to building a strong company culture and business strategy. These values in particular, I feel help to create purpose, improve team collaboration, and helps to build a sense of commitment to the work we're doing at Finavator." The entire team also ensures to do competitive analysis and research sessions to learn, adapt and grow as per the trend.
Michelle is still awestruck with the company's growth and is right now working with students of Rotman School of Business, to analyze Finavator's growing competition in the American market. She further adds, "When you decide to take the leap and become an entrepreneur, there are so many unknowns, but I've been fortunate to discover that what was behind the proverbial 'door number 3' were successes and challenges that have made me a better person and a stronger leader. I'm excited to see what's coming next!"
For the future, the company has set the goal for the next few years to continue to grow the client base in both Canada and the US as well as expand the team further. Also, she wants to help stakeholders get maximum benefits from her venture. She adds, "Through attending and speaking at events, leveraging our deep network, and committing to a strategic marketing and communications plan, we hope to achieve this roadmap."
Michelle's Life as CEO and at home
Her 'corporate education' has led to gaining ample experience before commencing the operations of Finavator. Her life as the CCO of a startup, handling 4 major airline online shopping malls, and joining a 50/50 executive team as head of sales and marketing has influenced her responsibilities as a CEO better. She even won one of thirty spots at the Money 2020 rise-up program in Vegas which was her greatest achievement. She says, "Winning this spot was a dream come true as I was one of the two Canadian selected and over 400 women around the world applied. I felt not only pride but a responsibility to give back and use my knowledge and incredible network to push open banking and consumer-focused products forward."
Being a founder and CEO, her role juggles among daily operations, strategy, growth, and planning success. She states, "As a leader, I believe that it is important to support my employees by providing supportive leadership, empowering them, developing a positive workplace environment, as well as recognizing and rewarding employees for their achievements." She keeps herself motivated to give back the acquired financial knowledge in different arenas in the best possible way.
At home, owing to this pandemic period with her kids being home, she emphasizes on taking advantage of free moments to de-stress and focus on activities that help her refuel. She adds, "I think it is also essential to learn from your mistakes, there have been times where I decided not to take time for myself or couldn't help with homework, missed baking time or bathtime, and I later regretted the decision. It is so important to find your rhythm!" She emphasizes on realizing the pivotal priorities of life and then working dedicatedly to build the life you want to live in the future.