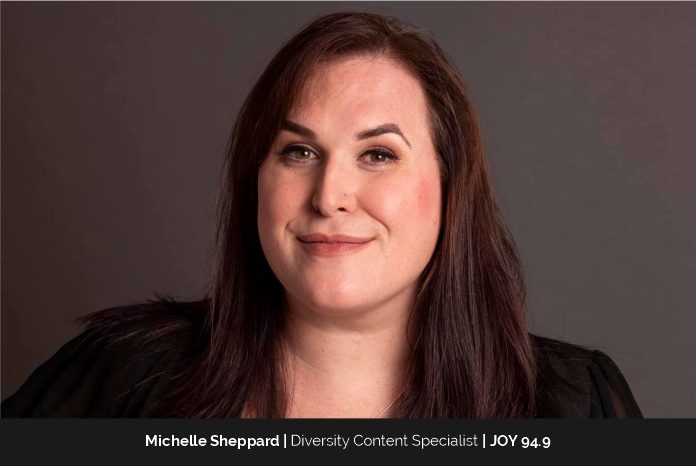 Michelle Sheppard is a proud parent of two wonderful daughters and a transgender woman. She played a crucial role as the former host, co-host, and co-producer of Transpositions, which was JOY 94.9's flagship transgender weekly radio program for over three years. Presently, she co-hosts JOY's Family Matters radio show, a weekly program that focuses on rainbow families. Additionally, Michelle hosts and produces Trans POV (Transgender Point of View).
Michelle had a prosperous career as an information technology technician before her transition, and she encountered no significant difficulties in securing employment. However, after embracing her gender identity, she faced discrimination from various companies who believed that her transgender status did not align with the workplace culture. Unfortunately, this is a common experience in the broader transgender community, where individuals face employment discrimination, denial of medical care, and loss of relationships.
Michelle's experiences with employment discrimination as a trans woman motivated her to take action to break down these barriers. She encountered recruiters who claimed that women in IT were rare and that her transgender identity made it impossible to succeed. Despite this discriminatory response, Michelle refused to accept defeat and instead worked to create positive change.
However, Michelle also faced a difficult period where she struggled with suicidal thoughts and found herself without a permanent address, unemployed, and struggling to make ends meet. It was the love and acceptance of her two daughters that kept her grounded and helped her realize the significance of being a positive role model for intersectional women in society.
A "Brave Space" for the Trans Community
The issue at hand is the lack of substantial growth in the diversity and inclusion space. Despite working in this field for a decade and coming out during that time, Michelle has observed a lack of lived experience guiding the work, leading to a dearth of innovative ideas in its delivery. Many of the largest corporate organizations still rely on their human resources or people and culture teams to manage diversity and inclusion, resulting in a large number of people with little to no experience working on portfolios for CALD (culturally and linguistically diverse) communities, disability and accessibility, Aboriginal and Torres Strait Islander Peoples (or in some countries, First Nations people), and gender equity. Typically, conversations around gender equity focus on the pay gap and employment of men versus women, but little is done to delve deeper into other aspects of gender diversity.
Corporate workplaces have played a significant role in advancing LGBTIQ+ rights over the past two decades, with many companies publicly expressing their support. Hundreds of major consumer brands have become regular sponsors of annual Pride events, and companies are increasingly making critical decisions about recruitment practices, employee resource groups, and marketing that embrace LGBTIQ+ rights. However, much of the work is being done through Pride or employee working groups, usually by volunteers who identify as part of the community, but who have a day job that may not be directly related to diversity and inclusion efforts. This trend is prevalent across other diverse portfolios mentioned earlier.
Michelle has helped break down this issue for her employers using language they can understand, creating a "brave space" instead of a "safe space." While safe spaces have been used in various contexts to increase the safety and visibility of marginalized or oppressed community members, the focus of the current discussion on college campuses has been on safe spaces. However, the term has been used to describe different types of safety, and the introduction of the concept of a brave space is intended to draw attention to these differences and bring clarity to the conversation.
Michelle's business focuses on actively engaging with clients to ensure that LGBTIQ+ people are not just being hired but are also free from fear of discrimination. She takes a direct approach by training human resources departments on how to hire trans or gender non-conforming people. Unlike other companies that may provide superficial training or manuals, Michelle encourages open and honest discussions where people can ask burning questions and receive accurate information.
She believes that it is important to follow up with companies that show up on "inclusive" lists and conduct reviews to ensure that they are actively promoting diversity and inclusion. Michelle also aims to help people affirm their gender identity and eventually hire a diverse training manager. By doing so, she helps organisations create more LGBTIQ+ inclusive workplaces where diversity is recognised and respected, and job seekers can connect with organisations actively engaged in LGBTIQ+ inclusion initiatives.
Success that Empowering Others
Michelle's ultimate goal is to make a meaningful impact on the world by creating more equitable and inclusive communities where all individuals can thrive. She believes that every person deserves to be treated with dignity and respect, and she is dedicated to making that a reality. Her work is driven by a deep sense of purpose and a desire to make a difference in the lives of others.
For Michelle, success is not just about personal achievement, but also about helping others succeed. She measures her success by the positive impact she can have on the people she works with and the broader community. She finds joy and fulfillment in seeing the positive changes she helps create, whether that's through increased representation in the workplace, better access to resources for marginalized communities, or more understanding and acceptance of diverse identities.
Prioritizing Transparent Communication
Michelle drew upon her own experiences to advocate for the transgender community and promote inclusive workplaces. She stressed the significance of open and candid discussions where everyone feels free to express themselves and be heard. Michelle also emphasized the need for genuine inclusion, which involves valuing the perspectives of those with lived experiences and using their insights to create innovative diversity and inclusion initiatives that attract diverse talent. She highlighted the importance of building and maintaining connections with individuals who are working towards positive change for marginalized communities.
In the workplace, Michelle assesses integrity by how well individuals are breaking down barriers in their discussions and workshops regarding workplace principles. She believes that honest conversations about these barriers and a top-down approach to addressing them are crucial for effecting meaningful change.
Focusing on Every Aspect of Work
Michelle typically starts her day at 6:30 a.m. by checking her emails and catching up on global news. As an advocate, she is constantly influenced by international laws and regulations that are imposed or lifted on a weekly basis. Throughout the day, Michelle is in regular contact with clients and members of the community who seek her advice or assistance. Although she is busy with meetings and program deliveries, she appreciates the flexibility of working from home. Currently, she is working on aligning global IT systems with workplace gender affirmation leave processes for the Victorian government in Australia. During her lunch break, Michelle tries to catch up on her reading or any new sources provided to her. She also tries to maintain a work-life balance by making time for the gym. Michelle has built close relationships with her clients and allies, and she now has a gym accountability buddy who helps her stay focused.
Michelle finds it enjoyable to wrap up the workweek with a call with a colleague to review their achievements. She shares, "In any area of our lives, celebrating the more minor successes on the way to the more significant milestone helps maintain our motivation and morale for finishing the task. The problem with not doing this is that we end up diminishing our reason, which keeps us on the right path and gives us the strength to reach the finish line."
Becoming a Change Maker
Michelle aspires to do work that earns her respect as a female changemaker. She is grateful for being invited to the table of women leaders without ever having to ask or assume that it is a continuous invitation. However, she understands that this opportunity comes with a responsibility to ensure that she represents the voices of all intersectional women who are not being heard or included.
Michelle recognizes that simply conforming to traditional feminine norms such as wearing dresses, wearing makeup, and growing her hair does not define her as a woman. She acknowledges that being a woman in today's society is multifaceted and extends beyond transgender issues. While she respects those who adhere strictly to biological definitions of womanhood, her focus is on promoting equity and giving a voice to all who identify as women but are marginalized and unheard.
Recognition for Making Exemplary Efforts
As a result of her efforts, Michelle has received various forms of recognition, including being listed in the LOTL 2016 "Power List" for her contributions to making life easier for members of the LGBTI community. She was also shortlisted for the LGBTI Awards and the MTV LGBTI Broadcaster and Presenter of the Year award. In addition, she won the ANZ small business award in the Victorian Pride Awards for releasing an award-winning LGBTIQ+ Inclusion Action Plan that aligns with the first-of-its-kind whole-of-Victorian-Government ten-year strategy on LGBTIQ+ inclusion. Despite these accomplishments, Michelle considers the community's recognition of her as "Mama Mish" to be the most significant.
Gathering More Support for Gender-Diverse Communities
Michelle has been committed to improving support for gender-diverse minorities throughout their journey of self-exploration and living authentically ever since she came out. One critical aspect of this effort is the establishment of a central employment services hub that connects various LGBTIQ+ services. While this approach has been attempted as a standalone business globally, it has struggled due to insufficient funding and limited success. The goal is to leverage the expertise and resources of various people and services to deliver a more comprehensive set of services, with the individual at the center of this work.
Michelle aims to be a role model for others who may be struggling with their identity and to help them feel loved and accepted in this world. She understands that the change she hopes to see in bringing women together and supporting one another may not happen during her lifetime, but she remains committed to this cause. She emphasizes the importance of building inclusive and diverse workplaces for businesses to thrive. She believes that we must set aside our differences, whether they are related to religion, sexuality, or gender, and listen to each other. Supporting and uplifting one another during both successes and failures is crucial to fostering a culture of mutual respect and understanding.