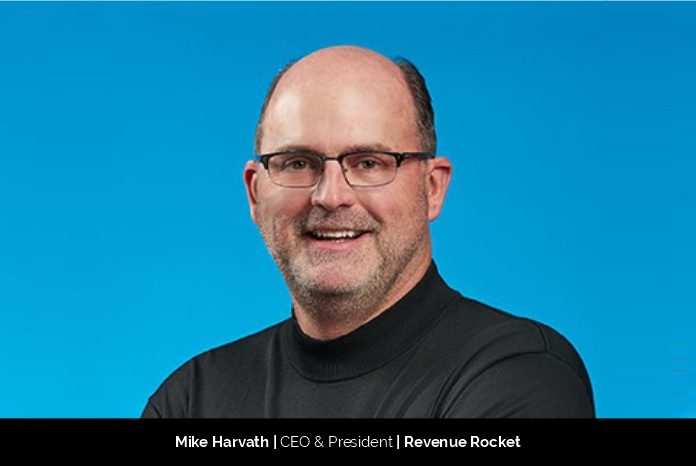 The name says it all "Revenue Rocket," propelling a business to take it higher up in the sky is challenging. It takes much more than a team of experts and years of professional experience to reach the zenith and make fame. To grow a business and pull it out of the murky waters of growth, one needs to have firm support that guides all along the way.
While the established firms don't face such issues in their path, one such sector has always been deprived of the necessary reinforcement. It is none other than the IT sector, which has high potential but lacks the essential foundation.
To help such firms that have enough capability and efficiency to bring a boom in their business with fewer resources and excellent assistance, Mike Harvath, the president and CEO of the Revenue Rocket consulting group, has a great solution.
An aspiration to make a difference
When we asked Mike about his desire to create a business that would assist IT services companies create healthy, sustainable, and marketable organizations we got a very respectful response, "IT Services companies come in many flavors and it takes an advisor who intimately understands the in's and out's of each segment, solution, and offering across this wide category to provide proper advice," said Harvath. "You see… the ability to provide a path to liquidity for a company solely focused on cybersecurity is vastly different than advising a contact management solution provider on acquiring new customers through geographic expansion, fueled by an acquisition."
This idea to lend a helping hand to those in need led him to build the foundation of his venture, today known as Revenue Rocket Consulting Group. It took his entrepreneurial experience to build this advisory company, which could help various sectors, primarily IT services, to bloom.
It was after completing three successful exits of his own IT Services companies that he understood the requisites of his advisory firm so that he can deliver appropriate services through a curriculum of people, process, and reputation.
His experience interacting with the traditional so-called advisors engaged in those 3 transactions left him feeling confident that knowledge and experience in the IT services sector would be the difference in his practice. Understanding what operators are facing, not just while in a sale or acquisition process but during the daily operation of an IT Services business. "Being able to advise a buyer or seller based on real-life experience is why people choose Revenue Rocket," Mike noted.
Stumbling blocks in the path of the optimistic move
Quickly after starting Revenue Rocket, Mike realized that his business model and methodology worked and that the ability to deliver value to all those inquiring meant he had to expand operation through hiring, educating, and documenting a repeatable process.
"Creating a team of knowledgeable advisors would be the biggest and best investment I ever made".
One major setback that he faced was the notion that occupied many who thought that a verticalized business like Mike's could not be successful. That said, Mike implemented a page out of his own book; Specialize, Productize, and Verticalize (SPV), and used it to his advantage.
He had to work twice as much as any other businessman to eradicate that mindset and set an example that nothing is impossible. If someone is optimistic and has a firm goal, the end results will be fruitful, even if that process is time-consuming.
The second stumbling block in his path was to function differently from the existing companies that delivered similar services. He states, "Many of the other companies that did what we do were geographic generalists, meaning they worked in an MSA or market service area. They did M&A deals or did strategy advisory with the companies in their geography, and that was it."
Since not many firms were providing such strategic services at his time, he had an excellent opportunity to do things differently. He studied the market and found out that IT service verticals were not focused on by these prevalent firms.
He thought to build his prosperous firm to focus equally on this sector and provide them with the same opportunities for vertical organic growth.
Revenue Rocket was ready for its own dose of organic growth and it was time for the methodology to generate the anticipated returns Mike believed would come if he implemented his category-focused approach. It didn't take long for prospects to see that this approach would yield a quicker and more thorough plan to drive change, focus, and discipline. "Credibility sells, and people were and are in a constant sense of urgency, so timelines and iterations are paramount whether it was structuring a process to sell or advising on organic improvements. We had to be accurate and fast," he said.
When you have the zeal to do something, you end up doing it irrespective of the obstacles that come your way. It was the same with Mike, who was headstrong and did what he desired. Now, that foreign concept has taken the shape of a preferred model of business.
A service that helps you prosper
Revenue Rocket Consulting group is an advisory firm that helps IT services companies by optimizing their growth strategies. These strategies may include an appetite to acquire adjacent service providers, expanding into new geographic markets, or strategically entering a new segment within an IT services category. That said, not all growth starts or even stops with business combinations. Many of Revenue Rocket's clients are looking for organic ways to grow or gain a competitive edge. "We need to be able to identify where each client is in their lifecycle and formulate a plan to obtain the goals and objectives we believe will cultivate the most amount of value," Mike said.
Mike explains, "Half of our business is focused on Growth Strategy optimization to help our clients be top quartile performers for both revenue growth and profit realization, and the other half of the business is focused on M&A advisory services for both buy-side and sell-side deals."
His company is focused exclusively on IT services companies. He defines them as managed services companies, custom application development companies, and application implementation businesses.
The face of Revenue Rocket Consulting Group in the years to come
Revenue Rocket Consulting group is a fast-paced firm that has attained due success in a concise period. The pace and substantial growth are very promising, and it seems that the day is not far when Revenue Rocket will be the inspiration of every budding entrepreneur.
"We are a member of the 2020 Inc. 5000 List (one of the 5000 fastest-growing privately held companies in the country) and the fastest-growing firm that does what we do on the Inc. 5000 list as well. To qualify for this list, you have to average your growth over the last three years." He adds.
Mike carries the same disciplines he preaches to his clients within Revenue Rocket which has allowed him to build a profitable, growing, and reputable firm. "Each year we exceed our prior year performance and this year will be no exception," chuckled Mike.
"We provide advisory services to IT Services firms anywhere in the world and have been able to do so in a very cost-effective manner," he noted. Revenue Rocket has been providing remote advisory services around the world long before the recent shelter in place orders fueled expansion in remote employment.
An outline of a CEO's life
Mike's entrepreneurial spirit came at a very young age. Starting a lawn service company initially, Mike was introduced to the importance of hard work and money's value at a very early age. Mike's aspirations and quest to gain knowledge of emerging technologies lead him to a dream job at Apple where he realized his true passion for business and technology. It was his most significant achievement of life as an employee before becoming a business owner and operator.
When off work, Mike devotes his time with his family but still stays in touch with his work because it is a commitment and not a burden and thus maintains the balance.
He mentions, "I think balance is much more about leveraging what you're passionate about, and I am certainly passionate about work, but I'm passionate about family, I'm passionate about sports, I'm passionate about travel, I'm passionate about diving, I am passionate about a lot of things. So, I think if you can find the balance of pursuing your passions and do that right, then you are going to be in a good spot."
As a CEO of an esteemed company like Revenue Rocket Consulting Group, he takes his work seriously to maintain the decorum and vision that will lead them far. He says, "Motivating the team and being the keeper of the vision of the business is something I take seriously. Also, thinking about how to expand and service an ever-growing global clientele is always at the forethought of my thinking."
This sincerity and passion for his work act as the driving force that keeps him and his employees motivated. It is that zeal to help others to monetize their life's work that keeps them on their toes. Hence, they help others and enjoy it simultaneously while building lifelong relationships built on trusted performance.