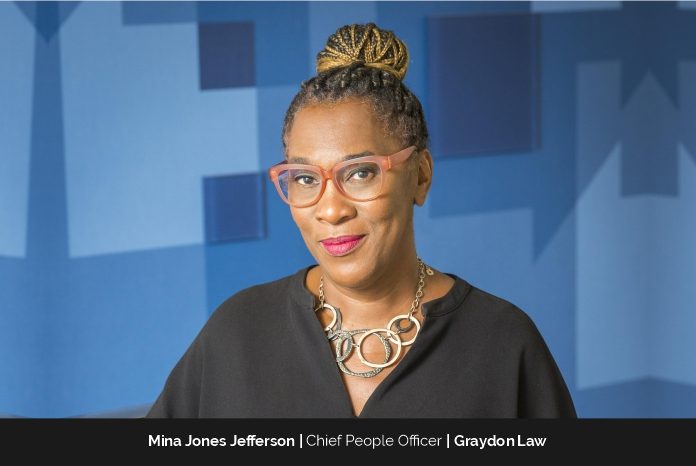 Effective human resource management is becoming more crucial as the digital era advances. People may flourish both professionally and personally in an atmosphere that is well designed by the HR department. To accomplish it successfully, though, you'll need a leader with knowledge of both human resources and organizational growth. Intelligent firms recognize the value of having a role specifically for managing their human resources, that role is the chief people officer (CPO).
Mina Jones Jefferson is an experienced administrator with a history of working in the higher education sector that followed her legal practice. Career and professional development are common denominators of her experience. She concentrates on helping individuals and organizations achieve their highest levels of achievement.
In her position as Graydon Law's chief people officer, Mina's love for people collides with her legal background. Her career spans the legal ecosystem, beginning as an associate at a law firm who later became a partner, moving on to law school, the starting point of the profession, and finally the professional development sector. She frequently uses systems thinking to reduce unanticipated barriers to professional and workplace achievement.
As a strategist for human capital, Mina has a track record of collaborating with many stakeholders to get buy-in and outcomes. She has taken part in design thinking courses for the business and frequently speaks on personal and professional growth.
She has held positions on a number of local boards, including ProKids, the Greater Cincinnati Legal Aid Society, the Cincinnati Bar Foundation, and the Ohio Supreme Court's Commission on Professionalism and Commission on Continuing Legal Education.
Mina and her husband Bobby reside in West Chester and have four children: Sydney, Bobby, Jules, Elle. Free time means family time for her.
Graydon Law
Graydon is the longest-serving full-service business law firm in Cincinnati and just celebrated its 150th anniversary, or sesquicentennial. Over half of Graydon's 130 workers are lawyers. Graydon strives to be Greater Cincinnati's most innovative, vibrant, and inclusive law firm, recognized by their clients as an indispensable partner, providing exceptional service and expertise. It encourages the interests of its team members and is supportive of the arts.
"Law" and "innovation" are two terms that aren't frequently used in the same phrase. Innovation is stifled by the risk-averse nature of lawyers. Therefore, it is important that Graydon be willing to set the pace for new projects. In general, law firms want to avoid being the sole ones taking action. Unusual for a legal practice, Graydon developed a student loan repayment program for its attorneys. Additionally, it established a DEI billable credit policy, which is now a recommended practice for all big law firms.
Redefining the Human Resources Industry
Two times, Mina has had the honor of serving on the NALP board of directors, the second time as board president. A career high point came when she was asked to direct a world café at its new professional forum one year. She states, "The ability to reframe the mindset of those new to our profession was gratifying and hopefully equipped people to reimagine."
Mina is redefining the sector one decision at a time, upholding the firm's vision is to be "the most vibrant, innovative, and inclusive" law firm in Greater Cincinnati. She states, "All too often we think the magic resides in broad strokes, when in fact it is the collective impact of countless decisions made over time.  If an organization lives its values, great things follow." She is profoundly aware of this reality and does not sweat the small stuff.
Role to be a People Centric Leader
The challenge with a title like "Chief People Officer" that includes "people" is that everything—theoretically—is a "people" matter.  In a typical day for Mina, she might be working at 30,000 feet, reimagining processes, coming up with a plan for finding talent, or perhaps tackling a wellness issue, all the while keeping her feet firmly planted so she can deal with typical teammate conflicts, training difficulties, and longingly eyeing her gym shoes tucked in the corner as a reminder to go for a walk before trying again the next day.
She considers herself fearless. Not because she disregards prudence. Instead of worrying about things like "what people will think of her," "has this ever been done before," "what happens if it doesn't go as planned," and other negative ideas, Mina focuses on the bigger picture.
Mina endeavors to future-proof the enterprise, which is an iterative process.  She shares that top of her mind is how to continue to deploy lessons from the pandemic, which usually starts by asking herself, "How would we approach issues if we defined work as something we do rather than a place we go?"
Insights and Movements of Success
Success is never wondering "what if?".  This strategy ensures Mina challenges and pushes herself. It makes sure she chases opportunities that could be a little scary. She won't develop if she doesn't, and she'll fall back on performing things she can do easily. She states, "Living with failure is better than living with regret.  After all, failure is simply feedback. I'll do better next time."
When she helps others reach their "aha" moment, Mina is at her finest. She firmly feels that a corporation is only as powerful as its employees. During her time in private practice, Mina assisted in recruiting and mentoring young attorneys, and as a student worker in college admissions, she connected high school students to experiences at her school to accelerate their growth. Today, Mina has the privilege of enhancing an organization's effectiveness by enhancing the capacity of its employees.
Knowledge is the Power
When Mina began her career as a commercial lawyer, she rapidly understood that, in contrast to many of her counterparts who talk to think, she thinks to talk. She was working on a complicated case with plenty of individuals who may have affected her career. Unplanned meetings with no agenda or advance warning were a practice of the main attorney, and both were unsettling. She says, "I would attend the meetings and before I formed my thoughts, the meeting was over.  This was not sustainable, potted plants are replaced easily." 
Mina quickly engaged in self-assessment and learned that she is an INTJ.  She recalls, "Armed with this information, the next time the lead attorney stopped by to say we had a meeting, I asked him what we might discuss.  Armed with that knowledge I formulated a couple of ideas in advance and immediately contributed to the meeting." As an added bonus, Mina's meetings became more focused because now there was an agenda, and the rest is history. She stayed at the firm for nine years and ultimately became a partner.  To this day, only 3% of large law firm partners are black females.
Balance is All About Integration
As she considers that she is not one thing or the other, but rather all things at once, Mina views work life balance as integration. She continues to be a parent when she enters the workplace, for example, or a CPO when she goes to a board meeting. She enjoys thinking because it feeds her spirit. She makes an effort to do one fewer item every day than she believes she can. She finds it remarkable how much time and space that frees up.
Vision for Graydon Law
Mina is currently in her third act of her career, and with that comes a little frenetic energy.  It's not that "she has seen it all before", it's that she knows that good things happen when one is willing to push through the uncomfortable parts.  She says, "Too often people do about-face when challenges arise instead of embracing them as a necessary part of growth."
As a leader, she believes that integrity matters. Mina asserts, "As a leader, remember you get to decide what to decide.  All too often we dive in and ask, "what's our strategy for "x" or "y"?  That question implicates that a strategy is required rather than asking something like "how do we make sense of what are we seeing?" or "if we were building this from scratch, how would it look?"  Those questions move our eyes from what's immediately before us and transports us to the realm of possibility."
As for careers, Mina believes, "We approach our careers as if we are on a corporate ladder, climbing to the top, always seeking something bigger and better.  Realistically, our careers are more like a lattice; sometimes we move laterally, diagonally, and then vertically." She further adds that sometimes one just needs to pass on bigger and better things-an opportunity, a new board position, chairing that event, etc.
Quotes:
Avoid random acts of strategy they will lead you to nowhere fast.
Clarity is kindness.
If you always tell the truth, then you won't forget what you said