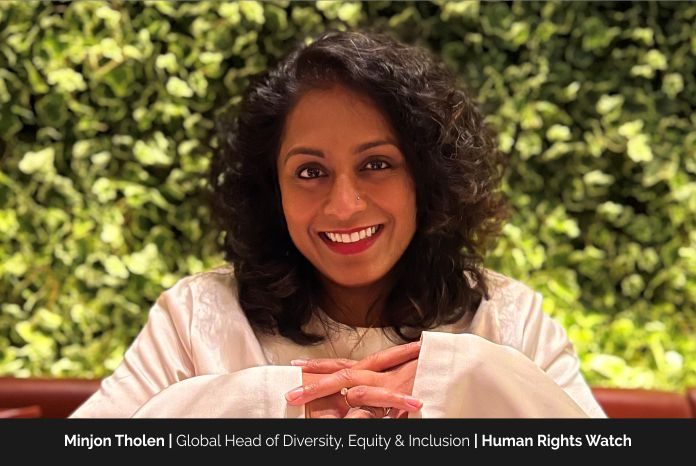 Minjon Tholen, Human Rights Watch's inaugural global head of diversity, equity, & inclusion, has 15 years' experience in transforming organizations and creating inclusive, diverse, and values-led cultures. At Human Rights Watch, she is responsible for integrating DEI values into the organizational fabric both internally and externally, including in partnership work in the human rights community and beyond.
A regular day for Minjon involves a variety of tasks related to DEI, such as discussing goals and strategies with teams, coaching staff and leaders on DEI-related issues, reviewing policies and procedures, providing guidance to the executive team on strategic initiatives, designing new training content, refining the DEI strategic framework, and checking in with team members and her boss. It's hard for her to define herself in one word, but she chooses "empathetic."
Building Up Experience and Skills
Over the course of several years and in various industries and regions, Minjon honed her skills and expertise, ultimately rising to the position of senior consultant leading client work. However, she aspired to an in-house leadership role that aligned with her values and provided opportunities for growth and greater impact. Fortunately, she found this at Amnesty International USA and Human Rights Watch, where she was appointed as the inaugural Chief Inclusion & Strategic Innovation Officer and Global Head of DEI, respectively. Minjon is grateful for the support and mentorship she received from female leaders, many of whom were other women of color.
Despite her successes, Minjon encountered obstacles related to her race, ethnicity, age, and gender from colleagues and clients alike. She faced discrimination, underestimation, and subversion, which only served to strengthen her commitment to DEI work. Through these experiences, Minjon also learned the importance of having the necessary resources, support, and organizational conditions for DEI initiatives to succeed. She recognizes that DEI intersects with every aspect of an organization and requires a holistic and transformative approach.
"Innovation and inclusion are a different side of the same coin: we can't become more inclusive without innovating, and we can't truly innovate without inclusion."
Human Rights Watch
As one of the world's leading human rights organizations, Human Rights Watch boasts a talented and dedicated team that spans the globe, all working tirelessly to protect and advance human rights. Its approach is grounded in rigorous research and advocacy, often conducted in partnership with other organizations and individuals who share its commitment to social justice. Human Rights Watch prioritizes innovation and strives to learn from others, consistently challenging itself to be more effective and aligned with its values.
As an international NGO, Human Rights Watch does not view competition in the same way as corporations, but it does pay attention to the work of other INGOs and human rights organizations. This is partly to ensure that Human Rights Watch is playing the most effective role possible in the collective movement for change, and partly to stay in line with or surpass its peers in the way it functions both internally and externally.
"An organization with integrity strives to be a values-aligned organization inside and out."
Growing Significance of D&I  
Minjon has a strong interest in mission-driven organizations that have the responsibility to uphold their values both internally and externally. It is crucial for these organizations to maintain integrity, credibility, and effectiveness in fulfilling their missions. In the past, diversity, equity, and inclusion (DEI) were not given enough attention and were considered secondary to the organization's primary work. However, it is now acknowledged that DEI is necessary to the work, and NGOs have started investing more in DEI.
Minjon is driven by idealism and activism and employs strategic culture innovation, organizational transformation, and change management to advance DEI. At Human Rights Watch, DEI is not limited to human resources and internal culture. The organization is developing a comprehensive strategy that aims to innovate its work, research, advocacy, engagement with impacted communities, partnerships, communication with diverse audiences, and inclusive growth of its supporter base. This approach is essential for the organization's impact, growth, and sustainability and to fully realize its vision.
International NGOs are increasingly recognizing the importance of decolonizing their organizations and the broader sector as a step towards dismantling global power dynamics and paving the way for a more equitable future. When done effectively, diversity, equity, and inclusion (DEI) are deeply interconnected with these efforts. This is one of the key reasons why Minjon is engaged in DEI work in the NGO sector: the potential for transformation both internally and externally towards a more equitable and just future.
Fostering a Culture of Integrity
Integrity is a central value to Minjon in her leadership and she endeavors to lead with her values in everything she does. She believes in being open, honest, and transparent, and responsibly sharing her perspectives, emotions, and areas for growth. By modelling these qualities, she aims to inspire others to do the same.
As a mission-driven organization, integrity is also paramount at Human Rights Watch. Minjon works with leaders to clearly articulate the organization's values, assess their application, and test them in different ways. Her colleagues have often commended her for bringing moral clarity to conversations and decisions, and for gently but firmly guiding others towards value-led decision-making. Minjon strives to help the organization move from a culture by default to a culture by design, encouraging intentional choices and decisions.
While Minjon believes that it is not possible for one person to ensure a culture of integrity, she sees part of her role as building capacity across the organization for fostering shared ownership of a culture of integrity.
"DEI is about the core of our humanity; our need to simultaneously be unique and to belong and to be in an environment where we can be both."
Woman in Leadership
Minjon, a millennial woman of color, has faced bias and discrimination throughout her career. This has only strengthened her resolve to promote diversity, equity, and inclusion in her work. She brings an intergenerational perspective to her work and co-founded IDEAS Generation, a global community that fosters DEI.
As the mother of a one-year-old daughter who is mixed-race and multi-cultural, Minjon is further motivated to model her values and create opportunities for future generations to succeed regardless of their background.
Staying focused on work and life
Maintaining a good balance is one of Minjon's growth edges, and her family helps keep her grounded and focused on what is important. To stay positive and solution-oriented at work, Minjon tries to connect smaller activities to the larger vision and strategy of the DEI office and the organization as a whole. This helps staff see the importance of their contributions and feel connected to the broader organization. Minjon also encourages an open culture in her team, where people can bring their whole selves to work if they choose to. She tries to model and encourage a healthy work-life balance and is transparent about her own challenges in achieving it to show that everyone is human.
True Recognition is Doing DEI Better
Minjon seeks to be a catalyst, innovator, and organizational transformer, inspiring new ways of thinking and leaving a lasting impact on the organizations she works with.
One of the ways she defines success for her team's work is by how much they have supported others in being successful on DEI. This can involve following their guidance or feedback, treating others with more patience and empathy, avoiding or addressing micro-behaviors, implementing new DEI practices, or showing up more fully for DEI values in other tangible ways. Her aim is to engage everyone in DEI, regardless of function, level, or identity, and support them in contributing to change in their sphere of influence.
For Minjon, the ultimate measure of her effectiveness as a leader is when people start taking ownership of DEI without her needing to be present. She strives to make herself obsolete by ingraining DEI so deeply in the organization that her role becomes unnecessary.
"To make purposeful progress, I always try to balance people with processes, progress with perfection, passion with pragmatism, patience with persistence."
Personal and Professional Goals
Minjon's next steps in her DEI work involve establishing foundational building blocks such as trust and relationships, DEI team capacity, workflows, partnerships, training, metrics, strategy, goals, leadership and staff engagement, and communications. She believes that by embedding DEI at the core of all organizational efforts and changes, it can become an integral part of the organization's future, rather than an afterthought or overlay.
In addition to her professional goals, Minjon is also working to achieve a more intentional balance in her life that allows her to thrive in all aspects of her life. She hopes to model this balance for her daughter and team while debunking myths such as "women can't have it all" and the idea that marginalized communities have to work twice as hard to be considered worthy compared to those with more privilege. Minjon also wants to challenge the notion that DEI work comes at the cost of personal wellbeing.
Looking ahead, Minjon will also continue to build communities of practice within the NGO sector and across NGOs and public and private sectors. As a leader with experience in many different types of organizations, she has seen the ways in which every sector can learn from one another and the power of collaboration when they join forces.
Important Notes for Future Leaders
As a message to other leaders, Minjon encourages lifting others up as one climbs the ladder of success. She emphasizes the importance of finding one's center, where to be flexible and where to hold firm, in order to remain responsive to the changing environment without losing oneself in the process. Leaders must be willing to compromise on certain things while staying true to their core values. Additionally, Minjon advises patience and persistence, avoiding playing small for the sake of others, and learning to say no to things that do not align with one's goals in order to say yes to the right opportunities. She also encourages leaders to always see the forest and the trees; to see the parts and the whole of our organizational organisms in order to find the opportunities for change and your role in it.