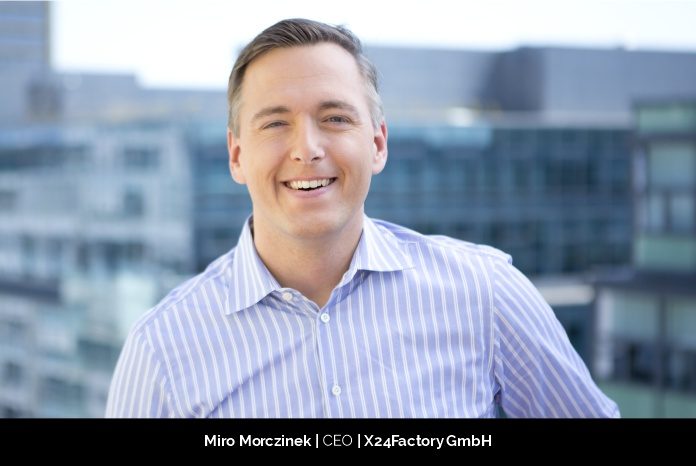 Every leader defines success as per his/her personal experience. As per Miro Morczinek, CEO of X24Factory, success has two components, namely, creation and achievement. Using his experience and personal efforts, he created extra value in a truly unique way from alternative approaches.
While setting up X24Factory, he had the zeal to establish a leading shopping destination for home & garden shoppers and take it from zero to millions of transactions. Miro's excitement about real estate and interior design, along with his profound professional experience in online marketplaces, had brimmed him with the passion for kickstarting the initiative to commence operations.
Sharing his achievement, he shares, "I am grateful of having been entrusted with running multiple large high growth businesses before the age of 35 that helped me when starting X24Factory. I am very happy with the numerous bright and inspiring people who I have been able to connect to my life, either in business or family. I am also thankful for a very rich life experience between China-Europe-US, family  & kids, active sports (running, sailing, mountain-biking), and inspirational activities (saxophone, Hebrew lessons, building residential apartments and hosting the SuperMindSunday-Podcast of the Global Entrepreneurs Organization from Berlin.)"
Knocking Down Impediments Along the Way
Miro knew that establishing the business required facing numerous challenges that would halt the progress of the firm. However, he believed in the adage, "Stop admiring the problems, focus on the solutions." With this, he looked for ways to overcome all the challenges that came in the way of success.
The main roadblock he had to face was the process of recruiting and retaining top professional and experienced talent from large tech companies that too when the startup was quite small and much lesser-resourced. He states, "The beginning of the growth S-curve proved very hard to keep excitement for everybody, and I remember losing a super-smart business intelligence engineer to McKinsey where he soon became one of the leaders of their AI practice group."
Now he knows that Entrepreneurship is a lifestyle. In a startup you have to hire first and foremost for the right motivation and attitude.
Another big roadblock was the lack of scalability in the technology development domain. They underwent super complex tech developments without analyzing the proper structures in place to manage engineering output efficiently, and for that, they learned to build strong product management processes and organization of everything.
Lastly, owing to the initial chaos-by-design structure, scaling became extremely hard. They had to bring external talent to formulate the structure and processes of the organization.
Restructuring the interior and home designing industry with X24Factory
Founded in 2015, X24Factory is a popular operator of online marketplaces for home & garden products developed by seasoned entrepreneurs. It is backed by a myriad of supporters such as NVidia Inception, Amazon AWS, DN Capital, AirBridge Equity, Check24, Howzat. The marketplace includes some leading brands like Moebel24 in Germany or HomeTiger in France or Italy and serves millions of shoppers per month. Those marketplaces are designed to serve the information needs of online shoppers specifically in the home category – allowing for price comparison for feature similarity or proprietary rich contents like browser-based 3D show-rooms or AR-RealView.
As per Miro, the supply side still needs more maturity. He adds, "At X24, we were driving some key industry innovations like industrialized web-based virtual reality product views or app-free 6 DOF AR product views. When we started the business, we had to use a very hands-on consultative approach when working with our merchants. Recently and even accelerated by Covid, we have migrated much more towards a self-service platform as our supply side has matured over time."
By deploying state-of-the-art technologies and tools and investing into numerous growth experiments, the company has an inclusive culture of honesty and candid discussion of issues for faster problem-handling. Thus, no one feels shy from making mistakes, as the teams encourage them to emerge as creative thinkers. Miro shares "We are learning to deal with the constant shortage of something and how to manage compromises whilst moving very fast."
Owing to this, the company has witnessed growth at a CAGR of 50-100% year on year to high double digit millions of platform revenue levels. Even the company employees have scaled to 50+ which has helped them attain higher revenue. He states, "The values we hold are centered on customer focus and relationship, speed in delivery of outcomes, product innovation, collaboration, and community learning. We feel passionate about home products and strive to allow people to have prettier and more individual homes."
Sharing the future vision, Miro shares, "I would hope that we will be become the most customer focused home shopping company worldwide that turns occasional shoppers into confident online home enthusiasts."
Life before and after X24Factory
Hailing from a semi-engineering & business academic background, Miro started his career in venture capital, and after completing his MBA, he worked at numerous later-stage technology companies such as Nvidia or Expedia. His passion for technology businesses in a commercial context has always driven him to achieve success.
After establishing X24Factory, Miro has to wear multiple hats as the CEO of the company. However, he tries to concentrate more on growth initiatives and key external constituents (customers, investors, press, etc.). With his passion and a strong background in marketing & B2B sales, he feels he can handle this domain confidently. Further, he also spends ample time with the product management team to come up with new innovative features to stay ahead of the competition.
He adds, "I have a very bad memory when it comes to pains and misfortunes and I find it much more exciting to focus on the future and the plan to get there. Constantly bringing everybody on that path while assuring they have successes is important to me to be well connected with our team."
His routine day states by waking up early at 5:00 am followed by running, reading, taking the kids to school, organizing, standup(s), projects and meetings, conference calls with customers or partners or candidates, meetings with various teams, some focused time, and ends at admin stuff and eMails. After that, he spends time with his wife & kids or takes out time for hobbies and cleanups. On the weekends, he likes to enjoys his hobbies and spends plenty of time with the kids.
The future roadmap of X24Factory
Miro has planned to keep his priorities focused on home & garden and tap into the world of business overseas. He adds, "Right now, we are operating in some of the largest online furniture markets already, but I always said I want to be able to order a beautiful piece of furniture from some unknown retailer in Brazil to my home without worrying."
They are planning to build more into the pre-sales shopping experience for furniture buyers and wish to work with manufacturers to escalate the benefits of their shoppers, overcoming logistical hurdles and language barriers and assuring a unified, seamless shopping experience all over the world.