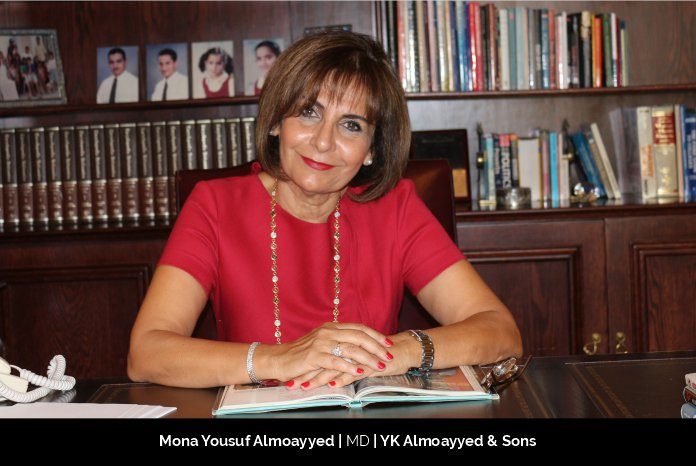 A word of advice that is given by the right person at the right time can change your life forever, as it did for Mona Yousif Almoayyed. She wanted to be a social worker, however her destiny changed after the counsel of her father and she evolved to be a phenomenal fit in every role as a businesswoman, a philanthropist, an environmentalist and a Women's Rights campaigner. Today, Mona Is one of the leading personalities in the Middle East and a recipient of several accolades in recognition of her incredible work. Being chosen by his Majesty the King of Bahrain to be a member of the Shura Council, which is the highest legislative council in the country, Mona Yousif Almoayyed exemplifies the qualities of a true leader and a humanitarian. We are honored to share a few insights about her successful journey in this wonderful read.
The Initial Challenges of Being a Businesswoman
In the 70s, it wasn't common to see women rising above the basic jobs like operator and accountant and taking the lead. However, when you are encircled by positive people who believe in your potential, you can achieve the impossible. Mona's family recognized her ability and rewarded her by giving her a position. But this wasn't as easy task to undertake as Mona was still taking care of her kids. Toggling between the two was difficult. "I remember missing some important business meetings during that time, but my father and my family were quite understanding, and they recognized that being a woman, I have extra duties.", she shares. Once her children were old enough to take care of themselves, it became easier for Mona to put in extra efforts to strengthen the business. When people see you as a hardworking and dedicated person, you get recognition and Mona had a perfect blend of the two.
The biggest challenge in business that Mona can recall was trying to compete with men. She had to work hard to gain the confidence of the customers and employees at the automobile division. In a business there are many obstacles and losses, it is not a smooth ride all the way. Often you need to be hard and close a business division when it is losing money. To sum it up, taking such vital decision that has an impact on others can be strenuous at times. But Mona was determined to give her best to take the company to new heights and as she endured every challenge, she was successful in achieving her goal.
About Y.K. Almoayyed and Sons
Y.K. Almoayyed & Sons began operations in 1940 when the founder, Yousuf Khalil Almoayyed, opened his first shop at Tijjar Road. What was once a one-man trading outlet in Manana's main market is now a multi-faceted organization. Today, the company represents prestigious international brands that include Nissan, Infiniti, Ford, Renault, Toshiba, Sony, Bose and Kodak to name a few. Yousuf Khalil Almoayyed & Sons has big aspirations and continues from strength-to-strength, to prosper and grow. From the early days when Mona's father established his foremost trades in the 1940s until his death in 1996, he has remained closely linked to all aspects of the business; he inspired and managed its steady growth. Thereafter, Mona and her siblings inherited their father's business acumen and entrepreneurial ability, a flair for solid, hard work and a desire for commercial success. Today, Y.K. Almoayyed & Sons Group is a multi-faceted, diverse mercantile organization and service industry. As the directors of the company they ensure that they all work hard to adapt to the needs and challenges of the 21st century, allowing to further develop with commercial vision and integrity. The company has achieved much of what their father wanted over recent years and are proud at having settled this impressive enterprise at the top of everything they have aimed for.
Before She Began her Success Journey
Mona was born in Manama, Bahrain and her house was on the same land as their office today. They were seven children and they lived a simple and happy life. Mona has many happy memories of her childhood. Her home had a warm cozy environment with her mother being the perfect housewife. She cooked, stitched their clothes and took very good care of her children. Her father was busy with his work but at the same time was very loving and considerate.  "My happiest childhood memories were when my father took us to Lebanon on holiday in 1957 and it was my first trip abroad.", she recalls.
Mona did her schooling from a government school in Bahrain.  In those days there was no private school.  All children attended government schools which was free.  This was a big advantage for Mona as she met different Bahrainis from all classes and sects some of whom she still shares an amazing relation with. After she completed her secondary school her father insisted that Mona must finish her education in England because there were no universities in Bahrain in those days.  Again, she was lucky to go on her own to boarding school in England because it gave her another opportunity to make many new friends from different nationalities. She studied Business Administration and graduated in 1974.
After graduation, Mona entered the family business of YK Almoayyed & Sons in 1974, as part of its furniture division. Her frequent visits to furniture show across Europe and US enabled her to improve the furniture collection of the company. In the early 90s Mona got promoted to the automobile business. After the demise of her father, Mona became the Managing Director of the company, which was the turning point of her life.
Excelling in Every Field
As the Managing Director of the company, Mona oversees every domain of the business. The company has an executive committee which meets every week, every manager report to the committee, and they take decisions. They also have an audit committee which is doing a very good job examining all the risk factors, how to improve things and how to close loopholes for corruption. The company's HR committee looks after the employees and follows a performance management system to motivate and improve their positions. The quality committee ensures everything runs efficiently. They also do a balance scorecard, which is a way to look at the four pillars of the business – profitability, customer satisfaction, innovation and training and the proper processes to run the business. Ensuring that the different departments of the company function unanimously and taking care that they are all flowing in the vision of the company is a vital part of Mona's job role.
Along with her role as the Managing Director, Mona also manages her duties as an environmentalist and a philanthropist to the best of her ability. She believes in honesty with hard work.  Business is not all about making profit, but about changing people's lives through their dedicated employees or through their CSR policies.  As a philanthropist Mona and her company cares about the needs of the people of Bahrain and the world.  They join hands with the government of Bahrain and the international organization to protect human race from poverty, medical shortage and to protect the environment.
While juggling between her many roles professionally, she also has the most important responsibility to cater to, which is her personal life. "We women must learn to strike a balance between family and professional commitments. It was always difficult especially when my children were younger. We compete with men who have no family responsibilities. Today with my children grown up the balance is not so difficult. I spend most of my time at work with a few social responsibilities.", she asserts.
Mona has been recognized with numerous accolades in appreciation of her hard work and enduring spirit. Along with being chosen as a Member of the Shura Council, Mona was also awarded the France's Legion of Honor in 2013 and was one of the first women to become a member in the Chamber of Commerce in Bahrain in 2001.
Leading the Team with a Vision
As the company approaches the third-generation era, they are organizing the company to be run by professional management with policies and procedure. Family members are involved only on the board level. They have appointed a consultant to meet all members of 2nd and 3rd generation and come up with corporate governance principles and review their family constitution. Their biggest challenge is to protect the family business and keep it for many generations to come.
They are continuing to improve the business in Bahrain in different sectors and are now concentrating on consolidation. The company has introduced a lot of measures to make the business more efficient. Since several employees have retired in recent years, they are now working with fewer numbers, with better efficiency. This is one way of making the business better with a vision to undertake new projects in the coming years.
"We work hard to motivate and encourage our employees to be more efficient and hard working." Says, Mona.
The Future of Y.K. Almoayyed and Sons
The company's aim is to encourage more Bahrainis to join the organization so they can prosper and grow together. Y. K. Almoayyed & Sons are fortunate to have found some impressive young Bahraini nationals through their training program who will add value in the future. Management remains in close touch with employees at all levels; female rights are supported, and job promotions are made irrespective of background or gender. The modern Kingdom of Bahrain has seen steady progress and it seems certain the country will remain the financial hub of the Gulf. Bahrain's government encourages foreign investment and thus enjoys increasingly buoyant overseas trade. The leading merchant families work well together and, despite being competitors, are united in promoting their homeland.
The biggest advantage the company has is that they are a diversified group with interest in automobiles, construction, cement mixing, retail and electronics. If one year one sector doesn't do well, some other will compensate. In terms of new projects, in the automobiles segment, as they are in a competitive market, they have introduced various workshops in different areas of Bahrain, to make it more convenient for customers to service their cars in their town.
Finally, Mona believes that they as owners of the business should take care of their employees, and the employees will take care of their customers.  A happy employee will ensure that the customers are satisfied.
Mona describes herself as shy and sensitive in nature who is not motivated by profit but by success and satisfaction. Her hard work has paved the way of success for her and has inspired many aspiring women to take the lead in different fields. She was determined to take a stand even when the odds were against her and she made a significant mark in every field she entered. We are certain that she will continue to inspire and motivate the generation with her creative ways of business.