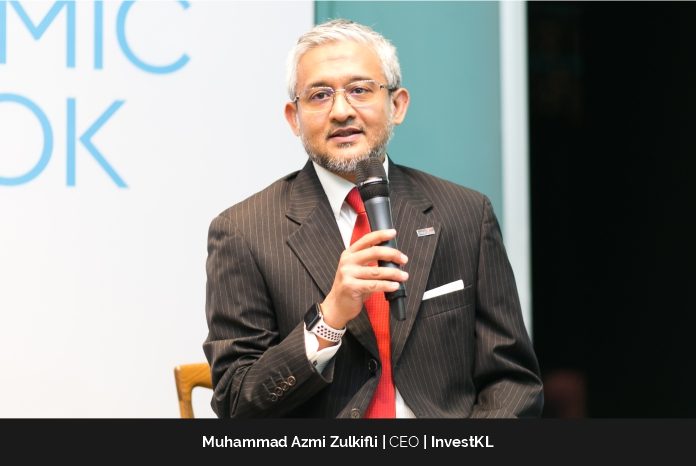 Renowned for his wide exposure to international markets and engagement with global multinational companies, Muhammad Azmi Zulkifli, fondly known as Azmi is the face of business in Greater Kuala Lumpur. He joined InvestKL, an Investment Promotion Agency focused at attracting multinational companies to establish their regional hubs in Greater Kuala Lumpur in 2012 as a Director of Investor Relations for Europe. Today, Azmi holds the position of CEO position at the agency.
Prior to InvestKL, Azmi was with MISC Berhad, a world leading provider of energy related maritime solutions and services and a subsidiary of Petronas, for 16 years. There, he held various management positions across commercial business, business planning and transformation, and operations.
When he first read the job description for his role at InvestKL, he recalled thinking, "Wow, this is special." He says, "I was ready for a new challenge; a new environment, and I knew that this was an opportunity I wanted to pursue. InvestKL's goal was one of the many initiatives to support Malaysia's Vision 2020."
He's met a lot of interesting individuals and worked with a great team of experts, so there's never a dull moment. There was also the opportunity to travel to other parts of the world to engage an international audience, particularly investors, about Greater Kuala Lumpur's investment opportunities. By 2020, the agency has successfully met its original aim of luring 100 Fortune 500 and Forbes 2000 companies. "I am also pleased to report that the team has secured over RM2 billion in new investments as of the first half of 2021. It's a strong start toward InvestKL's 2030 objective of securing a total of RM20 billion in new investments" said Azmi.
The Inception Story
Malaysia's goal was to become a high-income country with a competitive, healthy, and resilient economy by 2020. Kuala Lumpur, Malaysia's economic capital is a vital pillar and contributor to the country's GDP. In 2010, Greater Kuala Lumpur was identified as an engine of economic growth and designated as a National Key Economic Area under Malaysia's Economic Transformation Plan, much like many great countries have their iconic cities.
Greater Kuala Lumpur had great potential, but the driver of the initiative remains a question, "How do we move away from the middle-income trap, attract top global companies when neighboring countries are aggressively doing so, and how do we support the creation of high-skilled jobs with brain drain becoming a top concern?" And that's how InvestKL was established in 2011 with an important role in promoting Greater Kuala Lumpur as a leading regional investment hub in Asia. It was our role to attract, facilitate, and service 100 large multinational companies into Greater Kuala Lumpur while delivering a strong knock-on impact on the economy as well as the high-income, knowledge-intensive jobs they could potentially create.
Staying Stable during Setbacks
In a fast-paced environment where collaboration is key, and in between everyone juggles expectations and deliverables, setbacks are part of the journey. "On a positive note, one should view setbacks as opportunities and a stimulus that could be spurred into something great," says Muhammad.
At InvestKL, management uses scenario planning to predict and respond to changes in a coordinated manner. He enjoys encouraging his staff to step outside of their comfort zones and take on new challenges. The company's success today as a top investment agency, as recognised by Site Selection in 2019, 2017, and 2015, is due to the learning, expertise, and experience gained.
Muhammad recalls, "We were all awakened to the shock of running our business during a pandemic. At the onset, people are grappling with how far-reaching or how long the uncertainty will persist." With such a realization, leaders would then need to respond decisively to two different foundations – internal and external. As Azmi finds, the first one is the importance of rallying the team together and planning for a robust approach moving forward. Also, he wants externally to ensure clarity and continuity in the team's communication for businesses to run during the pandemic.
"Despite the ups and downs and the many late nights and weekends, I am extremely proud of the team," says Muhammad. The team has responded positively by demonstrating sheer resilience in their duties. He adds, "Albeit all that, we saw innovative ideas and unorthodox approaches in how we continue to drive our business."
InvestKL
InvestKL continues to attract worldwide multinational corporations (MNCs) and fast-growing companies to Greater Kuala Lumpur to build regional services centres. The focus is on enterprises from Greater Kuala Lumpur that provide high-value, high-tech, and high-impact services and want to expand their reach into ASEAN and/or Asia Pacific markets. Consumer technology, smart technology, healthcare, industrial automation, engineering services, and oil, gas, and energy are among the industries of focus.
Overall, via its ease of doing business initiative, it assists investors by supporting the establishment of regional centres. InvestKL also owns two initiatives that started in early 2021. Greater KL (GKL) Live Lab was launched to position Greater KL as an innovation and ideation smart city, acting as a testbed where foreign companies experimenting with new and disruptive ways to solve the most challenging problems in the world today can bring their ideas to life while collaborating with local players.
Fit4Work on the other hand is a talent training programme to enhance the essential skill sets of young Malaysian graduates required for the Global Services Industry.
Achievements of InvestKL
InvestKL has progressed well over the years with a track record of delivering the numbers, efforts recognised and moving into the future hold bigger responsibilities to support the national agenda."
The 100 companies that picked Greater Kuala Lumpur as their Asian headquarters did so because they respected the city's foundations and prospects. All of this, however, would not have been possible without the hard work and dedication of the InvestKL team in serving the country.
Muhammad admires the diversity of people who join to pursue a common goal: to make Greater Kuala Lumpur a top and preferred investment location for huge international corporations. Based on a decade of experience, expertise, and insight, InvestKL is prepared to manage new difficulties and seize all opportunities in the future.
Values that Create Progressive Workplace
As per Muhammad, work-life balance resonates deeply in people's culture. He opines, "As a leader of this agency, the well-being of the team is my utmost priority, and I strive to create a safe, supportive, and compassionate work environment."
InvestKL Recreational Club (IRC) was developed to increase team engagement through team events, outings, celebrations, and more as part of its mission to build an enjoyable work environment. During the epidemic, the corporation developed IKLCares, a programme aimed at helping people who are less fortunate.
The workforce at InvestKL is diverse, yet they work together to achieve a single objective, guided by a spirit of public service and a culture of conscientiousness. The principles of InvestKL reflect this: being results-driven, client-focused, working as a team, having integrity and ownership in everything, and understanding the significance of getting things done. As per Muhammad, these values are the core guidelines that helped build the team into the dynamic and determined organization that it is today.
Creating Greater Impact
For Muhammad, in an organization, the hard targets are a measure of success. It's about a company demonstrating the ability, efficiency, and tenacity to hit the numbers consistently. That is the fundamental measure of success. He asks, "When an organization is built on a strong fundamental, leaders then need to look beyond the numbers. What next?" He further adds that an organization needs to look at the greater impact of the activities that they conduct. This is measured through the positive spill-over effect that an investment brings to the country. A global metropolitan site like Greater Kuala Lumpur would be driven by ecosystem growth, promoting innovation, and creating high-skill jobs.
According to Muhammad, InvestKL's path towards environmental, social, and governance (ESG) would be the driving force behind all the company does. He emphasizes, "A greater good needs to be done; a positive change has to be made to ensure that each and every one of us takes the sustainable journey forward."
Advice for Young Lads
"Believe that you are important and that you bring something unique to the table – diversity is a strength," says Muhammad. "Planning gives you a clear direction, drives you and perhaps even motivates you, but the journey is much more rewarding."
Muhammad suggests, "Another would be taking a leap of faith and trusting your instincts. Do not view your setbacks too harshly, but instead reflect and learn from those experiences. Success, on the other hand, is a door to a bigger opportunity – keep it up. Lastly, keep your focus right, invest in yourself, and seize opportunities to accelerate your learning curve. You'll most certainly achieve anything you set your mind to."
The Prospects for InvestKL
Moving forward, the 10-year strategy plan by 2030 is focused on attracting regional high-quality, high-impact, technology-oriented investments in new development sectors that are also compatible with environmental, social, and governance goals. This is also in line with the New Industrial Master Plan in Malaysia.
The successes of the last decade have carved a clear route forward, and InvestKL has set a new target of securing RM20 billion in new investments and recruiting the next 100 multinationals and fast-growing companies to Greater Kuala Lumpur by 2030, or. A feat that Muhammad is confident InvestKL will achieve.