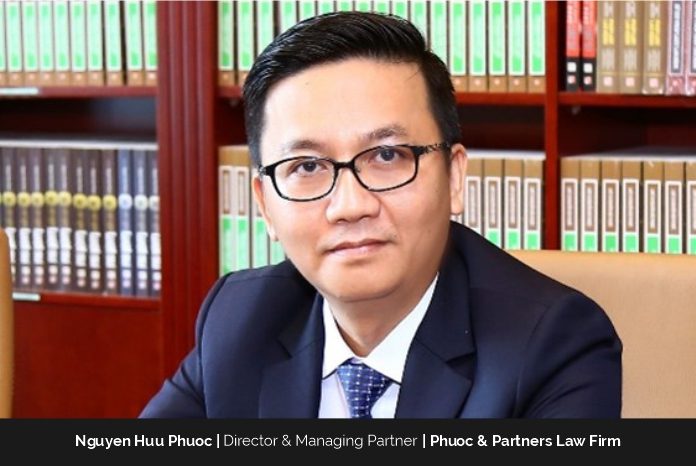 Nguyen Huu Phuoc is the director cum managing partner at Phuoc & Partners Law Firm in Vietnam. TLS law office (precursor of Phuoc & Partners Law Firm) was founded in 2003 by Mr. Phuoc who is known for providing tax, employment advisory services and assisting with dispute resolution. His areas of focus include transactional tax planning, workforce structuring, labour due diligence, retrenchment and development internal policies. Mr. Phuoc is the partner and group leader of the firm's Tax and Labour & Employment practices, with more than 20 years of legal practice experience.
Under Mr. Phuoc's leadership, combined along with his team's hard work, Phuoc & Partners has been ranked as one of the top dispute resolution law firms in Vietnam in 2012 and 2013 by Acquisition International, elected as one of the leading commercial law firms in Vietnam by International and Asia Pacific Legal publications including the Tax Directors Handbook, Asia Pacific Legal 500, Asia Law, Chambers & Partners, ALB for many consecutive years. They have two offices, located in Ho Chi Minh City and Hanoi. They have expanded their expertise to a wide range of legal practices while maintaining their top position as a leader in the practices of Labour & Employment, Tax, Legal Training, Legal Publication and Divorce.
Mr. Phuoc claims that his law firm with nearly 100 skilful lawyers and supporting staffers who have managed more than 150 new cases every year. They have built their trustworthiness and earned the highest credibility inside and outsidethe competitive legal industry. Their lawyers are known for their uncompromising dedication, and ethical standards while providing creative strategies and using innovative methods to bring about the greatest possible result for their respective clients. "Ever since our establishment, we continuously expanded our partnerships with notable multinational corporations as well as representing well-known Vietnamese companies," Mr. Phuoc states.
There is no overnight success
"With me, our client success is our success, which is made through resilience and learning to improve from our mistakes. Unless you are blessed with luck and have innate talents, successes do not come by easily," says Mr. Phuoc.
He further states that the success Phuoc & Partners achieved today is all thanks to the people who are a part of the Phuoc & Partners' team, from his Partners, Associates, Paralegals, and even young interns of the Firm. Thus, there is no doubt that the success is a team's effort. It is quite difficult to survive when you are on your own, you need the support of everyone around you. "The support from members of my family, friends and colleagues has been my biggest motivation and a source of encouragement for me to continue walking on the path that I am taking to this day," he states.
To Mr. Phuoc, success is not about monetary value, it is about being able to work with his team in providing professional legal services that make huge impacts in not only Vietnamese but also worldwide.
Mistakes and roadblocks are recipes for success
Challenges make you stronger and with resilience and willingness, you will be able to bounce back from mistakes by learning and growing from them. It does not matter whether you are a normal individual or a leader of a law firm, it is always necessary for you to go through challenges in life as this will help you realise your goals in whatever journey you are taking. Overcoming challenges will help you build character, prepare you mentally and physically to tackle any upcoming challenges, and most importantly it will help you become a better version of yourself.
One of the roadblocks that taught Mr. Phuoc valuable lessons in his professional journey was when he separated from Luat Viet Law Firm in 2003, a law firm where he was the Managing Partner, and set up a new law firm from the beginning. Like many other law firm entrepreneurs', he had encountered quite a lot of difficulties, such as recruiting staff, finding a suitable location for the small office, and establishing their presence in such a competitive environment in the legal field in Vietnam. "But after all, I learned that this is all part of a learning process. Although it may seem like there is no way out, as long as we have patience, and a willingness to overcome obstacles, everything will work out in the end, and we are here," he says.
Pursuing a career in the legal industry
Mr. Phuoc decided to pursue a career in the legal industry because he has always been extremely intrigued with the law. He loves sharing his legal knowledge and practical experience with people around him. He also believes that being a lawyer is such a prestigious and noble profession when he was young.
The best recognition that he has received as a leader of Phuoc & Partner is being awarded the title of "Employer of Choice" by Asian Legal Business for being one of the best law firms to work at in Vietnam and several other merit awards issued by the competent State agencies of Vietnam.
Mr. Phuoc's responsibilities at Phuoc & Partners as a leader
Before establishing his own law firm, Mr. Phuoc served as Deputy Manager of the Tax & Legal Department of PricewaterhouseCoopers and KPMG, two of the big four international accounting firms in the world for more than 6 years and as Managing Partner of Luat Viet Legal Consultants, a leading Vietnamese law firm for almost 02 years.
In 2003, he founded Phuoc & Partners Law Co., Ltd and has acted as Director cum Managing Partner ever since. "I made the decision to establish my own firm because during this period the Vietnamese economy pursued an open market policy. As such, having a clear understanding of commercial laws was crucial in helping businesses develop legally and become long-lasting," he says. Currently his responsibilities include advising his partners and staffers and supporting them with anything they need to best complete their assignments.
Mr. Phuoc defines himself as person who is open-minded. "Being open-minded has shaped me into who I am today. This trait has allowed me to build strong relationships with everyone around me and be adaptable to the constantly changing society," he states.
Plans for the future of Phuoc & Partners
Mr. Phuoc say that he has not yet achieved all that he has dreamed of, however, he claims to be content with what he currently has. He has big plans in his mind for Phuoc & Partners to grow even bigger and stronger. "Having dreams drive us forward in life and motivate us to achieve our goals in life. I happened to have formed one of the top leading law firms in Vietnam, to have a team of amazingly staff behind Phuoc & Partners, and I am happy to have become the person and lawyer that I am today," he proudly states.
One of his goals for the future of Phuoc & Partners is to expand their law firm across different cities in Vietnam and overseas and serve an even broader set of clienteles in the Southeast Asian region.
Maintaining a work-life balance is not an easy task
Mr. Phuoc notes that maintaining a work-life balance takes a great deal of effort and commitment. The fact that, although he has spent years and years to finally be able to find a middle ground, learning not to bring his professional life home, he claims he is still keeping his commitment. "To maintain a balance, one has to prioritise what is important at the moment and create a schedule and stay on top of it," he says.
To keep himself and his staff motivated, the most important thing that he reminds his staff about is to pay attention to their health – mentally and physically. He tries his best to make their time at work as comfortable as possible by creating a supportive and safe working environment.
As a leader of Phuoc & Partners, Mr. Phuoc tries not to create a distance between himself and his staff. He wants his staff to feel comfortable in reaching out to him for help and know that they can be transparent with him. "I am proud to say that Phuoc & Partners has one of the best work cultures nationwide," Mr. Phuoc exclaims.