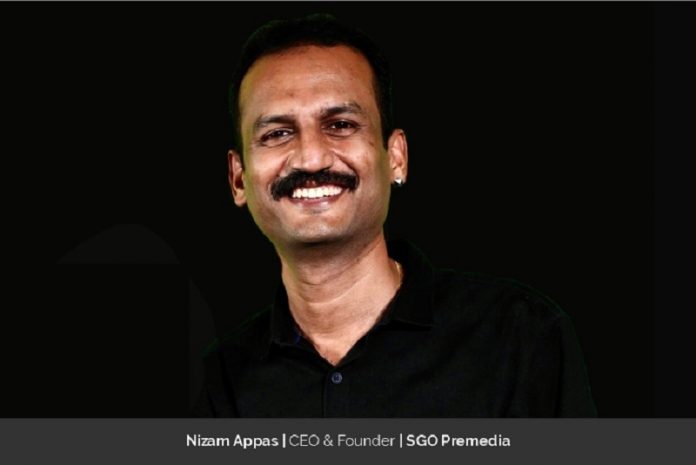 Nizam Appas, CEO and Founder of SGO Premedia, founded the firm in 2020, when Covid was started. Nizam is largely accountable at the firm for expanding the Global Market, which will contribute to the company's and workers' growth.
SGO Premedia is Nizam's dream & passion. The printing and packaging business is a critical necessity in today's society. When most of his growth partners are struggling to find the proper people to get the job done right, SGO Premedia has successfully accomplished the intended outcome with its Training Institute YesGo. The organisation has trained more than 100 candidates in 3 years who have managed to secure a successful career for themselves in the global market.
The foundation of SGO Premedia is based on the will to keep growing in life and its challenges to come out with ideas that aren't ordinary. Nizam says, "Thinking out of the box is a very important fact that made me go ahead with SGO Premedia. I am glad that I chose this, and I cannot be grateful enough for such positive unfolding in life." In the future, Nizam is looking forward to increasing the revenue of SGO Premedia.
SGO Premedia
SGO Premedia's expertise delivers exceptional quality through state-of-art technology and expertise. Its extensive technical expertise helps it flawlessly execute simple to complex projects on all kinds of substrates. The company provides complete premedia and prepress offshoresolutions for global brands and agencies. It works towards creating "ideas into items" and sees nothing more important than this.
Its services include:
* Repro graphics,
* Structural Packaging Design
* Artwork Management,
* Colour Management,
* 3D rendering,
* 2D Pack-shots
One of the greatest strengths of SGO Premedia is its high-end software. The company is the pioneer of ESKO and hybrid in India, which improve productivity, reduce costs, and provide astounding results.
It offers strong and personalised support 24×7 with dedicated account managers. Every project will have end-to-end coordination from making the initial draft till the file is approved by the printer. Faster turnaround time, competitive price and the assurance of Six Sigma level quality delivery are the company's specialties.
Unique and Ahead
As per Nizam, SGO Premedia Global's unique and innovative approach towards opportunities has been a constant source of light. The team has always felt the need to keep themselves technologically upgraded. He asserts, "Our team has a very strong core support along with international experiences that help us stay connected with the latest trends in the Printing and Packaging offshore industry worldwide. Our vision always goes through improvisation."
Giving Back to Society
"When you start one thing, you do it for yourself. The moment you put your hands to multiple things, it is associated with the society you are living in," says Nizam. He further adds, "Obviously, people have had a very major contribution towards my career. I have met people who made my darkest day shine brighter. I have also met people who have given a rush to my passion. I have people in my life who are my emotional support. Honoring all of them is the one way in which I give back to society. My employees, my staff, everyone has a very special place in my life, and I never miss an opportunity to reward them."
Nizam doesn't say much about the world or charity since he doesn't feel like doing anything spectacular when feeding the needy. He believes that God gives us the ability to serve, and that this deed is no exception. He says, "I am just a human being trying to practise humanity wherever I can. I don't feel the need to mention anything specifically."
An Undefined will to be an Entrepreneur
There were many more ventures that Nizam was a part of, and some are still running, namely One Stop Solutions (Prepress House), Yes Go (High End Software Training with Placement), and My Print Career ( Printing & Packaging Manpower requirements).
Before SGO Premedia, Nizam was well known in the Printing and Packaging Industry as a Consultant, Recruiter, and Trainer globally. He has trained more than 1100 candidates who wanted to explore the world of printing and packaging. He also worked as a country head, a consultant, and an application engineer for various organizations. Overall, if one looks at it, it's been a lot harder to frame precisely.
Nizam, on the other hand, was dissatisfied because he always had ideas and a desire to be an entrepreneur and provide better services to the printing and packaging industry under one platform, not only in the Indian market but also in the global market.This was his vision, which he was working on throughout his career and gave his best to make it happen by overcoming all the hurdles. He states, "This has materialised today and SGO is my brand name by which the world recognises me, and my brand is blooming everywhere, which imparts a very prerogative feeling. We have recently started facilitating our services in the UK as well, and touchwood the start has been great." With the baggage of experiences and lessons, and a motivation to ace the industry, he started SGO Premedia Global. He has been a gold medalist in printing technology, and that always makes him more eager.
Achieving Balance in Life
When Nizam was starting out his journey, he had a difficult time finding out the thin line that needed to be kept between his personal and professional lives. As per him, the healthiest solution is to keep the books of entrepreneurship in the office or workspace and the private life at home. He adds, "I would like to thank my wife, RL alias Ramalakshmi, who has ensured the perfect balance in my personal and professional life. Also, I would love to mention the person who stood by me through the thick and thin of life. She is my partner, my better half, my wife."
Every element in Nizam's routine falls pleasantly into place at his will. He asserts, "There is absolutely no pressure, but just a dedication and determination that shapes my schedule. I would definitely not want to miss mentioning my employees because they have been a constant in my journey. Without them, my journey seems pointless. "
Meaning of Success
"Do a job you love, and you will never work a day in life."
Being an entrepreneur was a childhood dream for Nizam, a dream he saw without understanding the challenges that would come with it. He has been an entrepreneur for almost two decades and can proudly state that he has loved overcoming all of the challenges that have come his way. "I have always believed in going outside the box and coming up with things that no one has ever done. This has been the one constant in my life,"  he says.
A People's Leader
Nizam considers his staff to be family, and they all see the entire process together. He is constantly motivated to keep encouraging his staff and giving them the opportunity to improve. He says, "We work like this is the last thing to achieve and there is no second time, so whatever is to be done has to be done today. This keeps the pace of reaching perfection in whatever we do."
Nizam has always felt that attitude is a critical component of progress. A positive attitude about work will always lead to increased productivity. He does this by ensuring that the atmosphere he offers is convenient and comfortable. All of this contributes to the strong link between him and his staff, which he ensures is maintained.
The Future Roadmap for SGO Premedia
The team and Nizam launched SGO Premedia at Covid-19, which was a task in and of itself. However, the team enjoys taking on new challenges and doing things that are different and adventurous. Nizam emphasizes, "We are expanding our business in the UK in 2021. We have always felt the need to play and achieve on a broader platform. We have been competing with two brands playing the monopoly role. We have the aim of breaking the monopoly and creating a market that is sounder and more accessible for global consumers. "
Furthermore, the objective is to develop the firm in three nations across the world in order to broaden its scope of service and functionality. The company's current vision is to avail its service in at least five countries worldwide by 2024. Its services are available in India and the UK, and it is expected to reach the USA by 2022, followed by Canada and Australia in the coming years. The aim has always been to expand the boundaries and make it seem large.
Motivation to keep fighting back
Referring to Jodi Picoult's words, "You can always edit a bad page. You can't edit a blank page," Nizam recalls the time when he started as a young boy, and was trying to learn tit bits about this industry. He asserts, "While I was learning, I learnt my interest, and that has been the greatest reason why I never felt like changing my line or ceasing the process. Entrepreneurship and the service I am providing are both very keen factors that contribute towards my interest. "
As per Nizam, every day he wakes up with a desire and energy to strive towards his ambition has kept him focused on the path he wishes to take. Also, he had a great desire to see himself where he was, and his resolve was too strong to keep him away from what he desired.
(Press Release): Offshore Pre-Media Services Land in the UK
Turning things firmly on their heads; India's SGO Premedia, sister company of the YesGo Group, a pioneering Premedia organisation with branches all over India, has opened its doors in the UK.
Taking the opportunity during the Pandemic to respond to changes in customer needs and dynamically re-engineer it's business, SGO has not only weathered the storm but flourished, adding new technologies and expanding its Global offices with a firm focus on developing business in the UK & Europe.
Founder and CEO, Nizam Appas said of the brand and its goals; 'SGO Premedia UK has been crafted as a part of SGO India to provide UK and European businesses with direct access to highly skilled, experienced and motivated teams of operators in India. High end infrastructure solutions such as Esko ensure that we deliver with total confidence, including complex automated workflow solutions.
This is offshore with a difference; our clients and teams are supported with experienced technical and management personnel in the domestic country. We may be offshore, but our relationships are real time and on the ground.'
'Premedia plays a pivotal role in the delivery of consistently perfect final output print & packaging. Plenty of Global premedia houses have operations in India, often outsourcing work which lengthens the process and reduces efficiency.'
'SGO is the first of its kind, reversing the process by building its own service capability in the UK, directly and fully integrated with the India based production facility for a seamless, efficient and accurate workflow'.
Nizam Appas has strengthened the UK management team, appointing Stephen Furlonger as European Commercial Director.
Having worn multiple hats throughout his 25-year career, Stephen has a unique hybrid of experience from senior roles in Advertising, Design, Marketing, Brand and Production.
In his new role, Stephen will be spearheading SGO Premedia's business strategy and Operations in Europe. In the recent past he has been Deputy Managing Director for Tjarks and Tjarks Design Ltd and Senior Vice President, Managing Director at SGS&Co's Marks Design, where he led the European network and drove growth.
Through careful positioning, constructing a strong leadership team and personally forging strong commercial relationships with both large and small European businesses, he oversaw the growth of Marks Design from £2m to £22m.
Stephen says, 'I am delighted and truly excited to be joining SGO and to work closely with a vibrant and talented team of committed and experienced professionals. As a vibrant nation, India is brimming with entrepreneurship and a 'can do' attitude that unlocks vast potential for exploring newer creative avenues.'
'I am honoured to be working with such a brilliant leadership team as it expands & develops across the European region and beyond. Servicing large and small business alongside their design partners and bringing agility, quality control and rigorous process to the obvious benefits of overnight delivery and cost-effective labour. Offshore has gained notoriety for the wrong reasons in recent years as the large GSP's continue to struggle with delivery and quality issues as a result of poorly engineered infrastructure and a focus on cost, at all costs.
The SGO approach to a large part reverses the process; providing access to well running & established business that just happen to be located in India, with all of the benefits that brings.
Essentially, we have a non-EU domiciled business, with friction free trading and a Global reach. Built on state-of-the-art tech and a commitment to an ongoing leadership stance in innovation, process management, people development and infrastructure. I cannot wait to shake up the currently formulaic and stagnant market.
Nizam Appas, CEO and Founder of SGO Premedia says 'I am pleased and honoured to welcome Stephen as our European Commercial Director. There are incredible similarities between the creative agencies & Premedia industry transformation and with Stephen's insights of more than 25 years across so many disciplines, we will propel SGO forward in the European market.
The Pandemic has only fuelled and accelerated our ambitions globally. We intend to keep delivering on our promise of Right First Time and take our proven service model to a wider and more diverse client base.
For More Details Contact
India +91 99620 11626
UK + 44 7880 234957
SGO Premedia Limited
17, Boat House Business Centre,
Wisbech | PE13 3BH
UK
Company Number – 13476148
VAT No – 387 6799 11
www.sgopremedia.com