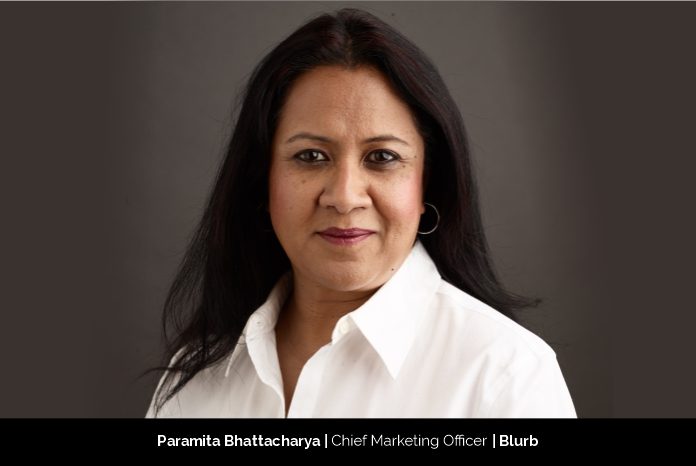 Carrying two decades of profound marketing experience at Fortune 500 companies, Paramita Bhattacharya, Chief Marketing Officer (CMO) of Blurb, has always acted as a change agent who is an amalgamation of unique attributes such as design thinking, customer engagement, technology platforms, data insights, and business needs. Taking different roles in her career shaped her from a creative storyteller to a business leader and a diligent decision-maker and finally, to an empathetic leader who strives hard to empower her teams.
Journey to Success
Paramita is a marketer at heart. Kickstarting her career in big advertising agencies like JWT and McCann, she was able to cement her brand development skills with a strong foundation. As digital appeared on the horizon, she emerged as an early adopter, developing industry-leading web and digital initiatives for numerous technology companies in Silicon Valley.
Sharing her top experiences in her career journey, she states, "I spent the next decade at Adobe in leadership roles focused on global product launches, brand, web, digital marketing and, sales enablement across consumers, SMB and Enterprise audiences along with the massive transformation to SaaS."
As a key leader in the global corporate marketing team at Hitachi Vantara, Paramita spearheaded and collaborated to drive marketing transformation, building a digital-first framework and data-oriented execution, that fueled customer growth. With Nokia, Paramita helped lead new category creation and market leadership in Virtual Reality and scale the emerging business and the operating model worldwide." Paramita says, "I was and continue to be inspired by the use of VR, AR and, XR technologies in different industries and how it is setting new visions for the future of computing and human interaction."
Knocking down Impediments
For Paramita, her career path has not been without its share of challenges. She had to actively advocate for herself to advance her career. While she did not have a steady mentor, the organizational relationships she built inside and outside the company proved vital to her career journey.
And as she rose through the ranks, she states, "What was often missing in these workplace relationships was the ability to bond with similar thinking women or count on women mentors since the pool of women is small at the leadership level." She drew support and encouragement from her outside networks especially from those in similar positions or facing similar challenges.
She is really excited to see the change momentum in the corporate world today, especially for women who are joining executive teams and company boards in growing numbers.
Fostering a strong culture of integrity and innovation
Ensuring a culture of innovation is critical for Paramita, especially in the new normal of a post-pandemic world. Business agility is a key fundamental that she practices. In the early days of Covid, she led Blurb to immediately pivot and optimize for core business strengths and focus on revenue and preserving cash flow. With all the disruptions in the supply chain and elsewhere, she and the management team did scenario planning to address customer and partner needs and prepare for potential breakdowns.
She adds, "I also focused strongly on building marketing resiliency by marshaling internal and external resources to fill unforeseen gaps, revised budgets to deal with market fluctuations, and transformed to an agile operating model with continuous assessment and flexibility across marketing and the overall business."
Fueling the growth and future of the company
As the Chief Marketing Officer at Blurb, Paramita's charter is to shape the brand narrative, enhance and personalize the customer lifecycle and purchase decisions, and lead revenue and profitability. She oversees Marketing, Communications, and Customer Support and Operations.
Each day, according to her, is different. She adds, "In general, I spend my time divided between strategy and execution. On the one hand, I am involved in building and modeling future growth plans and strategic business expansion with my CEO and the board, while being focused on operating plans across all marketing and customer support functions to drive revenue and unparalleled customer experience."
Paramita believes that prioritizing innovation and maintaining a growth mindset are two crucial aspects when climbing the ladder of success. Even during the pandemic, identifying new opportunity areas being created by the changing landscape and quickly implementing solutions helped to reap good results. She and her team rolled out new customer engagement strategies, expanded their brand with new purpose-led initiatives, and drove higher revenue with audience segmentation, including pricing, promotion, and new product features.
She adds, "We continuously test, learn, and optimize. In the short term, we redefined our customer value proposition, impacted changes in products based on new consumer digital journeys, evolved our customer support operations with automation and AI tools, and allocated adequate resourcing and processes needed to deliver. At the same time to stay competitive, we also mapped and redesigned business and revenue segments for longer-term advantage and enabled a foundational recovery and future growth approach."
All the hard work has brought several accolades for Paramita.
She has been recognized as the Top 50 Women in SaaS for her performance as a CMO and as a leader with the ability to foster innovation and growth, spur new initiatives, leverage strategic partnerships, and contribute to company success. She was also included in the Asian American Hall of Fame Top 100, which is a curated list of Asian Americans with storied successes. Most recently, she was celebrated amongst the Top 50 Thought Leaders and Influencers in Customer Loyalty.
While she is encouraged by the awards, Paramita believes that the best recognition for her lies in the success of her team and customers. She feels delighted and fulfilled when her team members win praise and customers are gratified with company products and services.
Balance is the key.
While on the road to success, Paramita strived towards action and perfection which often led to over-commitment and exhaustion. However, over time, she has learned to balance with prioritization and shifting gears in her professional and personal life. Today she values self-care and well-being and believes its critical as an executive to re-energize the mind and body to sustain the gruelling pace.
She realizes that setting clarity and high morale for the team is essential to take the company to the next level. She expresses, "during Covid, we remained motivated by celebrating the small successes and applauding all the extra heavy lifting everyone was doing while sharing stories of teams coming together to overcome adverse work situations." She remains focused on defining the corporate purpose, especially considering the climate of social justice since 2020 and why and how everyone's efforts matter. The burnout that employees are witnessing in the aftermath of Covid worries her. She says, "I encourage employees to prioritize their own safety and well-being, and on my end be less stringent about existing rules and be flexible and have a thoughtful communication style."
Future goals and words of wisdom
Paramita plans to continue as an operating C-suite leader and drive companies to expand their customer bases and grow revenue while spending a part of her time as an advisor, mentor, and investor. She is inquisitive, curious, and ready to take on new challenges and broaden her horizon. Paramita considers herself a life-long learner.
Her advice for emerging women leaders is, "seize the opportunity and continue with conviction and passion. Defend against biases and blaze your own trail. And when you are a woman in a leadership position, then champion for other women in every possible way you can."