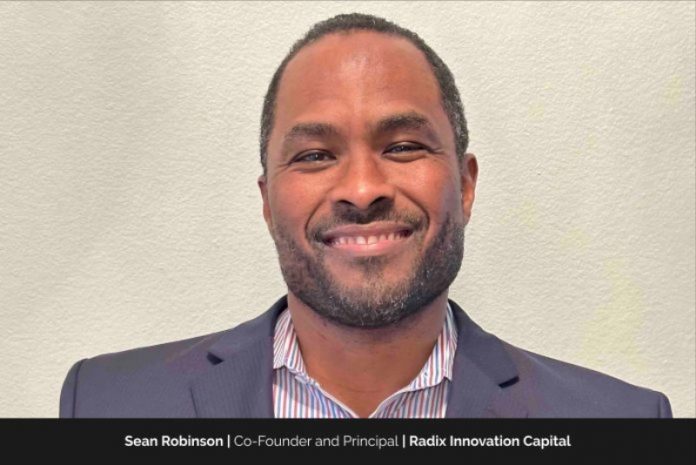 Sean Robinson is ensuring that no Minority, Women, Brown Indigenous People Of Color (BIPOC), People With Disabilities (PWDs) and HBCU Founders have to abandon their entrepreneurial dreams due to limited access to capital. As the Co-Founder and Principal of Radix Innovation Capital, he is helping these diverse founders secure the capital needed to grow their businesses and write their success stories. What distinguishes him from other venture capitalists is his take-no-prisoner attitude. Once he sets his goals, he does not quit. He goes after them and finishes what he has started.
He believes in putting his best foot forward and giving all his endeavors 200 percent. He is also passionate about everything he does. "Passion drives me, and a lot of times, it helps me get over that hump," Sean says. And he gets up every morning ready to fight the good fight.
Seasoned Professional in the Financial Industry
Sean is a seasoned accounting and financial industry professional from Wall Street. Over a career spanning almost 30 years, he has enjoyed some of his duties and some he has not. In the initial phase of his career, he worked as a senior auditor at KMPG in New York City. "I wasn't particularly crazy about being an auditor," he says. He decided to go to business school because he was not enjoying his work as an auditor and made the decision to change his career path.
After earning his MBA from the Simon School of Business at The University of Rochester, he served in the investment banking sector back on Wall Street, and four years later, he felt that this field was not conducive to raising a family. This realization led him to become a CPA in 2005. After that, he navigated his career toward SEC reporting, and then, in 2007, he moved to Venture Capital at Citigroup, where he served in various positions from 2007 to 2016.
"If someone asks me when I truly felt like I was optimizing my professional endeavors and appreciating my livelihood, I don't believe that happened until the beginning of 2017," Sean says. It was when he founded his accounting firm, Tebaja Consulting. He came up with the name by combining the first two initials of his three children's middle names.
The accounting firm enables him to provide fractional Controller and CFO support to Minority and Women founders and help them solve problems related to accounting and finance. Now, because of Tebaja Consulting and Radix Innovation Capital, Sean says, "I'm thoroughly enjoying what I'm doing."
"Minus capital raising, I enjoy accounting and finance, and I enjoy being an emerging fund manager with Radix Innovation Capital," he adds.
Founding Radix Innovation Capital
Radix Innovation Capital, founded in March of 2022, is a $20 million fund that supports, partners, and invests in founders who are minorities, women, BIPOC, PWDs, and founders who are from Historically Black Colleges & Universities (HBCUs). The fund is the brainchild of Sean and Jamal Trotman. They founded it with Terrence Battle and Cheryl King soon after graduating from the HBCUvc Fellowship Program in 2021, which is headed by Hadiyah Mujhid, which introduces and trains current HBCU students and HBCU Alums in venture capital and entrepreneurship.
There are two catalysts that set Sean on the path to becoming a venture capitalist – experience of his younger brother and the challenges faced by the clients of his accounting firm. In the mid-2000s, one of his brothers started his business in computer graphic design and advertising in New York City. Unfortunately, he could not run it for long. He had to file for bankruptcy after failing to get access to capital. "I wish I could have helped him out then," Sean says.
And, when Sean started his accounting firm, he discovered that, like his brother, his clients in the Minority & Women-Owned Business Enterprises (MWBEs) space were also facing the challenges of limited access to capital and identifying the resources and talent necessary for growth and success. He points out that to grow their businesses, most of his clients have to bootstrap, pay through their credit cards, or take second loans under their mortgages. Seeing his clients struggle to access capital for their businesses, Sean decided to step up and be the problem solver – "to be an agent of change".
"I said to myself, 'I believe, as a result of my career and making excellent academic and employment choices, I have gained the experience, talents, and gifts to be a servant to diverse founders and help them solve that problem," he says. Through Radix Innovation Capital, he and his Co-GPs are investing in those diverse founders who are building companies at the pre-seed to seed stage, primarily in Deep Tech, and helping them get to the finish line.
In a short time, Radix Innovation has garnered a positive reputation. It is currently growing at an extremely fast rate. "Faster than I thought," Sean says. In March of 2022, the venture capital fund was started, and in May, it received its first LP commitment, which, Sean says, was unexpected. In late 2022, they ended up closing on one deal (123 Baby Box). Then in June 2023 they closed their second deal (JuneBrain), then their third deal (Nestment) in September 2023 and recently closed their fourth deal (AskHumans) in October 2023. They are on the move to identify and close a fifth deal before the end of the year.
"We are currently focusing on our capital raise," Sean says. "It is where we are spending most of our time on calls or meets with potential LPs – and at symposiums and conferences to enhance our network and relationships."
Radix Innovation Capital has raised more than $1 million thus far.
Ensuring Commitment and Learning
Sean does not like to be on the fence. "Either I'm all in or I'm all out," he says. So, for him, it was very important that he and his team were fully committed to the venture capital fund. He and Jamal were grooming a team who they believed would be valuable alliances and help them in building the fund. For Sean, it was imperative to ensure that the entire team is committed to the mission.
The other challenge he faced was related to learning while growing on this venture capital journey. "We were aware of some things, and some things we were not aware of due to the varying levels of experiences amongst the principals," Sean adds. "Fortunately, we were willing to accept that and put ourselves in the driver's seat to learn and be proactive about building relationships and engaging with networks in the VC space, to help founders grow their companies and help them get to their finish line."
Initially, it was also a challenge to conclude which founders and problems Radix Innovation Capital needed to solve, because ultimately these are the ingredients that had to be a part of their investment thesis. Sean points out that their thesis – their North Star – had to be clear, and the goals had to be specific and measurable. "So, we are building a portfolio of companies that represent the founder demographics we are serving," he adds. "And we have helped them address certain financial and resource challenges."
And, while growing the fund, Sean and his team are also continuing to fuel their passion for what more they can do for their founders. "I'm like, 'we're granting and injecting investment capital in these founders, but what else we can do for them'," Sean says. He quickly identifies whether they are experiencing resource issues or need to be connected to other VCs for funding, or if they require guidance on business strategy. Sean explains that he likes to assess what additional values they can provide, tailored on the basis of each company's unique problems. "We have to be invaluable to them by solving their unique issues and challenges," he adds.
A knack for Putting Together Teams 
As a leader, one of Sean's greatest achievements is his credibility to build and bring teams together. "I've always done that, definitely in the past 20 years," he says. When Radix Innovation Capital was being formed, Sean helped to pull together Jamal Trotman, Cheryl King and Terrence Battle to build an excellent team. He is able to do that because he recognizes that he must surround himself with smarter people for better outcomes and success.
In addition to that, he is also able to identify who may be interested. "I strike a conversation about the vision, which is my influence dialogue, to see who is really interested," he says. Then, he brings a team together and leads them with a vision that everyone shares.
"For success of your venture, you need to build great teams, galvanize them, and make them believe that they are also stakeholders in what you are creating," Sean says. "I'm very good at doing that."
The Self-Motivated Family Man
Sean is a self-motivated leader and does not need prodding from others to go after his goals. As a young boy, he too was self-motivated. The oldest of four children, he is the first college graduate in his family, and he financed his own schooling in undergrad and earned a fellowship for business school. His parents often tell him, "You always were a self-motivating guy, never needed much instructions and was always able to set yourself on own your path."
As a father and a family man, his three children motivate him to do his best every day. He wants to be a good example for them. He wants to teach them that winning and losing is a part of life, as he believes that "somedays, you're going to win, and somedays, you're going to lose."
He draws inspiration from a dialogue in Tom Cruise's movie Jerry Maguire. "In life, I have failed as much as I have succeeded. But I love my wife. I love my life. And I wish you my kind of success," the mentor (Dicky Fox) to Tom Cruise's Jerry Maguire says in the movie. Sean points out that he also has similar thoughts. "I like to fight the good fight, so even if I lose, I know that I put my best foot forward," he says. "And I know that one day, I'm going to win." He wants to make sure that his children learn these valuable lessons. "So, when they come of age, they can always reflect on the fact that their father was their mentor and set a positive example for them to follow," Sean says.
At his work, too, he leads by example. Being the most seasoned professional in the team, he is always ready to coach the other three team members. He is also open to receiving coaching from them. And Sean loves to lead as well as serve. "I'm a leader who leads my team because someone has to have the vision and then the ability to articulate it to the rest of the team," he says. "At the same time, I serve my team because I also need to learn from them on how to be a more effective leader."
"And, when it comes to the people we are serving, I'm leading the fight to help them solve issues such as access to capital, limited resource, and business strategy. And I'm also serving founders because to help them solve their problems, I need to listen," he adds. It makes them feel that "Sean understands, and he is going to help me."
Satisfied with the Path 
Success, for Sean, means solving a problem because that not only enriches the lives of his team but also the people whom they serve. That is what drives his passion as well.
His definition of success has evolved over the years. When he started his career in investment banking, success meant bonus cheques, rising through the ranks, and making more and more money. "As I have grown older, the tangible things that have become more valuable and important are family, who are my first and foremost priority, my professional livelihood and quality of life," Sean says.
He does not want to be in a situation where he turns up at work wearing a sad face or is frustrated with his job. He has always preferred to be in a place that makes him get up in the morning and say "today is going to be a great day", where he loves his work, and gets to ring the bell and is pumped up for the race. "Fortunately, I'm in that space," he says. "I enjoy being a CPA and a venture capitalist, and I'm very satisfied with the path I'm on."
The Roadmap Ahead   
Sean wants to see Radix Innovation's fund grow and hit the $20 million mark by 2024. He and his team intend to invest in 40 to 45 companies over the next three years in primarily Deep Tech, all first-time deals with some follow-ons.
In addition, the Radix Team has established a 501(c)3 entity that is unrelated to their Fund I. The 501(c)3 entity's mission objective is in alignment with the Funds thesis and will allow potential LPs to provide their commitments to the 501(c)3 entity as a "donation" and thus receive a 100% tax deduction, if they choose to take advantage of that commitment option.
The 501(c)3 entity would then commit capital to Fund I via the donations received from the LPs as an "Arm's Length Transaction" and the Radix Team will then allocate the funds and invest in Diverse Founders based on the investment thesis.
Sean envisions the Radix Innovation Capital brand as more than just a traditional venture capital fund writing a cheque. He plans to make it a brand that also understands the other needs of founders and their growing challenges, enabling it to offer appropriate value-added services.  He wants it to be the hand that founders can hold during their journey. "They need to build their company because that is their job and that is why we are investing in them," Sean explains. "But, in us, they have an ally. We want them to trust that we will help them get over the humps that they will experience – both monetary and non-monetary issues."
He also points out that once they do their investment in the next three years, there may be exits, like an IPO or an M&A transaction, and other moves by the founders. He is optimistic that they have invested in great companies thus far. "We will continue to invest in more such companies," he says. "And use that platform to then launch our second fund, which will be a bigger fund." They are currently discussing how big that fund would be — $50 million or $60 million. "It'll definitely be larger than the first one," Sean says.
"We have created the first fund just to demonstrate that we know what we are doing, we can execute our investment thesis, and how the concept works. And all our portfolio companies are in alignment with our investment thesis," he adds. "If anyone wants to validate that, I kindly invite them to do it."
And, once the fund has been fully raised and closed, Sean and his team intend to launch Radix Capital Junior, which will fund businesses ideas of high school students. Their plan is to organize competitions that will allow high school entrepreneurs to pitch their business ideas. "We will then fund them," Sean reveals. "In this fund, we are going to have portfolio companies that are started by high school students."
Message to Aspiring Venture Capitalists   
"Regardless of your investment thesis, all emerging fund managers should support and advocate to increase equality and diversity in the VC ecosystem," Sean tells aspiring venture capitalists in a message to them.
For example, some of the published statistics have revealed that black women founders are the fastest-growing business owners in the U.S., he points out. "Your typical white-owned businesses are no longer the fastest growing entities in the U.S. That tells me that the playing field has already shifted and is changing and will continue to evolve."
He also notes in his message that by 2040, there is going to be a flip in the population composition in the U.S. The minority population is going to become the majority and the majority population will be the minority. He, therefore, expects a further significant increase in the number of minority business owners. They will become major players in the future years in business ownership in the U.S.
"The writing is on the wall. We should support diverse and dynamic founders," Sean tells aspiring venture capitalists. "Founders who are Minority, Women, BIPOC, People with Disabilities, and in the HBCU ecosystem are a part of the growing U.S. and global economy, and that is only going to increase as the years progress. Anything we can do to support Economics, Entrepreneurship and Empowerment for these dynamic founders is a win-win for everybody."
Please feel free to reach the Radix Team at info@radixinnovation.com.