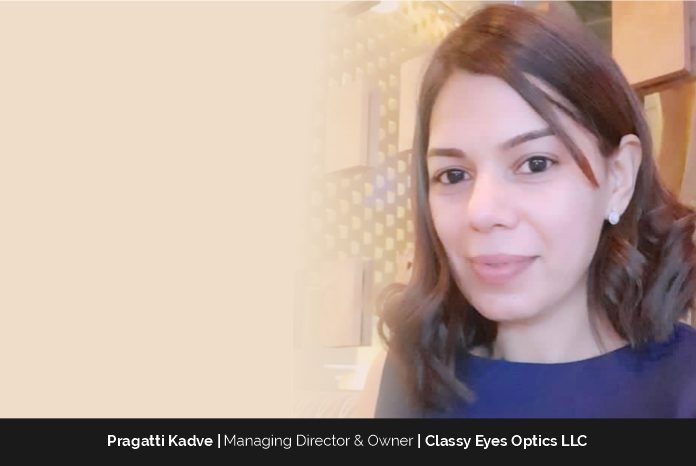 The pandemic has made it clear that we do not currently have enough healthcare workers to satisfy the requirements of an ageing and increasing population. Blindness and visual impairment are more than merely health problems since many industrialised and developing nations tend to place low focus on eye health. The most common handicap in the world is uncorrected poor eyesight. The projected yearly productivity loss cost to the global economy is $272 billion. It restricts educational opportunities and puts the public's safety at danger.
Pragatti Kadve founded Classy Eyes Optics LLC with the vision of redefining eyecare by offering vision care solutions in a state-of-the-art facility. She has previous expertise as a marketing manager for professional services, medical devices, and diagnostics (B2B, B2C), and she has worked on projects that have helped her manage some of the most challenging times, such as pandemics, as well as turnaround scenarios and crisis management.
Pragatti has worked as an optometrist for more than 18 years and is a recognized, competent eye care professional by trade. She is pleased to be a member of one of the most important healthcare professions that improves people's quality of life by helping them see better. She is a fellow of the research institute of Eye Care India from the LV Prasad Eye Institute's 2002 batch.
She has always believed that "Eyes Are for Life" and that aiding those who are caring for them is most meaningful to her. She has collaborated with a number of different organisations to promote eyecare goods and diagnostic tools as such, serving as a consultant in hospitals, visiting faculty at educational institutions, and a professional coach in corporations.
Classy Eyes Optics, LLC
With the provision of vision care options in a cutting-edge setting, Classy Eyes Optics LLC hopes to redefine the field of eyecare. Classy Eyes Optics LLC offers comprehensive eye care under one roof, including vision screenings, treatments, and a wide selection of eyeglasses from well-known brands.
Through fully equipped medical diagnostics, integrated AI tools for vision screening, specialised eye care treatments, and the finest in eyewear choices, it seeks to improve the patient experience. Its links with organisations like the World Council of Optometry, Saudi Optometric Association, Emirates Ophthalmological Society, and IACLE are proof of its dedication to eye care.
One Stop Solution for Eyecare
Classy Eyes Optics specializes in providing eye care for postoperative compromised corneal instances, K-conus, and poor vision optical and non-optical aids are just a few of the complex situations that Classy Eyes Optics provides eye care for.
The facility's skilled in-house certified optometrist offers individualised services to identify a variety of vision-related problems and uses cutting-edge methods to lessen the negative effects of eye illnesses so you can see, feel, and look better.
Classy Eyes Optics LLC offers comprehensive eye care under one roof, including vision testing, treatments, and a wide selection of eyeglasses from well-known brands. In the optical section of Dubai Festival City Mall, Classy Eyes Optics offers the best selection of designer and high-end eyewear brands.
For members who qualify for optical coverage, Classy Eyes Optics LLC has active contracts with the following insurance providers. Many other insurance companies have also authorized it for medical reimbursement. To learn more about eligibility, approval, vision testing, eyecare options, and other topics, stop by Classy Eyes Optics.
Life before Classy Eyes Optics LLC.
Being born in India, Pragatti had most of her schooling in Mumbai, Maharashtra, India, up until the age of 21. Later, she relocated to Hyderabad, India, in another state in the south of the country, where she continued her long-term fellowship. This experience helped her become more sensible and motivated about her work by giving her access to community-based services in remote areas and giving her hands-on experience with challenging cases. She eventually worked as a consultant for several hospitals, optical and Lasik facilities, and counseling, consulting, and practising organizations, which gave her access to work with experts in her area and allowed her to treat several well-known celebrities under their supervision. Pragatti has thus far experienced a fantastic learning curve and is continuing on her path of exploring other possibilities in order to bravely bring them to fruition.
A True Leader's Approach
Pragatti feels it is her duty to uplift her people in terms of training and to provide a conducive and joyful environment at work so that each one can flourish and do their best. As the founder, owner, and director of the organization, which is currently in a very nascent stage, needs a lot of nurturing and caring for its people, Pragatti justifies that there is undeniable evidence that people function at their peak levels only when they are content because they lose track of time when they are engaged in what they are doing and are able to witness their devotion in action. "Happiness has a direct impact on our performance level in every aspect of our life. May it be professional, personal life. The level of involvement is very engaging and inclusive to witness the devotion. Additionally, it fosters loyalty and retains employments which is a long-term vision of the company and its employees.", says, Pragatti.
For Pragatti, it is crucial for her to recognize that her team members are depended on her organization, thus it is extremely important for her to ensure it survives and does well that is better than before and keeps track of it. The next step is to figure out how to expand further to improve both the customer experience at Classy Eyes Optics LLC and the people working there.
Keeping Motivation Intact while Facing Challenges
Pragatti approached every obstacle or issue with the utmost clarity, complete openness, and moral rigour. She never compromised on the level of service or product quality that the business promised to provide when she had any worries or difficulties. Whatever she does in her life, no matter how large or small, she must do it well by being interested, focused, and attentive. She must also do it joyously, whether or not anyone is watching her.
True Success Survives Difficult Times
"If I could survive during times of pandemic then I could even to better during times when days are back to normal, that drove me further to build up on courage and strengths to work more better," says Pragatti.
Pragatti views her ability to endure over the pandemic's most critical phases while still in her first year of business as a sign of accomplishment. Growing from a single small kiosk to three in various locations, including a full-fledged optical store with modern diagnostic equipment and a clinical facility, she was able to do so on her own, using her hard-earned savings as an expat woman in the GCC region, without any funding or investor assistance. As a result, Pragatti refers to it as Classy Eyes Optics LLC and says that going from nothing to something is important to her.
According to Pragatti, her certification from her previous employer for completing the J&J Energy for Life Performance programme for its personnel in senior or leadership roles is her highest accolade. She states, "Recognition as healthcare speaker in GCC countries specific to my subject matter, including KSA – Riyadh, accolades for clinical direction and execution for well-known scientific symposiums held at national and international level, but again, as I say, these are very monitory benefits and one must not hold any identification with it once the activity is finished."
Every day as a Leader
While sharing her entrepreneur's life, Pragatti claims she is nothing, although she has been everything from a housekeeper to an accountant to an eye doctor to an occasional business owner. She personally would not like to cling to any particular identity since it would prevent her from pursuing a larger world and a better existence as a human being while she is still alive. Her day begins with yoga and meditation in the morning. She then makes her own lunch and drives back to work while listening to RJ on FM radio and enjoying music.
To maintain her personal balance, Pragatti feels her meditation and yoga are helping her fins. She opines, "I can be a human first and that will not only impact me but also my surroundings and people in it, thus I must bring in consciousness in my act and do it joyfully. This in turn allows one to level up."
Future of Classy Eyes Optics LLC
As the classy eyes punch line says, "See Better", in the upcoming five years, Pragatti aims to make sure the business offers high-quality eye care and goods in a way that is extremely sustainable. The goal is to continue growing without limiting ourselves to a particular market, and Classy Eyes must be reachable to those in need of eye care and eyeglasses even in distant regions. She further adds, "Can't give away lot of information now and simply want to make it happen with consistency and commitment towards it."
Message to Aspiring Business Leaders
"It's time that we figure it out by turning inwards rather than finding one in the outside world and every possible best thing on planet earth in the name of human health and well-being is really possible."