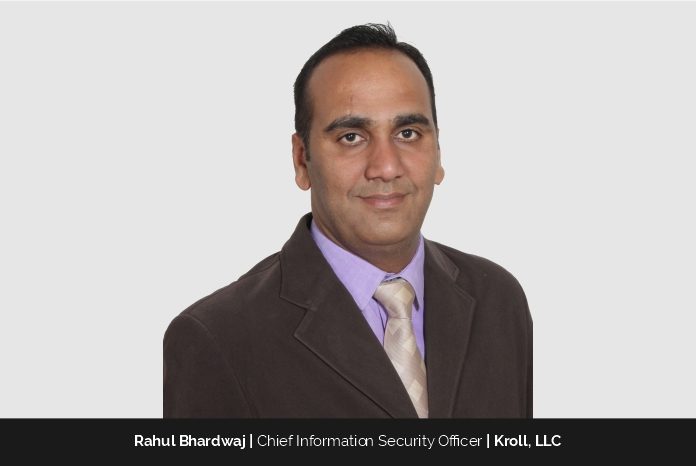 Successful leadership, both as a research area and as a practical skill, encompasses the ability of an individual to lead, influence and guide other individuals or entire organizations. Every leader has a unique definition of success and growth. For Rahul Bhardwaj, CISO- APAC of Kroll, LLC; success is when you are making a difference and contributing to your organization, teams, and community's growth in the right way. "We all work better if we can appreciate each other's contribution to the larger objective of the firm and if you can show and have others see that you are also working towards the same objective help you to succeed," he says.
Leading a company to success certainly is not an easy task. Rahul says that BFSI and Financial Services have always been a prime target of the advisories and he gets motivation from the constant challenge and excitement these constant attacks bring hence working with the industry was an easy choice and he is a firm believer in doing what you love as this make even the toughest job fun.
Challenges Test You and Your Character
Every challenge contains within it the seeds of opportunity & growth. Rahul thrives on challenging projects and enjoys working on complex problems. Throughout my professional journey, I have learned that "People are willing to help if you will ask", more often people think they have done it alone which is not true, people will love to help you if you ask them. I have always managed to get the needed support from the team and others to solve some of the most complex problems and projects.
Rahul firmly believes that Security is part Technology and part People's problems. "We can only solve Technology problems with technology solutions and adopting ML/AI and other advance solutions with well-defined programs and processes around these solutions and the bigger part of this puzzle are the People or creating the right Security Conscience Culture where your employee and team feel to follow security processes as part of day-to-day task both in a personal and professional setup," he says.
Growth Of the Company and Future Vision
Security and delivering solutions and services in a secure manner is one of the mandatory requirements for any business to survive in today's competitive environment. The Information Security team at Kroll ensures that all solutions and services at the firm are designed with the right security and privacy principles to ensure that not only they are the best in the breed but also secure their customer's information. The team also ensures their security and privacy programs are meeting or exceeding regulatory, legal and their customer's obligations with regards to security and privacy control requirements.
Kroll is an industry leader in services and digital products related to valuation, governance, risk, and transparency. While they exponentially grow their business, their vision as an Information Security team is ensuring that they continue to provide best-in-class services, productions and solutions in the most secure manner to their customers and ensure that security work as a competitive advantage for their business and customers. "While we exponentially grow our business, we will continue to strive for excellence in providing the best and most secure services, solutions and products to our customers," he exclaims.
Life Before and After Kroll, LLC
Mr. Bhardwaj pursued his education at Andhra University, graduating in 2004 with a Master of Computer Applications in systems networking from 2001 to 2004. He started his professional journey as an information security analyst for Vertex Computer Systems. Later he joined Patni Computer Systems (Now Capgemini) as a team manager in 2006 and served as the director and the program chair of the ISACA New Delhi Chapter from 2011 to 2013. Rahul began his tenure with FIS in 2009 as a security and governance manager, rising to the post of an IT security manager in 2013 and a senior security manager in 2014. Furthermore, he flourished as the director of information security assurance services for FIS from 2015 to 2018, when he accepted a position as the risk and compliance principal for FICO. Since 2019, he has excelled as a security executive for Kroll.
Mr. Bhardwaj is a highly recognized security executive, he has been awarded multiple industry awards in the field of information security, technology and operational excellence. Earlier in the year, he had been inducted "Marquis Who's Who". He has also been featured in "Security Systems News – "20 under 40 class of 2017 – Security Professionals." One of the highlights of his accomplishment was to be a finalist for Senior Information Security Professional Americas Information Security Leadership Awards (Americas ISLA®) from Professional body ISC2, which brought me to the forefront of the industry leadership as accomplished security professional.
Responsibilities As CISO
In the digital age, where data has emerged as both the most valued asset and the biggest threat, the ever-increasing global privacy regulations where now 100 countries spanning 6 continents have enacted privacy laws that seek to protect the information. The responsibilities for setting up "Global Privacy and Data Security" were challenging and Rahul states that is the only thing he has been seeking throughout his carrier. He was tasked to provide leadership, management and strategy for all aspects of global privacy and data security, liaison with other executives and functions like COO, CIO, Global CISO, CCO, CPO and operational executives to have a unified strategy to setup global privacy program for the Firm without business distribution.
Balance Between Personal and Professional Life
Rahul's wife and family are his pillars of strength. He states that his kids take a lot of pride in what he does and get inspired that he is trying to make the world a better place by keeping the bad guys (hackers) in check. This motivates him to do even better as he doesn't want to disappoint them. Also, having a highly motivated, encouraging and security-aware executive management at Kroll helps as they support him in making the right and sometimes tough decisions to achieve the desired objectives. Rahul wants to continue to grow as a leader and contribute to Kroll and the industry's success.
His message for upcoming security leaders is that Security is the cornerstone for all businesses more in this era and as a professional one must ensure that business sees value in investing in security to feel it as a competitive advantage.