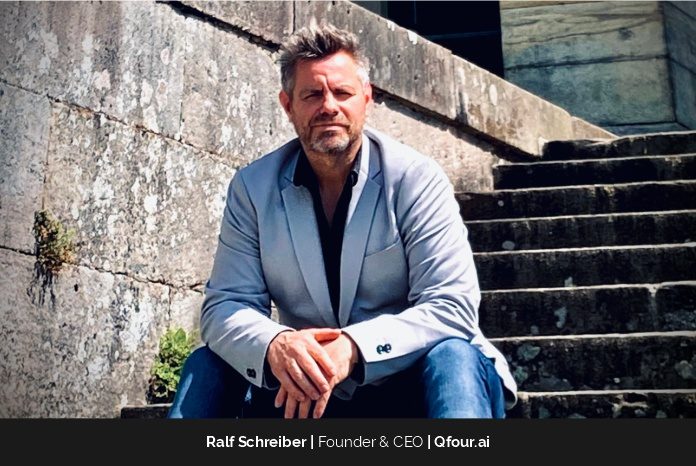 A visionary leader is someone who has a clear vision for the future, creates tangible ways to get there, and then leads their team to that vision. They strike the optimal mix between their capacity to perceive change potential and their ability to lead others.
Visionary leaders are motivated and inspired by what an Organisation and its employees may become, and they encourage a culture of progress by dividing their attention between the community, the firm, and each employee.
Ralf founded Qfour.ai in 2017. His creative streak started in Berlin and continued through an international entrepreneurial career that laid the groundwork for his solution-orientated thought processes and support for digital transformation.
He works with Organisation on future-oriented themes such as digitalization, digital learning, and AI, and has a professional career spanning over 20 years of advising, coaching, and project management in several fields. He is an expert in all current digital trends as a trainer and consultant focusing on the issues of "Digital Future" and "New Work," and he helps his customers achieve the same.
Ralf's role within the QFour.ai team is vision, strategy, and product development. He consults clients on a broad spectrum of topics, including digital strategy, AI-based training, and digital coaching.
Qfour.ai
Qfour.ai is an advanced AI platform for coaching and learning. Trainer-led courses and self-paced content are both part of true blended learning. Its AI-based technology, as well as a dedicated staff of pedagogical experts and machine learning experts, who assist clients in assessing and developing their own learning journey.
No matter what our learners are doing, whether cycling, working, resting, or travelling, our machine-based learning gives the ideal information for your lifestyle and learning type to help you achieve your goals, according to the Qfour.ai team. One of the most undervalued skill sets in professional growth is soft skills. The platform responds to the increased demand for structure and cohesiveness between the digital and analogue worlds. As education and work move from offline to online ventures, it provides e-learning, consulting, and training solutions in the B2C as well as B2B sectors.
The growth of Qfour.ai has been defined by the fact that it has always been an early adaptor and has combined this with listening to its customers and evolving together.
First Steps towards a Life-Long Journey
Ralf began his career in Berlin, where he had the opportunity to test out many different company models and be at the core of the start-up culture and innovation after completing his studies. This allowed him to develop and empower his staff. On a personal level, Ralf has paved the path for the creation of a diverse and inclusive workforce, and on a professional level, he just received the honour of "German CEO Excellence Awards 2022 ", Corporate Training CEO.
Before founding Qfour.ai for the last 15 years, Ralf was involved in digital transformation with his company Lemoncube. After various projects which involved training and coaching combined with AI, Ralf decided to be found Qfour.ai and focus more on this area, taking training and coaching to the next level.
At Qfour.ai, Ralf's responsibilities are to keep developing the firm's vision and lead an agile team that allows Q4s' customers to thrive and, at the same time, Qfour.ai's team to succeed on many levels. He aspires to make Qfour.ai a global leader in training and coaching, focusing on re- and up-skilling and assisting customers on a life-long learning journey.
Motivated by Experiencing Client Success
Ralf maintains his motivation by devoting time during the day to either physical activity or well-being. He feels grounded because he enjoys what he does and is invigorated and driven by all of the opportunities he encounters on a daily basis. Successful projects, positive client feedback, and having the opportunity to work on a variety of jobs on a daily basis keep him motivated, he says.
Living the Vision
Ralf lives his goals; the combination of his work, personal life, and new visions is a life cycle that is always evolving. He measures success by how far he manages to move forward with his vision and how far he has managed to positively affect the lives of others and how that impacts their daily working lives. He says, "It's a combination of our vision and implementing and working with a team who share this vision, and, of course, financial gain to reward the team and reinvest in new technology." He further adds that his vision is continuously changing and growing, and his goal is to continue developing new dreams.
Grow with Every Challenge and Trust the Journey
Challenges, according to Ralf, help us grow and generate new ideas. He recalls that acquiring buy-in for the team's previous ambitions was an obstacle, as was finding future thinkers among the firm's clients who were eager to join him on this journey.
Ralf's advice to prospective company leaders is to be open, transparent, visionary, and willing to alter the course, when necessary, as this is an ever-changing journey. He reflects, "Believe in what you do, 15 years ago not many people were open to training which is a mixture of human-balanced coaching supported by the best technology and today it is starting to become the norm."