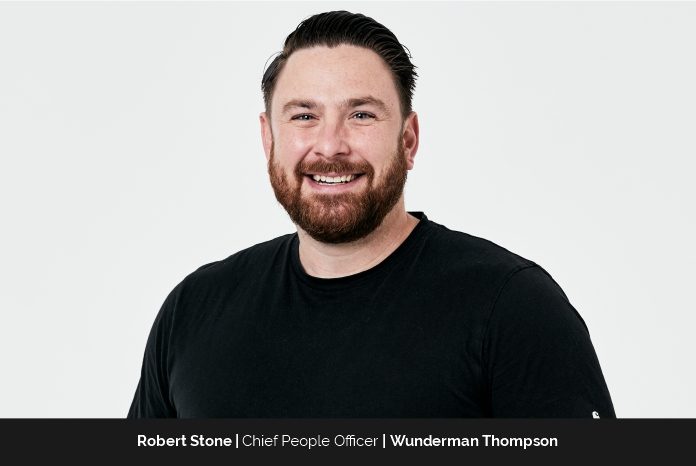 Too often, the HR department isn't seen as strategic or relevant when it comes to running a business. This couldn't be further from the truth. When given the proper tools and the trust to be empowered and make decisions, HR can be one of the most vital voices at the table. HR teams who are in sync with employees, understand engagement levels, understand company culture, and know how to get the best out of people. They always add tremendous value to their business.
Robert Stone is the Chief People Officer of Wunderman Thompson where he oversees the business's most important asset… its People. He is completely responsible for the HR function of the company. Rob is a tenacious leader who believes that success comes from several small and big wins. In his career earlier, he always focused on the one 'big' achievement and as he looks back today, he realizes that they were probably sometimes unachievable, unrealistic, or not as meaningful as achieving a few smaller, more focused, and achievable goals.
Success for him today professionally, is being able to provide a safe and enjoyable environment where Wunderman Thompson's People can do meaningful and purposeful work. On a personal level, it's as simple as being a great father, husband, and friend. Rob is a proud Husband, and Father to Finley his son & Rupert his British Bulldog! "I think at the core of both my personal and professional definitions of success come from a place of just being a good human…" he states.
Bringing together one of the world's most progressive digital agencies
Over the past couple of years, Wunderman Thompson has been going through a rousing time of change. In 2019 Wunderman Thompson was globally formed by merging J. Walter Thompson and Wunderman. Both businesses were highly respected and successful, and it was essentially bringing together one of the world's most progressive digital agencies with the oldest advertising agency.
Wunderman Thompson was formed to take the best from both to create – part creative agency, part consultancy, and part technology company, their experts deliver inspiration across the entire brand and customer experiences. Furthermore, on a local level, they acquired local businesses which added to their capabilities, but they also added another level of complexity to an already large and intricate merger.
Change is very difficult at the best of times and through this transition, Rob notes that all their leaders have played vital roles to ensure that not only their people felt supportive and aligned, but so did all their current clients that had trusted each agency separately with their business over the years.
"We're now at a point in time that is exciting. We have successfully integrated these businesses and have a unique and much broader capability and offering that is already starting to lead towards growth," says Rob.
The future depends on what you do today.
Rob thinks that the turning point in his career was having the opportunity to work internationally at Adidas and he feels like this springboarded his career. Being born and bred in Australia, one does at times feel very disconnected from the rest of the world. Growing up and coming out of school/Uni you're not really exposed to these opportunities. Personally, for Rob the opportunity to work abroad has helped him grow professionally and personally, allowing him to work and live within diverse cultures that were very different compared to the way things were back home.
Rob was a Global Partner for Adidas, based out of HQ in Germany. He oversaw the brand's largest Talent initiative in the history of the business, being responsible for building and enhancing Adidas's digital offering across Germany, Amsterdam, London, Brazil, Moscow, New York, Paris, Tokyo & Shanghai. This move at the start of his career triggered Robert's interest in learning more and being involved in DE&I.
"A lot of my learnings from Adidas gave me a great base to create and build frameworks later in my career which led to my greatest professional recognition and achievement being asked to provide evidence at the House of Lords regarding the benefits of an internationally diverse workforce," explains Rob.
Prior to joining Wunderman Thompson, Robert Stone spent a significant chunk of his career at McCANN Worldgroup based in London & Asia Pacific. His role was critical in McCANN Worldgroup's recent success as he helped transform and diversify the agency's approach to its People. With a unique and forward-thinking attitude, Rob also played a significant role in converting global new business wins.
Before his passion for Talent erupted, Rob fulfilled his childhood dream of playing for the Melbourne Tigers in the NBL from 2008 – 2010.
Challenges should be seen as a positive thing.
Rob believes that challenges make you stronger because as humans we learn from both the good times and the bad times, this is what helps motivate and drive us in our professional and personal lives.
Some of Rob's biggest learnings within the workforce have been setting unachievable goals. He claims that earlier in his career, he was too focused on trying to please everyone and that was unrealistic and never always in the best interest of the individual or the business.
Rob states that this is a cliché, but, at Wunderman Thompson, they are not experts on everything. Even their most senior leaders within the business are tasked with continual learning as they must adapt to the ever-changing landscape in industry and in society.
Plans for the future.
At Wunderman Thompson, their vision is to continue to push the boundaries of solving their clients' biggest business problems in creative and meaningful ways. Since they are now set up in a way that is a part creative agency, part consultancy, and part technology that allows them to evolve, adapt and remain future facing for the rapidly changing landscape in society.
Personally, Rob plans to continue to challenge himself in the same way that they challenge the Business at Wunderman Thompson. He wants to not become complacent while futureproofing the role of HR within highly complex workforces.
A focus on inspiring employees and maintaining a work-life balance.
Rob is a huge believer that people need to have a complete balance between their personal and professional lives. He thinks that it's important to set clear expectations and have boundaries that protect both.
The 'new normal has been the trickiest part of really gaining a healthy balance. Even though many businesses are in a flexible working model, everyone is starting to see the impact of these changes as people are struggling to find a balance due to inconsistent working hours and schedules.
Rob notes that at Wunderman Thompson the big thing is to ensure everyone is clear about the fact that some people's flexible working arrangements mean some of their employees maybe be working at times that may not suit everyone. If this happens, everyone knows there's no need to respond immediately. "I do feel that despite all the benefits emails, smartphones, etc. have, they have also created an always-on and unrealistic way of working that we need to start to address and protect," states Rob.
Being grateful for a super successful professional journey
Rob has been extremely fortunate and has achieved a lot personally and professionally that he never thought would be possible. He fulfilled a childhood dream of playing basketball for a living and has worked for some of the world's largest brands which have allowed him to see so many different parts of the world. He feels extremely thankful for the opportunities and platforms that all his employers have given him. If it wasn't for the places where he worked, he would never have had the opportunity to do things such as speaking and providing evidence at The House of Lords regarding the benefits of an internationally diverse workforce in the wake of Brexit.
"All these experiences have helped me look at things very differently and recalibrate my current and future personal and professional goals. I still have a lot to tick off both those lists and will continue to work towards them every day," Rob states.
Robert's message to aspiring leaders is: Make sure to surround yourself with interesting people. Network with people inside and outside of your industries. Be curious, find out what others are doing, and find those people that can be mentors, buddies, educators, etc. to you. It's so important to be open and allow people in to help you!