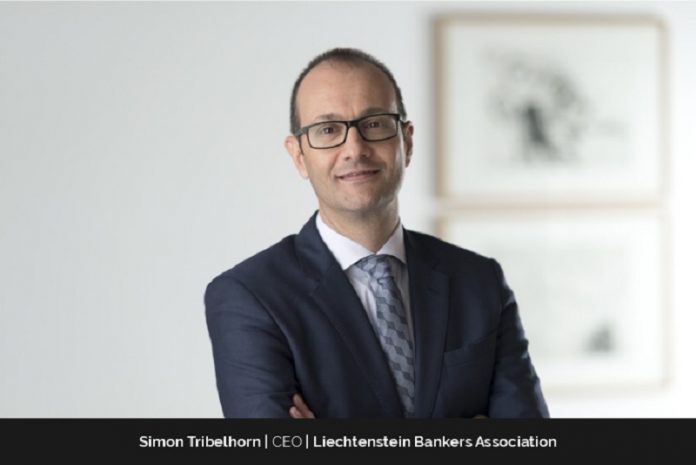 Success is a relative term. "I'm strongly convinced that there is no success of a corporation or an association like we are without a great team and good teamwork. So for me, success is a result of a team and not of an individual," says Simon Tribelhorn, CEO of Liechtenstein Bankers Association. Simon believes it is crucial to ensure that teams work well together and are moving and pulling in the same direction.
In his view, you can only be considered successful if your actions ensure that not only your company but even the society and the environment benefit at the same time. In other words, Simon is a strong advocate of long-term benefit instead of short-term profit. Simon is always curious about what comes next, the future trends and strives to make a difference.
Overview Of Liechtenstein Bankers Association
One of the major mandates of the LBA is that they always align and consolidate the positions of their members, mainly on relevant regulatory issues – the daily work of a traditional trade association. In this sense, they are and act as the voice of the entire banking center, representing the shared interests vis-à-vis the main stakeholder groups of politics, authorities, and the media at national, European, and international levels. They strongly believe that a powerful and competent representation of interests is needed more than ever, helping to shape the necessary changes proactively and bundling the forces in the entire banking center.
This goes hand in hand with the management of an overall good reputation of the banking sector which is another key task. "For this targeted, effective representation, we have also reprioritized our service offer and defined the following core services on which our banks can rely: Outwards – issue management/agenda setting, communication/public affairs and reputation management; and inwards – education/training, strategic work, self-regulation and exchange of expertise," explains Simon. LBA sees itself as a service provider for their member banks and they aim to make the financial center fit for the future together. This self-conception is part of their new multi-year strategy, the Roadmap 2025, and stands for a modern, future-oriented association.
In a nutshell: they want to continue to develop their banking center by recognizing future challenges at an early stage, developing answers and solutions, and supporting their members in a targeted manner in shaping the future.
Setbacks Are A Part Of Every Growing Business
Instead of going into events, some of which happened a very long time ago, Simon would rather
mention five principles that have shaped or helped LBA move forward. Simon has five key points that help people grow. Firstly, he is convinced that it is highly important to have clear ideas about where one wants to go, but at the same time to have a certain amount of patience when it comes to implementing concrete measures. "This was one reason why we have set ourselves with the roadmaps in 5-year cycles a clear vision, measurable goals and thus an orientation framework over the last few years," he states. Secondly, he says that it is better to take small steps in the right direction than wait for the big one and lose momentum. Thirdly, one should rather explain and encourage than command and sanction. Hence, they place high importance on dialogue and actively participate in the public debate and the political decision-making process. Fourth, it is important to make clear decisions, continue to pursue the course once embarked upon with certain perseverance, but to periodically openly and self-critically question it. Fifth and last, there will always be mistakes. "I think it is important to cultivate a certain culture of mistakes and rather aim to see the mistakes made as a learning experience and to focus on the lessons learned rather than on the mistakes," says Simon.
LBA's Present And Future
Liechtenstein has a stable banking center, is open to the world, and nowadays enjoys a high reputation; occupying a top position internationally as an asset management and private banking center. With its cross-generational approach and unique combination of tradition, innovation, quality and sustainability, the banking center offers its discerning, international clients high-quality financial services. This is where they stand today which is an excellent basis for the future. "Taking from there, I would like us to be able to develop Liechtenstein as one of the leading financial centers in the area of sustainable finance helping to achieve the 17 Sustainable Development Goals (SDGs) of the United Nations. In the end, we want to be able, through all of our products and services, to make a real impact for the benefit of our clients and future generations," explains Simon.
He believes that they have a huge responsibility when it comes to the transformation of the financial services industry towards a more sustainable future and growth. If they can be part of this process and actively drive this change, they will have made a real impact and be successful. Or as Woodrow Wilson already pointed out: "Responsibility is proportionate to opportunity."
Achievements And Responsibilities As A Leader
Working in a small association as LBA, the most important thing first and foremost is teamwork. Simon's biggest achievement is that he was able to build a very powerful team. He proclaims that he is very proud of his team. At the Secretariat level, they benefit from the great expertise of their members – more than 120 experts contribute to their work via various working groups and committees day by day.
Good internal structures, a service-oriented approach and mindset, a well-established debate culture, and the small size of Liechtenstein have also contributed to the fact that the banks stand very united behind the decisions that have been taken within the various bodies of the association. This has just been demonstrated recently again in the unanimously approved Roadmap 2025, the multi-year strategy of the banking sector. LBA has achieved this development over the last 10 years – a strong lobby organization that shapes the future of the entire banking center, which would not have been possible without this team and the support of its members.
The strategic development of the banking center is probably Simon's most important task. In addition, all aspects of sustainability and how the fast-progressing digitalization will affect financial services are very important to him and take up a lot of his time. That's quite a broad range to cover and it is challenging to be a competent and reliable discussion partner for the stakeholders.
"It's fascinating to live and work in such a fast-changing world where the financial services industry is confronted with an unprecedented transformation. It motivates me when I see that I can invest a lot of my time for a better future and make a difference. I try to give my employees enough freedom as well so that they can make the most out of their potential,' says Simon.
Professional And Personal Life As A CEO
Simon has a law degree and is an attorney at law. During his studies, he took over several internships with banks. This contributed to his decision to pursue a career in banking. Before joining the association, he worked in the legal department for one of the larger Swiss banks. Law, governance, and ethics always played quite an important role in his previous work life. Maybe, this was instrumental for him to be passionate about sustainability and sustainable finance. "It still pays off to have a legal background, however, my field of activity is much broader than that today, where innovation, networking, and communication have become equally important if not more. It has helped me personally and this is the reason why lifelong learning is important to me. Besides that, thanks to my role, I've had the chance to cultivate a large diverse network, which enriches not only my professional life but also my horizon," he explains. Simon is extremely grateful for everything and considers himself very lucky.
Simon's wife and two kids come first in his life. Knowing that they are always there for each other, have each other's back, understand & support each other, is important for him and that gives him a lot of energy. He also consciously spends enough time with them. He believes that things get complicated when someone sacrifices oneself for work. He also tries to do sport daily. This creates a sense of balance in his rather strenuous professional life. Simon, being an open-minded & curious person always tries out new things. He reads a lot and also listens to diverse audiobooks and podcasts.
Roadmap 2025 & The Future
"Roadmap 2025" is a continuation of the two previous multi-year strategies of the Liechtenstein banks. The first "Roadmap 2015" focused on modernization. In it, Liechtenstein and its banks committed to rigorous compliance with European and international standards and a corresponding zero-tolerance policy. The subsequent "Roadmap 2020" was built on this, it primarily dealt with strategic repositioning, mainly in the area of sustainability. "Our current "Roadmap 2025" has a new emphasis: growth through sustainability and innovation. We believe that our discerning clients expect more than simply high-quality services. They want us to contribute to solving the environmental and social challenges of our time," explains Simon.