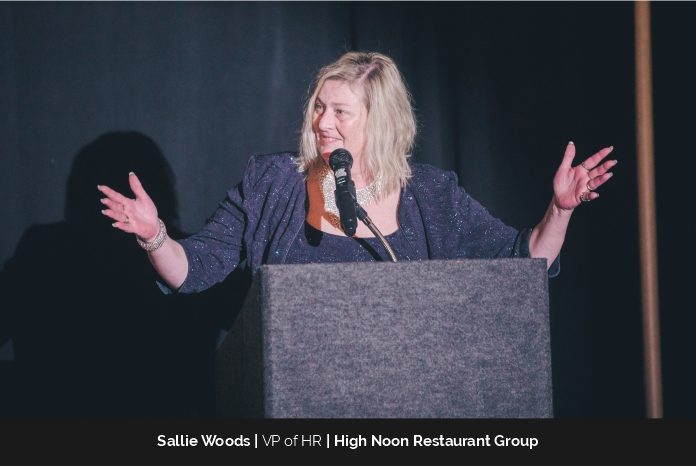 As Vice President of Training and Human Resources at the High Noon Restaurant Group (HNRG), Sallie Woods' focus is on business growth and being an employer of choice. She believes that when you grow from the ground level up, you're a better leader, because you get to understand every level of success.
Discovering a calling in HR & coaching
Sallie's first job was working in a restaurant as a waitress, and she loved the teamwork, the flow of the restaurant, and how every day was different.
"When the day was successful, it was a great day. That's what made me enjoy it. I've done every position in a restaurant, and that's where I started. I just love it when everything comes together; guest and employees are happy, there is a hum in the air, and that happens when employees are trained, and I wanted to be a part of that" she says.
Sallie moved from New Jersey to Massachusetts to join Johnson and Wales University in New England. She excelled at university, decided to stay in the area and continue to work in the restaurant business.
"I had a lot of great opportunities and turned my experience into something that I could use in training, which is where I excelled. Being part of the training team and designing training plans was just a smooth flow into HR," she says.
Sallie's original goal was to be in operations, but she discovered her passion was working with people, and training and mentoring the team. "In the training department, I saw a lot of issues that needed support from HR. A lot of our employees had questions, and something simple in the eyes of the HR department, need structure for the employees at the restaurant; that can be a big stressor for team," she observes.
Sallie started looking into the HR industry, took some classes, and talked to different vendors. She began focusing on training at Wendy's International, becoming a Phase One and Phase Two trainer, before moving on to train new franchisees and their teams. She had discovered her calling coaching and assisting others in their professional development.
In the last 20 years, the HR industry has exploded with great benefits and incentives. When Sallie was in college waitressing, they did not have an option for benefits or any of the other incentives now available to employees in the industry.
"Now it's commonplace in the restaurant industry, and it's not just about the benefits, but being able to bring so many other incentives to our team," she states.
Later, Sallie worked in operations for the New England Restaurant Company and was a member of the training program development team. She has also worked as the Training Manager for new Qdoba, Panera Bread, and Dunkin Donuts locations.
Prior to joining HNRG, Sallie was the Director of HR and Training for the Parikh Network, where she implemented a new MIT program, Pros Team for developing team members, Fab 5 systems for shift running, and worked on paperless staff onboarding procedures.
"I'm proud that I was able to provide added benefits and programs such as financial planning support to the team. I was able to have 11 restaurants certified for training, bringing the Parikh Network total up to 14 certified training restaurants," she states.
All the systems and procedures Sallie has implemented and/or reinforced are based on her belief in the power of teamwork in a fun, engaging, goal driven environment that promotes business growth.
Making HNRG an employer of choice
Sallie believes that the HR department's job is to take care of the company, and to do that, they need to take care of their people. She recalls that when she had the opportunity to work with David Damato, a leader who shared her vision of what a company can be; they had the same ideals, and core beliefs to create a culture that was:
Results-driven
Performance-rewarded
Training leader oriented
Team-building focused
Goal-oriented
Based on innovation
Focused on giving back
When Sallie took the leap of faith to join HR, her family and work colleagues believed in her, and no one told her she could not do it. She along with David Damato (CEO) and Don Rizzie (VP of Ops), moved to Louisiana from New Jersey, and is more than grateful to David for trusting her to lead the people side of the company.
"I worked for David at Parikh Network and believe he's one of the best leaders I have ever worked for. David not only inspires me, but supports and shows his faith in me, which gives me the drive to be the best I can be. Nobody is perfect and everyone makes mistakes – but if you're afraid to make mistakes and don't have that support from your boss or co-workers, I don't think you'll have many successes either," Sallie observes.
HNRG had a vision to create a company that was striving to be the best, which includes being an employer of choice, and that overrode her fears. It was a once in a lifetime chance to be a part of something, helping people in their lives, and working with people she admired.
Sallie works collaboratively with David and Don to support their initiatives and reach the company's goals. Her proudest moments include HNRG's one year anniversary and their first company awards banquet.
Sallie works closely with Don Rizzie, to create, and communicate company policies, payroll, benefits, performance review, and training platform, ensuring they meet the company's expectations.
They work together to assess what their team and company need to provide a best-in-class experience for their guests, which would in turn drive the financial and operational success of their restaurants.
HNRG put their team first and focuses on people development, promoting from within, and creating opportunities for career enhancement; and enabling the continuous growth of the company and people.
Success is seeing your employees succeed at their job.
Sallie believes that success is seeing your employee succeed at their job, being able to create a fulfilling life, and knowing a small part is because of the opportunity your company provides.
"When your team is successful, your company is successful – it needs to go hand in hand, if it doesn't there's an imbalance and success is short lived. Sometimes we need to step back from the big picture and acknowledge the day's success and failures, and before you know it, you're closer to your goal," she notes.
As Sallie worked in operations and then training for many years, she understands the daily struggles. There was often a disconnect between HR and operations in the field, and she could see the frustrations this caused.
For example, how to sign up for benefits, how to report an incident, new hire onboarding, performance reviews, workman compensation claims, retention, and employee file maintenance.
With that in mind, all of HNRG's systems, routines, and platforms were designed with the understanding of how they would affect the employees at the restaurants, how the managers went about their day, and what would help make it easier for them to accomplish their tasks.
Sallie believes that any job a company asks an employee to do, they must supply the tools to do the job; that includes training, support, and clear expectations. So, if she thinks something can be done better or structured differently, she makes a plan on how to do it, not just a recommendation to change. Whenever she has a roadblock, she finds a way to go around it.
"Any task you've never done before is uncomfortable; if you dig into it, and figure it out, eventually it does become easy. That's the belief I had. Every time I was in a situation that wasn't working, I figured out how to improve the process. They never tell or teach you everything. You have to figure it out. It wasn't easy. It took a lot of time, but that's what I did," she states.
Sallie also believes in asking a lot of questions to have a full understanding of what her leader wants. Another valuable lesson she learned is that you can't do it all by yourself.
"They say, surround yourself with good people, but I think making the team better and supporting your people is what makes 'good people'," she observes. "I plan to continue to work on introducing workshops for developing our people and improving our HRIS system. We'll continue to work on being a company that strives to be the best and become the employer of choice, creating opportunities for our people."
Sallie believes that HNRG's employees are our foundation of everything, so striving to be the best means taking care of the team. It means impacting their lives for the better by building a company that they can rely on and have a career with.
"Tell me and I forget; teach me and I may remember; involve me and I learn."          – Benjamin Franklin
The evolution of HR technology & the workplace
As the HR industry continues to adjust to the needs of the times and the workplace, Sallie believes Quick Service Restaurant (QSR) has seen incredible improvements over the last 20 years and is still evolving. HR technology, specifically for the restaurant business, has exploded.
The restaurant industry has unique needs when it comes to employee tracking, employee files, managing employees, and other areas. They are now able to get more analytics and data to help make better decisions and improve the flow of communication.
Sallie notes that the integration of HR systems and the flow of information to employees are now easier, as better technology has enabled the decentralization of power into the hands of the employees, which helps both managers and employees.
Some examples include changing W2, changing contributions, upgrades or changes to benefits, and direct deposits. "We now have a system where employees have co-responsibility or more power, making it easier to have a holistic approach in HR. It's so exciting," she exclaims.
Describing herself as planful and flexible, Sallie states that she loves her job because her days are never the same. She believes in having a plan or structure for everything; not necessarily sticking to the plan but having one and making changes from there.
"A goal without a plan, is just a wish"- Antoine De Saint-Exupery
Her day usually starts at the office reviewing emails and her daily goals, then talking to the training team and following up with the leaders in training, talking to HNRG's HR Manager, Renada Mouton, and following up on her projects, issues, and concerns.
"I usually have a meeting with one or more of our vendors reviewing results, reports, and expectations. I like to follow up on payroll reports, and track our employee engagement with benefits, 401k plan or new initiatives. A big part of my job is tracking 'the employee life cycle' – attraction, recruitment, onboarding, development, retention, and separation," she says.
Every day, Sallie invests some time to read up on the HR industry, and visit HR community sites like SHRM, to stay updated as much as possible. A part of her day is always spent planning for the next year and working with their CFO, John Fink, on all state and federal filing and reporting, WOTC and any claims, and incident reporting.
"We're always working on a project, planning our next wellness event, leadership development classes, or a new rollout for our employees; for example, pay-on-demand apps or work incentives. At the end of my day, I would like to visit one of our locations or a manager-in-training," Sallie notes.
Managing a restaurant business during the pandemic
Sallie admits that while the restaurant business has always been competitive, the landscape has changed after the pandemic, and right now they're in a very competitive mode.
"It puts more focus on being the employer of choice and on being able to communicate all the way down to our team members. The bottom line is people work for people, and in the restaurant business, we rely on our people so much. They're the cornerstone of how we're able to open our doors and do our jobs," she observes.
For Sallie, understanding what their employees go through, what their job is, what their day-to-day life is like, and offering incentives and programs that can support them, is huge.
"A lot of team's big companies in the Quick Service industry are offering so many things for people. We started doing the best we could to ensure that it was a safe environment to work in, and of course, be flexible," she says.
During the pandemic, Sallie was able to work with the health industry, and had mobile COVID vaccine centers go to the stores and administer vaccines to the employees and their families.
"That was really exciting; being able to talk to our people and let them understand that we're here; that their health and protection is important; and ensure that it was a safe environment to work with the dining rooms being closed. At this point now, we're fully operational with all service modes available for our guest," she states.
During the pandemic, the company used virtual conferencing to allow them to continue the loop of communication; to communicate, celebrate wins, and bring people together to enjoy teamwork and camaraderie.
However, Sallie remarks that, while the virtual set up was beneficial and made a big difference from an HR perspective, she still prefers face-to-face communication.
"I like to work in a collaborative atmosphere. I believe it's important to allow your team to 'put their touch on it' and make it their own. Always celebrate the wins, big or small, and set clear expectations. Communication is the key to keeping your team going in the right direction. When talking with your team, understand what's important to them, and communicate what's important to you; always explain the 'why', so you and the team are able to reach your vision," she advises.
Creating a work-life balance comes down to planning.
Sallie states that her two children, who are young adults, are her greatest achievement. She notes that work-life balance is not always easy and there will always be times when it's not balanced.
"There are times when I need to focus on my family, and I'm lucky to have a great staff and work with people I can communicate that to. There are times when I tell my family we have a project coming up and I'm going to be working a lot. Being able to say that to my family and for them to understand and support me, has been wonderful, but creating a work-life balance can come down to planning and setting plausible goals, and making sure that I'm set up to win," she says.
Sally recommends planning out a calendar for four weeks, each day with specific, reasonable goals, and room to be flexible, so you know when something is not working, and don't wait to change it.
"You do not decide your future. You decide your habits and your habits decide your future."- F.M. Alexander
"I enjoy what I do, so I don't have too many problems with motivation," she says. "But when I need inspiration, I change my surroundings, talk to other employees in the field, see what they're working on and support them as needed – that is always motivating."
Sallie notes that in HR she's worked with a lot of people and met many different people from different states and countries. She's often helped them see that whatever position they're in, there's opportunity here.
"There's always an opportunity. You give your best, you try your hardest, you work as a team, and you can make a career which will enable you to reach personal goals. To see a team member, take that opportunity and improve their lives, and see their joy and pride, is so rewarding. That's what I love, being able to provide that to our team," she states.
Sallie's message to aspiring leaders is that it's all in the details; you can never go wrong with that; when you set a goal, go all-in, account for every detail, and never plan to do it all by yourself. Believe in yourself, nothing is impossible, and don't shy away from big battles. Understand all sides of the story.