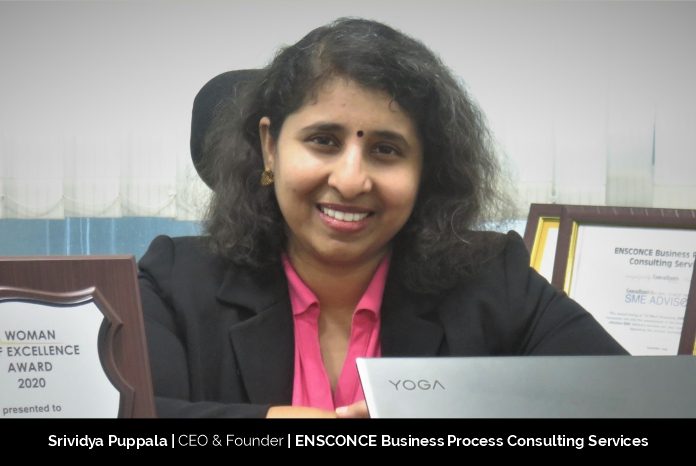 Most SMBs fail to recognise the importance of proactively investing in process and culture early on in their journey. The alarm bell starts ringing when they become stagnant or unable to achieve the desired pace of growth. Change to recovery from this phase is possible, but their precious time is lost in the recovery process. This is a vicious cycle and many SMBs fall into the trap of non-performance.
Having seen the IT industry grow immensely by leveraging structured processes and practices, Srividya Puppala CEO and Founder of ENSCONCE strongly believes that SMBs could benefit significantly by leveraging this knowledge.
Srividya founded ENSCONCE (www.ensconce.in) with the passion of bringing her 20 years of experience and expertise from the IT industry in the areas of Organizational Development, Organizational Culture, People, and Process to enable SMBs. ENSCONCE means "to establish or settle (someone) in a comfortable, safe place".
Ensconce Services
"OFFLOAD YOUR CHALLENGES AND FOCUS ON YOUR GROWTH."
" Companies that want to establish or expand operations in India can benefit from ENSCONCE. Indian companies can also leverage us by setting up offices in the USA," says Srividya.
ENSCONCE offerings are around growth & sustainability. ENSCONCE functions like an extended team and handholds to streamline business efforts; a one-stop service provider. Our service offerings are categorized into verticals.
First Vertical: Helps companies with the business establishment and management services, including company registrations and necessary licenses, statutory compliance, GST, and taxation services.
Second Vertical: Provides mentoring and support to start-ups and established businesses to improve their organizational capabilities. The company also provides handholding for Business Process Implementation and outsourced HR functions, including recruitment.
Third Vertical: Offers branding, building digital presence, and social marketing functions like SEO and SMM.
Fourth Vertical: Offers support to identify, connect, and handhold IT companies specifically for funding, equity support, mergers, and alliances.
ENSCONCE has successfully delivered services in the Chemical Industry, Power Infrastructure, FMCG, Nutraceuticals, Training Services, Wellness, Automobile, Tourism, Interiors, Retail, IT Companies, and Family-Owned Businesses. The company states, "We believe in the strength of building strong and enduring brands through an amalgamation of people, process, technology, quality, innovation, and continuous improvement. We are proud to present ENSCONCE as a holistic Solution Services company."
Life before Becoming an Entrepreneur
After completing a Bachelors in Computer Science from Madras University, India, and a Masters in Electrical and Computer Engineering from the University of Massachusetts (UMass) Lowell, USA, Srividya joined the corporate world. She developed her software engineering expertise in the USA, working with companies in the Education Sector, eCommerce Segment, Atmospheric Sciences, and Telecom segments. After working in the USA for about 5 years, Srividya and her husband decided to move back to India in 2005. She recalls, "On our return to India, I joined Tata Consultancy Services, one of the largest IT companies in India. Next, I joined Infosys, yet another great software consulting firm, as one of the youngest Project Managers. I have also been associated with renowned organisations like Fidelity Investments and UST."
Throughout her corporate career, Srividya had the opportunity to independently handle multiple functions, large teams, and stakeholders in different verticals like Life Sciences, Healthcare, Energy Utilities, Financial, Retail, and Education for companies from the European and US regions. She managed Portfolio Development, Global Delivery, Account Governance, Process Control & Quality Compliance. She had gathered vital experience in the eCommerce, Advanced Technologies, & Integration Technologies space. Apart from her core Technical and Managerial responsibilities, Srividya always enjoyed taking additional responsibilities like Quality Auditing, People/Talent Development, and Process Compliance. She says, "My corporate work experience of 20 years has strengthened my ability to manage multiple time-bound projects with a Quality mindset, leverage People and Process enablers, Empower People with Opportunities, manage end-to-end Customer Delivery, build Customer Experience and Customer Governance Factors."
Becoming Efficient while Moderating Challenges
Many SMBs do not recognise the importance of proactively investing in process and culture early on in their journey. So, Srividya focussed on creating awareness among SMBs of the benefits of investing in mature processes proactively to achieve long-term sustainable growth. She partnered with various government and private bodies, volunteered in various industry forums, conducted multiple workshops, participated in online/offline panel discussions, delivered business series, and facilitated development workshops for SMBs. It has not been easy to sustain and maintain the momentum constantly.
Insights on Leadership
As the CEO of a growing company, Srividya needs to wear several hats. She is the Chief Talent Acquisition and Development Officer, and she helps acquire the right talent, equips them with the right skills, and inspires them to excel. She also handles the responsibilities of Chief Human Resource Officer to ensure the right culture within the team and attractive HR policies to reward and retain her team.
Srividya also oversees the roles of Chief Customer Experience and Relationship Officer and Chief Strategy Officer, ensuring strong customer partnerships, investing in understanding their needs, and delivering the best services to fuel their long-term sustainable growth. Her other working roles include Chief Networking and Alliance Officer, Chief Marketing Officer, Chief Delivery and Program Management Officer, and Chief Administrative Officer.
Work-life balance
According to Srividya, there is no such thing as work-life balance anymore. What the world has today is work-life integration. She says, "We need to be extremely well organised and be smart about how we manage our most precious resource, time. The pandemic has certainly disrupted our lives and forced us to re-think our approach to life, both personally and professionally."
She is an early riser. She practices yoga every morning. Then, she does one round of mailers for 30-45 minutes in the morning, quickly appraising the team and customers on certain crucial things. She says, "This helps me plan my day better. I complete my routine responsibilities at home before I start my workday. I ensure that the team gets together in a call at least twice a day to stay on top of all active engagements. I spend a lot of time with my existing and potential customers. Evenings get busy with US clients/partners. I, however, limit my late evening calls to just two in a week. Typically, I wrap up my meetings by 7.30 pm to be with the family. Lastly, before I retire for the day, I spend about 30 minutes on my time on my emails and messages."
Srividya advises her employees to work only till the close of business hours, which has, in turn, helped each one of them to create space for themselves and get back refreshed with full energy the next day.
A Roadmap for the Future
"STRENGTHEN YOUR VALUE CHAIN. BUILD ON YOUR OPERATIONAL CAPABILITIES AND ELIMINATE BUSINESS WASTES."
With the advent of new technologies and methodologies in the industry, it is hard to keep up with the pace. So, the ENSCONCE team constantly does market research, understands emerging industry trends, and takes steps to adapt to the VUCA (volatile, uncertain, complex, and ambiguous) business world.
The company joined hands in 2021 with one of the multimillion-dollar companies, STS Worldwide in the USA, providing Growth Advisory, Funding, Mergers, and Acquisitions. This has fuelled Srividya's aspiration to bring change in SMBs & fuel growth opportunities in this segment further.
She emphasizes, "In addition to expanding our service offerings based on our customer demands, pro-active market analysis, and industry interactions, we are also investing in a SaaS-based solution to accelerate our solution delivery to our customers."
What is Success?
To Srividya, success is defined by the confidence one creates in their stakeholders (Employees, Customers, Partners, and Vendors) to believe in us and stay with us for their growth. She says, "It gives us a great sense of satisfaction each time we help our stakeholders succeed through the possibilities we create for each one of them. It is this feeling of achievement that fuels our company's growth."  
Srividya says, "We are in the business of delivering transformational services/solutions that help our customers achieve long-term sustainable growth." For her, nothing can beat the joy and sense of accomplishment when they helped a 25-year-old power infrastructure company transform, encompassing all areas of their operations. As per Srividya, the customer shared their appreciation for ENSCONCE's end-to-end efforts covering a full gamut of their business activities, sharing a pragmatic implementation plan, building a roadmap for the company for transformation and implementation. There are several such examples.
Some of the Proud Moments for Srividya as a leader:
Earlier this year, Srividya had the honor of receiving Atmanirbhar Bharat Award 2021 for Business Consulting. It was a proud moment for her, and her whole team.
Indian Achievers Forum honored Srividya with the Women Excellence Award in June 2020.
Silicon India and Enterprise World (two reputed magazines) published a cover story on ENSCONCE in 2021, recognizing the company among Top SME Advisors and Top Recommended Consultants respectively.
ENSCONCE has earned visibility and recognition in the industry; achieving the coveted title of being among the Top 10 SME Service Advisors for 3 years in a row.
Partnered with the MSME Development Institute, Government of India, to promote entrepreneurs and entrepreneurship. MSME stands for Micro, Small, and Medium Enterprises.
Serving as President, MSME World Bangalore Chapter in 2021 and as Secretary in the years 2019 and 2020.