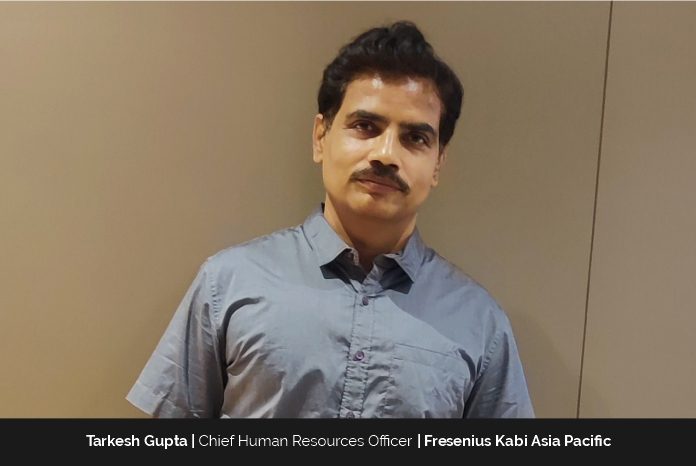 With over 26 years of experience in various facets of human resources, administration, sales force effectiveness, and business process excellence, Mr. Tarkesh Gupta is CHRO of Fresenius Kabi-South Asia and is in charge of all overall HR delivery and operations. Along with having a keen interest in psychology, he has earned multiple certifications in the field, as evidenced by the fact that he has degrees in professional coaching, personality assessment, social psychology, and personality testing from Queensland University. He formerly worked for Max Bupa Health Insurance Company Ltd, Rockwell Automation India and Dabur Pharma, in addition to Fresenius Kabi.
Tarkesh's career did not exactly start out as intended. Despite entering HR by accident, he put forth a lot of effort to understand the intricacies of the job. His career was shaped by little victories and recognition, some of which are listed here.
Within three months of joining his first organisation, Tarkesh questioned the status quo and developed a new method of automated attendance system, when automation was at a very nascent stage. When his senior manager praised him in front of the entire department and sat down for coffee with Tarkesh, it seemed strange.
Tarkesh compiled and created a book on "the great motivating stories', his director said that "you are here for bigger things-,." and after 15 years, when my then manager called and mentioned he still carries this book and uses it for various training programs.", it made me feel happy and proud.
Fresenius Kabi South Asia
A multinational healthcare organisation called Fresenius Kabi focuses on life-saving drugs and equipment for infusion, transfusion, and therapeutic nutrition. Its goods and services are employed in the treatment of seriously and persistently unwell individuals. The products are essential for both inpatient and outpatient treatment.
Tarkesh claims that Fresenius Kabi is a broad healthcare provider, offering everything from regular saline to substantial apheresis devices. Its primary focus is on its clients, which include patients, healthcare professionals, and anybody else connected to the sector. He states, "We help patients when they are most vulnerable i.e., Critical and chronic conditions. Our focus is to provide the right medicine and technology." It follows six core values across the organisation: customer focus, quality, integrity, passion & commitment, creativity and collaboration.
The Path of a Leader
When it comes to leading the company to success, it was never one individual's job. The onus lies with the management team and each employee to deliver in their individual capacity. Tarkesh states, "As HR, we have played our part, and the first thing that we do and have done successfully over the years is understand business strategy and define HR strategy based on business strategy. Business and People have been our center of focus."
He regards people as the main forces behind the operation of the company. The goal is to encourage people to make greater contributions and to improve as both professionals and as humans in general. He wants to change people's lives by influencing or coaching them, becoming a qualified coach aid in this.
As a human resources professional, you have the chance to be multifaceted, which enables you to impact people and businesses by fostering culture or fostering cultural change through people, processes, and technology. However, as he advanced in his first profession, the path toward Tarkesh's HR goal continued to develop, and that is when he discovered that this is what he enjoys doing and is good at.
Tarkesh shares, "Very recently I read this somewhere and I think it articulates my thoughts very well: Anyone can replicate your product, process, or even vision; but what they can't replicate are your people. This is so true because if you see any organisation that has really left its mark on this world, it is because they chose, developed, and retained the right people." While most organisations would like to consider the HR function as a support/cost center, Tarkesh would like to believe it is an investment centre and, like any other investment, if done right, has the potential to change the game for any organization.
Learning is the Key to Handling Challenges
As an HR expert, Tarkesh is aware that certain people study best when they are comfortable. His position is that different things work for various individuals. There cannot be a one-size-fits-all solution for so many different people. He observes that while challenges inspire some people to work harder, for others, knowing that someone will catch them if they fall will improve their performance.
While he has overcome many obstacles, just like any other professional, the one he truly wants to discuss is the mental obstacles that everyone faces. He opines, "Learning to become aware of my own thought process that blocked me and having to maneuver through those were the toughest and the easiest, both."
The valuable lessons, Tarkesh personally learned over a period.
Command over demand – when you demand, you show weakness, while the command is in the true sense, an indication of the strength.
Attitude is far more important than skill.
Focus on the controllable
Keep on reinventing—learning is a never-ending journey to ensure continuous relevance and employability.
Focus on what keeps your CEO awake at night.
Focus on intrinsic motivation.
Bringing Improvements in Human Resource Industry
According to Tarkesh, each generation picks up the reins from the one before it and passes them on to the next. HR was only a partner in administration from the point at which his generation took over. He sees this as his generation of HR leaders' greatest contribution to the sector—a shift in perspective that has turned HR from an administrative function to a business and/or transformative partner.
According to Tarkesh, there have been numerous efforts made to guide the HR industry toward this transition, some of which have had a considerable impact and some of which have only been baby steps. For instance: –
By handling business, Tarkesh was in a position to show that HR professionals can handle business successfully and can be trusted partners/drivers.
His generation has been amongst the early adaptors of AI technology in employee engagement.
By having an active presence and sharing positive content on culture, leadership, strategy, and people on LinkedIn.
Throughout his career, Tarkesh has been a strong promoter of radical candor. He says, "It's important for us in the HR fraternity to make and measure the business impact delivered, be more direct in giving feedback, support teams to build and grow with complete ownership, and that's what I keep in pivotal focus." He further adds, "We truly are HR partners and enabling the business to deliver the results we are aiming for while being happy and content with our workdays is what simply redefines the industry."
Innovation Drives Growth
The company's growth is fuelled by innovation. However, Tarkesh believes that organisations frequently overlook the fact that having a solid foundation on which they can spur growth is also crucial in the race for innovation. He summarises it by saying that innovation is just as crucial to the efficient operation of current procedures. He shares, "The culture of innovation isn't only good from a product or service perspective but also from people's perspectives as reinventing help in career growth/sustainability, but it also helps in building a culture of "asking questions and challenging 'status quo'."
The Hat of a CHRO
Tarkesh acknowledges that his role is similar to those of other CHROs, but that he performs it differently. A few things are expected of Tarkesh's MD, including functioning as both a business and human resources leader and establishing a new, flexible leadership structure in keeping with the organization's mission.
As the CHRO, Tarkesh's duties include managing all training, talent acquisition, and career development initiatives, creating and assessing career paths; supervising all HR operations; and developing strategies that support the company's long-term success. He is also in charge of making the company a cutting-edge, effective, and welcoming workplace. He creates HR policies for all branches, nations, and territories and evaluates the efficiency of the company's HR practises and tools.
As a HR head, he ensures HR plans align with the company's mission and business objectives. He asserts, "Developing and executing human resource strategy in support of the overall business plan and strategic direction of the organization, specifically in the areas of culture, succession planning, talent management, including reward & recognition, change management, organisational and performance management, training & development, and compensation."
Tuning Personal and professional Life
Work-life balance is a common term used by everyone, but it means different things to each one of us. For Tarkesh, it is all about priorities. He asserts, "When you love, what you do, you needn't balance." He believes in living a purposeful life, as he says, "Find meaning and purpose in your work. How you can contribute more without being asked for, for your own self-development. Being able to apply my learnings from my professional life to my personal life and vice versa."
Tarkesh also emphasises physical and mental wellbeing. He regularly engages in yoga, strength training, and running to maintain his physical and mental well-being.
The management at FK continuously pushes workers through numerous engagement programmes. In the walkathon, the company had teams participate, and, as a result, they all became healthier as an organisation, which Tarkesh personally remembers and treasures. Tarkesh saw that as a means of instilling a healthy lifestyle and inspiring one another at work by showcasing the teams' fitness adventures. He believes it's crucial to create such informal venues for employees so that each team member may remind each other of the significance of being active and motivate each other when one of them hits a slump. He also adds, "Peer pressure certainly works brilliantly well, when it comes to working out/staying healthy/completing the number of miles as well."
Vision for Bringing Personal and Professional Transformation 
In Tarkesh's opinion, Fresenius Kabi is undergoing change as a whole. His goal is to make a substantial contribution and assist the company in becoming a transformed, leaner, more adaptable, technologically sophisticated, and high-performing company.
In addition, Tarkesh wants to create a company with a culture that is admirable, high on performance and values, and where employees are truly engaged—excited, willing to go above and beyond the call of duty, challenging the status quo, and constantly striving to get better rather than just content and at ease. He asserts, "I will continue to strive hard to influence stakeholders by showing the value of every HR process to businesses and to them as leaders." His personal plan is to sharpen his coaching skills, write more frequently, remain healthy and continue to be better than yesterday.
Success is an Endless Journey
Tarkesh considers success isn't about designation or money. He states, "Success is how happy you are and how you become better than yesterday in terms of skills, wisdom, and execution. If I am not adding a new skill every few months, it means, I am stagnating or failing. That's why success is a continuous journey, not the destination. And, at this stage of my career, success is not just my own growth but also the growth of people around me whose lives I am in a position to touch."
Notes for New Learners
For aspiring leaders Tarkesh's advice is to "Don't just go with knowledge gained in educational institutes. The biggest learning takes place in real-life situations. Hence, don't hesitate, take the risk, get into uncharted territories, and learn new skills." He further adds, "Forever be a student. Develop the art of asking relevant questions and challenging established norms. Focus more on the process. If your process is right, results are bound to come. Integrity must be non-negotiable." He believes that discipline can solve half of one's problems, so be comfortable in crucial conversations, and never compare yourself with others.