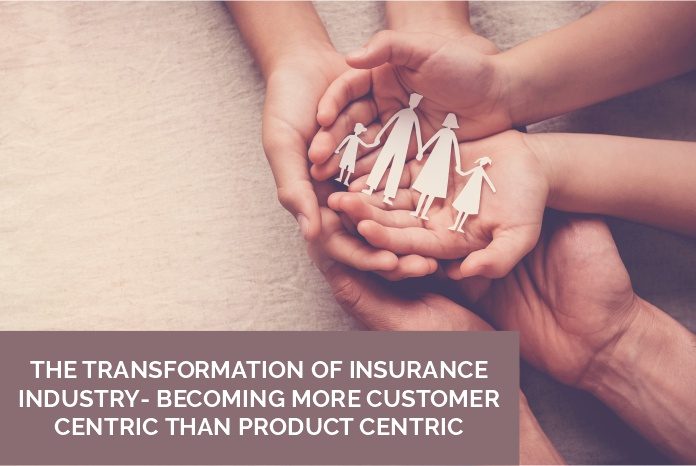 In the past few years, the insurance sector has made noteworthy progress towards becoming more customer-centric than staying only product-centric. This transformation of becoming customer-centric to product-centric is driven by increasing customer expectations, innovative tech start-ups that are utilizing data to provide seamless, more personalized services.
However, becoming a customer-centric insurance organization looks only easier in words than done. Creating a customer-centric organization is a challenging process to execute. No doubt it is the right goal to achieve but to transform the way of working of an organization that it follows for a long time is not an easy task. It is a cultural transformation of an organization that requires changes in behaviors too.  It is the process that will require a flawless execution, a precise strategy, and a good amount of time for sure.
To become a customer-centric organization, insurers have to move away from aiming at enabling customers with products and should approach what the customers can do with the product. For example, many customers avoid buying vehicle insurances even it is essential but they do want to keep the vehicle in the best condition possible.  The same scenario goes with health insurance where people want to stay fit but avoid buying health insurance. So the insurance companies have to find a way to engage customers with the company's policies. One such company is start-up yulife that awards its customers with reward points for being active or engaging. The rewards points are its own yucoin currency that can be exchanged in the form of vouchers at stores like Amazon and John Lewis. This benefits the insurer and customers both. Through this, the company has brought premiums down for those who already following healthy lifestyles and also reduced potential future claims. This is the way of engaging customers with the product by understanding what can be useful for them not just for the company.
While heading to achieve a customer-centric approach, effective communication can't be ignored.  Communication is clearly an important area for the organization to focus and organizations are doing it by adding techs with the businesses. Technology businesses have developed platforms that are effective at answering most customer queries and able to resolve issues through the use of chat-bots and online resolution. The current generation finds it more convenient to transact and communicate online and through digital platforms as the solution has provided in seconds. But there will always be a need for customers to be able to communicate with someone who just does not answer YES or No but a knowledgeable human with a solution in more complex situations.
Digital technology is helping organizations to engage with customers in a more effective way than ever. Although it is challenging to keep up with advances all the time, it is worth it because engaging customers through tech advancements is a better course for the company and customers than following traditional routes.
It is clear that with time customer needs and expectations from service providers are going to increase. And for organizations, it will be a race to lead the market with innovative products, services, and delivery channels.