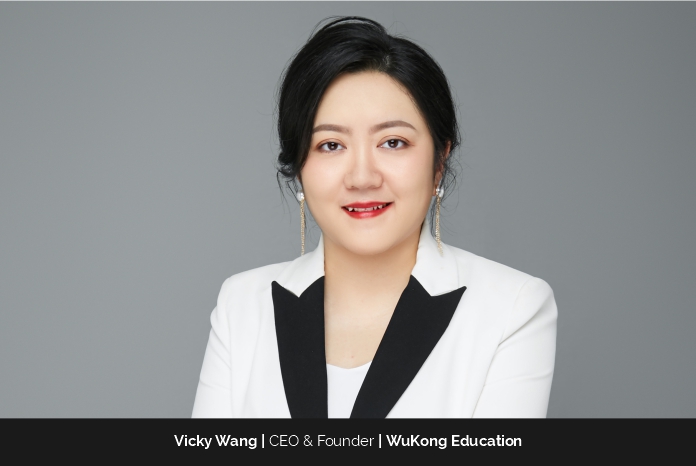 The right and proper education improves people's understanding of the world around them, making them less susceptible to the influence of others. Having a decent education helps people think, feel, and behave in a way that contributes to their success, and improves not only their self-satisfaction but also their community. WuKong Education is one such online educational platform that aims to provide the best possible curriculum and learning opportunities for students between 3 to 18 years old to help them grow while building a strong base for a bright future.
Vicky Wang, the founder, and CEO of WuKong Education says that it has been great to see so many children benefit from their learning platform. Since its founding in 2016, WuKong Education has become the leading brand in online education. WuKong Education is the first choice for families who wish to pursue the dream of providing their children with an elite education. Their members come from 11 countries and regions, including America, Canada, Australia, New Zealand, and Singapore.
Drivers of Success for Vicky Wang
For Vicky, success equals to how many people one can influence and help. Success is not about how high you stand, but how far you go. Therefore, to go further, entrepreneurs need to always maintain an altruistic mindset. "My happiest moment derives from the time I see so many students around the world learning with WuKong and gradually gaining life-long passion and comprehensive abilities for their future studies," she says.
Challenges have been an excellent opportunity for Vicky's growth
At the very beginning of Vicky's entrepreneurship, she was motivated to jump into the education industry because she deeply understood the unfair distribution of education resources. She comes from a remote town. Throughout her student life, she invested her every effort in studying and eventually got admitted to Shanghai Jiao Tong University. After graduation, she came to New Zealand and got to know the global top-ranked education system there.
"It is in this period of my life that I gradually realized how education can change the fate of people and how the social problems can be caused by the unbalanced distribution of educational resources. Growing up in a family in which most of the members are teachers, I hope I can do something to narrow the gap of education inequality, so I established WuKong Education with my partners, hoping to realize my initial aspiration of 'bringing quality education to global students' through our tireless efforts," she states.
The biggest challenge Vicky has encountered in her career is multinational business management as it is harder than she thought. As a multinational company, WuKong has a team with members in 11 countries. Their management and daily communications are mainly conducted online. At times problems do occur due to time lag and space restraint. To solve these problems, WuKong invested a lot of energy in establishing an efficient multinational management system. "In terms of team building, I gradually realized that strategy, organization and culture should come first when conducting a multinational business. At present, we have built a diverse corporate culture based on common values within the organization to effectively meet the challenges caused by multinational managements," explains Vicky.
The core values and services of WuKong Education
WuKong Education was founded in Auckland, New Zealand with the focus of providing high-quality online educational solutions to young people all over the world. The WuKong Education Group brand also owns the well-known educational technological brands WuKong Chinese and WuKong Math.
Adhering to the principle of "Bring the beauty of Chinese culture and characters to young people all over the world", Wukong Chinese is dedicated to utilizing scientific technologies to provide inspiring and interesting online Chinese courses to students from 118 countries and regions worldwide including America, Canada, Australia, New Zealand, Singapore and so forth.
The company's core values include:
Understand Education, Love Children
Always Day 1
Begin with the End in Mind
Be Candid and Clear
Explore the Essence of Things
Take Ownership
Keep Learning
WuKong's contribution in redefining and boosting the education industry
WuKong redirects their pattern to the earlier years when Chinese teaching and learning could only be conducted in traditional after-school classes.
Sharing High-quality Education Resources Across National Borders – They have built a learning platform, connecting the best Chinese teachers from China and the best math teachers from the United States, Australia, and Singapore with students from multiple countries and regions around the world, while solving the problem of the unbalanced educational resources brought by time and space.
Developing the Core Competency Model of WuKong – They have integrated the competency model and pedagogical methodologies into their curriculum framework, aiming to provide quality education for children more efficiently.
Accumulating Long-term Traceable Learning Data– They empower education with technology, and grade students scientifically through data analysis so that children at different stages can get tailored learning programs that are most suitable for their current learning situations, and their learning and growth patterns can be visualized.
Improving Students' Interests and Initiatives in Learning– Through immersive AI interaction, they inspire children's active learning ability and mobilize children's enthusiasm in their whole learning process. This is completely different from the traditional one-way inculcation teaching.
Thriving within the education industry and its growing competition
One of WuKong's corporate values is "Always Day 1". They hope to have all their departments and employees take initiative as they regard being innovative as an important requirement in their daily work. Gradually they will integrate their innovative force into teaching and research, product development, the consumer journey, and other aspects of their daily operations.
"We credit our continuous innovation to a deep insight into the user experience. We always put the user experience first: through the analysis of students' class time performance and the communication with parents, we obtain first-hand user insights," says Vicky. She further says that their proudest moments are when they receive tons of thank-you letters from their beloved students and their parents.
The growth of WuKong Education during the ongoing pandemic
The Covid-19 epidemic saw tremendous growth in online education, and WuKong's rapid development has been within this exact period. From 2019-2020, their number of class bookings increased 70 times. In the past 2 years, they have spent a lot of energy to deeply improve the user experience. Their product capabilities and technical capabilities have been continuously improved, and parents' trust in them has gradually formed, followed by their high referrals and renewals. At a time when competition is becoming more and more fierce, the high referral and renewal rate have greatly reduced the cost of acquiring new customers. Parents' trust not only makes it easier for us to enter new markets and introduce new disciplines, it also becomes the strongest driving force of sustainable growth.
WuKong's mission is to inspire learning, which is also their expectation and plan for the future. "Through our every effort, we hope that children in more countries and regions around the world can learn with WuKong, so the educational gap can be narrowed down, and more children can benefit from quality education. A single spark can start a prairie fire", states Vicky. They aspire to remain true to their business aspirations while keeping their mission firmly in mind.
Being the CEO & Founder of WuKong Education
As WuKong's CEO, Vicky takes the main responsibility for making strategic decisions and managing key internal and external resources and relationships. She pays special attention to the team and spends a lot of time on the cultivation of the core team leader. At the same time, the innovation of educational products is also the focus of her attention, and she spends a lot of time on it.
Her daily routine includes:
Strategic planning and periodic review meetings
High-level executive interviews, and innovative education product meetings
Regular communication with internal and external stakeholders
Maintaining Harmony and Empathy at Work
WuKong's business is user oriented. They look forward to bringing a lot of creative ideas and nourishing innovative ideas into their business development. Vicky often encourages all employees to have empathy in their daily lives, for they themselves are consumers and users of educational products as well. "And it is that empathy that often underpins our business decisions and judgments," she asserts.
They maintain employee enthusiasm through team building and corporate culture construction: creating opportunities to inspire professional values and achievements: e.g., via teaching skills contests, team-building activities, and so forth; seeking, cultivating, and empowering partners who have a long-term commitment and passion for education and are willing to contribute to the team.
Vicky's message to aspiring business leaders is simple. "Remain true to the original business aspiration," she exclaims.