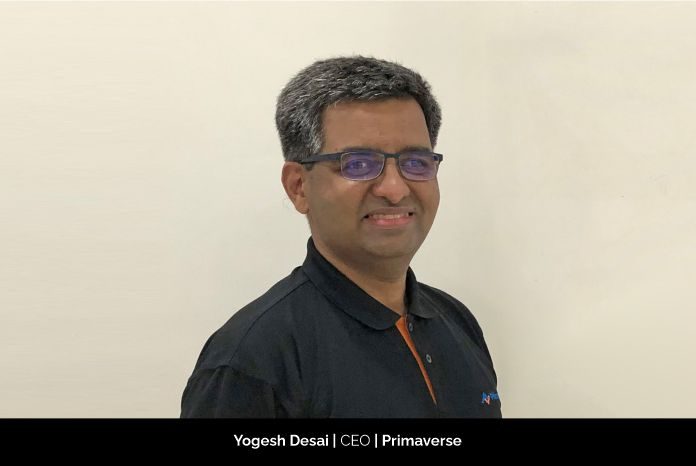 Entrepreneurship is a topsy-turvy ride and the best teacher always turns out to be 'experience.' Yogesh Desai, CEO of Primaverse has catered clients and witnessed magnificent growth as an enterprising engineering services firm worldwide from past 8 years. He is a smart initiator and an excellent cross-cultural manager who has experience of working with multi-cultural teams in some of the biggest consulting firms in markets. In the past, he even took the onus of running similar companies in the past and some of them being 1st employee of the company and understood the challenges of managing and growing a company from scratch.
Ladder to Success
With over 24 years of enriching experience, Yogesh is a civil engineer by profession and also holds a Master's Degree in Structures. With expertise in the field of Land Development, Structural and Land Surveying, he has made significant contributions in the field of civil engineering. He says, "In the initial stages, the goal was simple to make a successful career in the field that you have been educated. However, as horizon and opportunities open up, the goals keep changing. That is the reason I started Primaverse."
From being CAD software training center to rendering reputed Engineering Services, Primaverse has been through an amazing growth journey from the past 8+ years. He confidently shares, "Now the goal is to make Primaverse a brand that people recognize in the field of Engineering Services. I am close to the goal that is planned, few more years of effort, and we should be there soon."
Positive feedback about work quality, timely delivery and customer satisfaction keeps him striving hard to push more boundaries and impart superb service. He adds, "I am extremely excited to lead a team of 60+ engineers and opportunity to work with different clients across different culture and globe and be the leader in providing CAD Engineering services globally to Architecture, Engineering, and Construction companies which cater but are not limited to Civil Engineering, Surveying, Manufacturing, Building Information Services, and Signage manufacturing."
Comprehensive services, values and culture of Primaverse
Established in 2013, Primaverse is a one-stop-shop that imparts world-class Computer-Aided Design and Drafting Services globally with assured Quality, Timely Delivery, and 100% Customer satisfaction. This engineering service provider works with several companies that are leaders in different fields, Architecture, Engineering, and Construction etc. This firm works with numerous companies from North America, Canada, UK, Europe, Australia, UAE, Mauritius and India except for Africa.
Primaverse Core Values are based on the Acronym "RAPID" which is a shorthand for:
R – Reliability
A – Accountability
P – Passionate
I – Innovation
D – Discipline
To help the company expand further and climb the ladder of success, Primaverse has set a specific culture which encourages Innovation. There are a plethora of pillars that drive its growth further and some of them are given below:
Innovation: This approach helps the team to think out-of-the-box solutions for the clients.
Intellectual honesty: It is essential to sharing different views on a particular problem and helping clients with accurate knowledge
Be Direct: Being straightforward at all times to gain the trust of the client for a long time.
Set high standards: Everyone strives for the best and that's why the company has set best-of-best standards.
One team: Even if different employees perform different functions, they all are a team that contributes towards the success of the company.
Never give up: Facing all the challenges boldly and conquering them with diligent efforts.
Team Work is the Best Hard Work
Yogesh knows that his team is the supreme asset. Thus, he makes extra efforts to make his team feel special and motivated to deliver their best efforts for company's growth. He feels that if employees are treated as extended family members and all their basic needs are taken care of, they can prove out to be highly motivated and dedicated. By encouraging employees to be independent decision makers, supporting their first-time minor failures and giving them the confidence to learn new things, they will always value the company and definitely run that extra mile for the company they work for.
He further adds, "Make sure to recognize all the positive efforts put in by employees to make things work, however small they may be. Trust your employees and give them new challenges whenever possible to come out of the comfort zone." These are the pointers that helped him get the best out of his own employees.
He shares, "Nobody can achieve 100% what he desired until he is working. If a person thinks that he has achieved everything, then he should retire or simply stop working." As per him, with new advancements, challenges and global issues, every person's goals keeps on evolving.  As the goals keep changing, you have new challenges and new problems. These new challenges, a lot of information, the world becoming smaller through internet connectivity, and the young generation brimming with invigorating energy and breakthrough ideas help you to keep you on toes.
Setting Work-life Balance
Being the founder and CEO of Primaverse, he has to wear multiple hats and looks after all areas be it, Operations, Sales and Marketing. He plays the crucial role to formulate the company's strategy for further growth, market expansion, and financial planning.
For Yogesh, there is no specific rule for work-life balance. He feels that every person is bound to have a unique meaning for work-life balance. Thus, each person must set such balance that his/her personal life is not affected by running only after professional life.
He shares, "I generally do not work weekends or in simple words, he is a follower of the adage, "Work Hard, Party Harder."
Primaverse's future growth trajectory
For future, Primaverse is aggressively progressing to reach their grand goals. In the next 5 years, the company has solid plans to grow 5 times of their current revenue with their persistent growth strategies. He adds, "During this growth, Primaverse needs to expand in more geographical regions like Europe, Australia, along with the US. It plans to diversify in other areas along with Engineering Services as new opportunities, and open more horizons further."