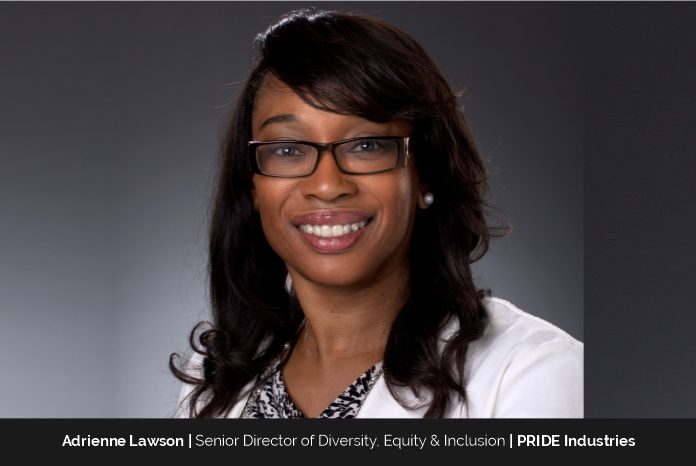 Dr. Adrienne Lawson, Senior Director of Diversity, Equity and Inclusion at PRIDE Industries is a devoted DEI leader who invests her time and energy transforming lives with equity, passion and grace. She is a strategic and innovative thinker, an influencer, and a problem-solver. Dr. Lawson is a DEI coach and consultant, climate, culture and equity expert and a recruitment and retention strategist. Her passion for building talent and enabling organizational success, coupled with her approach to leading through an inclusive lens and consultative attitude, have resulted in scaled solutions that have strengthened leadership bench strength, promoted positive employee experiences, and advanced the organizations capabilities.
In 2020, after a consistent 30 years of career in academia, Dr. Lawson began a new adventure at PRIDE Industries – a social enterprise located in Roseville, California that delivers competitive business services with the mission to provide employment for people with disabilities. PRIDE Industry proves the value of an inclusive workforce every day, providing competitive facilities management, contract manufacturing, and employment services while providing opportunities for underrepresented populations.
You must have a desire to be something more than you are now to achieve your goals…— Adrienne S. Lawson
Dr. Lawson is responsible for developing and implementing the organization's diversity and inclusion strategies across all lines of business and works closely with the nonprofit's Executive and Human Resources teams. In addition, she oversees the administration of PRIDE Industries' compliance efforts and activities related to the Office of Federal Contract Compliance Programs (OFCCP).
"Working at PRIDE Industries, I am happy to be able to make a difference in people's lives and in the way businesses work," states Adrienne.
PRIDE Industries – A social enterprise
PRIDE Industries was founded in 1966 in the basement of a church in Auburn, California by a group of parents of young adults with developmental disabilities. These parents wanted their grown children to have a purpose and experience the dignity of a paycheck. Today, PRIDE Industries operates across 17 states plus Washington, D.C. With some 5,000 employees, about half of which have a disclosed disability, the organization is the leading employer of people with disabilities in the nation.
For over 55 years, PRIDE Industries has delivered business excellence with a positive social impact. During this time, they have partnered with hundreds of organizations like the U.S. Government, HPE., Ingram Micro, and VSP Vision. They have built electronic devices and medical equipment. They've kept the grounds green and facilities pristine. And they have packaged and shipped thousands of retail products. And they have developed programs to help people with disabilities to become job-ready and find employment.
Developing a framework on leading for equity
Dr. Lawson and the DEI team at PRIDE Industries work collaboratively with HR to break new ground with a variety of strategies that put equity, diversity and inclusion at the center of the company's hiring and retention practices.  Under her leadership the company has implemented a proven framework called Collective Impact that takes servant-leadership, teamwork, inspiration, vision, collaboration and communication to work. Collective Impact enables company leaders to understand how recruiting and developing a diverse workforce can help them better achieve our companies' overall talent recruitment and retention goals.
Key initiatives Dr. Lawson oversees include:
Diversity Advisory Council (DAC): The DAC's mission is to advise and provide recommendations to the Senior Executive Team to help plan, develop, implement, improve, and refine strategies toward meaningful diversity and inclusion efforts and initiatives related to all employees.
Employee Resource Groups (ERGs): ERGs foster awareness, respect, and inclusion and belonging for diverse employee groups. They support business initiatives and act as a collective voice around shared issues or concerns, promoting an inclusive, respectful workplace, and finding topics specific to a diverse community's needs within the organization. PRIDE Industries ERGs include:
E.N Black Employee Network: B.E.N. ERG conducts activities to attract, retain, empower, and inspire African American employees. The team hosts networking events to bring employees together to build professional relationships and promote cultural awareness about African American/Black cultures, customs, studies and contributions to America.
People of Possibilities (POP): The POP ERG discusses career development, policies, and business processes that affect people with disabilities. They strive to raise awareness about the strength in hiring and retaining people of diverse abilities, and to identify market opportunities for products and services.
Professional Women's Network: The Women's ERG is focused on networking and mentorship to include women in management and in trades through recruitment, training, and promotion.
Millennials: The Millennial ERG seeks to encourage understanding and growth across all generations at PRIDE Industries. The team explores their journey of self as well as professional, and socio-cultural identity development through coaching, mentorship, and professional development.
Veterans: The Veterans ERG recruits Veterans through outreach and educational activities and providing a support structure, education, and career progression assistance. They plan activities to honor military services, and offer welcome, mentorship, and Buddy Check 22 programs.​
Hispanic Heritage: The Hispanic Heritage ERG helps promote the heritage of Hispanic/Latino and Mexican American employees by sharing their culture and through their offerings of educational opportunities, networking, cultural events, talent recruitment, retention, and professional development.
Mentoring Academy: The Mentoring is a best-practice program that fosters and advances personal, professional, and company growth. It was established to develop a mentoring culture that values and supports the essential role of mentoring in career progression and offers quality mentoring opportunities to employees throughout the organization.
Employe Development and Training: PRIDE Industries offers a complete range of training for employee's managers on leadership skills, Affirmative Action, Leadership and Diversity, and Implicit Bias.
Working at PRIDE Industries has been a joy for Dr. Lawson because the company's mission and values completely align with hers.  "This is an organization that 'walks the talk." she exclaims.
"One of the greatest values of mentors is the ability to see ahead what others cannot see and to help them navigate a course to their destination."  – John C. Maxwell
An unconventional career path into the DE&I industry
Dr. Lawson's career started at San Jose State University as a part-time clerical assistant in the School of Science while working on her bachelor's degree in Sociology. She also worked in the Department of Faculty Affairs, where she learned about what it took to become a faculty member and how to get tenure.
"Because of this experience, my goal was to become a faculty member, which eventually happened, but I've been a transformational leader most of my career, especially as a DEI practitioner," she says.
"Choose a job you love, and you will never have to work a day in your life." Confucius
Dr. Lawson spent three decades of her career in academia before becoming a part of PRIDE Industries. "Yes, that's a long time and I've had an awesome career," she exclaims.
In her academic career, Dr. Lawson worked in two different teaching and learning institutions and two different academic medical centers. She views her time in academe as her training ground, from student assistant to clerical assistant, research assistant, research coordinator, administrative coordinator, and faculty member. Throughout these years, she had many mentors, for which she is forever grateful.
Success and challenges go hand-in-hand.
Dr. Lawson's definition of success is collaborating with company stakeholders who are focused on the same mission, goals and objectives to launch DEI initiatives. The success is the collaboration – bringing people together to hear their voices; give visibility to those who go unnoticed yet have so much to contribute; create safe spaces where people feel they belong and are valued and respected; making sure they have leadership commitment; and sustainability of DEI throughout the company.
"Don't be afraid. Be focused. Be determined. Be hopeful. Be empowered." Michelle Obama
Best recognitions received as an impactful DEI leader.
Growing up in a single-family household, in an impoverished urban area in the Los Angeles area, and as a first-generation college student, Dr. Lawson defied the odds against her. I am doing so she has received a great deal of recognition for her work. "It's hard to say what have been the best recognitions that I received as a businesswoman because all the awards and recognitions have been so meaningful and I don't take anything for granted," she said. Here are some of the awards she is most proud of:
Exceptional Woman of Color Award (2022). Excellence Award in Management and Professions – Presented by the Sacramento Cultural Hub Media Foundation
Community Conscious Award (2020) – Presented by Zeta Phi Beta Sorority, Inc. Omega Lambda Zeta
Dean's Team Award for Inclusive Excellence in Community Engagement (2018) – Presented by UC Davis Health Center
Lifetime Mentoring Award (2017) – Presented by the Cooper Woodson College Enhancement Program at Sacramento State University
Service Leadership Award (2012) – Presented by the Center for African Peace & Conflict Resolution at Sacramento State University
Woman of the Year Award (2005) – Presented by the National Council of Negro Women, Sacramento, California
Valuing All Employees
Dr. Lawson keeps her team motivated to deliver the best services by acknowledging and rewarding them. Making sure all employees know how important they are to the company and their voice is vital for PRIDE Industries to meet its goals. She also ensures that employees who want to be involved in the ERGs know that all are welcome.
"Once you know your passion, you know your purpose" Dr. Adrienne Lawson
Her advises aspiring businesswomen to never give up on their dreams. She encourages women to stay consistent, network, develop oneself, and get a mentor and sponsor. She stresses, "Make sure you share your dreams with those whom you trust and can help you obtain your dreams. Lastly, be true to yourself."