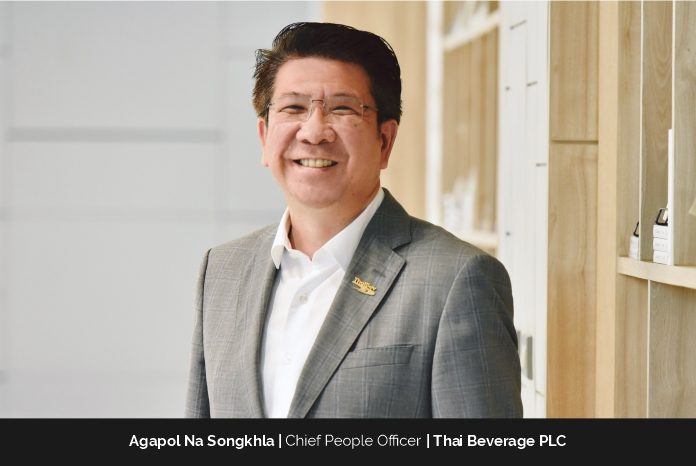 Agapol Na Songkhla is one of the most recognized HR leaders in Southeast Asia with a career journey that resonates with big following from millennials to baby boomers. He currently serves as the Chief People Officer of Thai Beverage, with frequent contributions to the people development community in ASEAN. He is well-versed in three languages—Thai, Japanese, and English—and has excelled in various fields such as broadcasting, management consulting, and banking before transitioning to HR. As the Chief People Officer of Thai Beverage, Agapol is responsible for managing a workforce of 60,000 employees, with about 40,000 based in Thailand. The rest are employed across Southeast Asian countries, working for renowned food and beverage brands like F&N and Sabeco. He has also been royally appointed to serve on the Civil Service Commission of Thailand. Despite the challenges of overseeing such a vast and diverse workforce, Agapol views strategic planning for business growth as both challenging and exciting.
According to Agapol, Thai Beverage has evolved from being a national champion to a global player, with no signs of slowing down. He emphasizes the company's efforts to create regional capabilities and establish trust in new markets.
"Resilience is key to success."
Before his tenure at ThaiBev, Agapol held a position as the Head of Strategy and Transformation at TMB Bank, where he served in several high-level strategic functions for eight years. He also worked as a principal and project lead at the Boston Consulting Group, where he gained valuable business experience that he now brings to ThaiBev. Currently, Agapol is working closely with his team at ThaiBev to take their transformation efforts to the next level, recognizing that transformation is a never-ending process.
One of Agapol's current priorities is to embrace the multi-generational workforce, which includes not only digital millennials but also baby boomers approaching or already in retirement age. He believes that people are at the center of everything they do at ThaiBev and that the potential of people is what drives their success. He takes pride in being part of a team that helps people realize their full potential and believes that HR can transform people's lives.
Agapol's career-defining moment was transforming their HR practice into a Human Capital mission in 2015, which had a significant impact on ThaiBev's growth and success, as well as inspiring a significant number of peers across industries.  He is admired by the younger generation for his coaching and mentoring practices to university students as well has developing the unique ASEAN internship programs. ThaiBev is a role model organization in recognizing talent potentials of all generations.
Thai Beverage PLC
Thai Beverage aims to become a sustainable and stable leader in the beverage and food industry in the ASEAN region. The company was established in Thailand by its chairman, Mr. Charoen Sirivadhanabhakdi, who consolidated various spirits businesses before expanding into the beer sector with its iconic Chang beer. Later, under leadership of the Group CEO Mr.Thapana Sirivadhanabhakdi, Thai Beverage added a third leg of non-alcoholic beverages, including dairy products, thereby becoming a comprehensive beverage company. To better connect with end consumers and adapt to the changing behavior brought about by changes such as the COVID pandemic, the company added a fourth leg of the food business.
Today, Thai Beverage holds leading positions in five ASEAN countries, namely Thailand, Malaysia, Singapore, Myanmar, and Vietnam. As an ASEAN company, Thai Beverage has a deep-rooted mission to create and share value through growth. The company is committed to investing in and developing local markets, unlocking sustainable growth potentials of ASEAN countries.
"The secret of success is consistency of purpose."
Stepping into the Industry with a stand for Human Capital
After spending several years working in transformation, Agapol transitioned into the HR industry with a desire to make a significant impact by inspiring people. He believes it is crucial to differentiate between human capital and human resources. As per Agapol's philosophy, resources are typically utilized and depleted, whereas capital is intended to be grown. Therefore, he and his team focus on growing their people to serve the business, rather than merely utilizing them, in line with their mission as human capital.
However, implementing this philosophy has been challenging in the face of competitive pressure, with many business leaders still viewing their employees as resources with a short-term focus on utilization and headcount expenses. Despite this, with the firm support of their Group CEO, Agapol's team has consistently pursued their human capital philosophy, with a focus on holistic people development and a long-term view of each person's unique life pace and journey.
Agapol acknowledges that they are still early in their journey and cannot claim success yet. However, he has learned two valuable lessons so far. Firstly, it is crucial to have employees be self-motivated about their own development, allowing the company to focus on nudging them. Secondly, it's vital to be consistent in what the company can afford to offer, avoiding unsustainable practices such as what is recently seen in the tech sector. Agapol advocates for a sustainable approach to employee development, combining a push for individual motivation with a realistic and sustained commitment from the organization.
Establishing Culture of Integrity and Innovation
Agapol emphasizes the importance of a strong and consistent tone from top management in shaping the culture of an organization. At Thai Beverage, the chairman, vice chairman, and Group CEO have provided such a tone and launched the company's mission statement, which centers around creating and sharing the value of growth and is supported by the three values of collaboration, creating value, and caring for stakeholders. These values were defined and refined by the company's top 400 leaders and are now ingrained in the company's culture.
The company prioritizes sustainability and encourages integrity and innovation. It has been recognized as a world leader for sustainable development in the Beverage industry in the Dow Jones Sustainability Index for the past five years. Thai Beverage conducts mandatory annual training for employees to promote integrity, and it also has a WOW program that encourages process improvement and innovation ideas from employees at all levels. The company has allocated 10% of each employee's KPI to process improvement and people development initiatives, resulting in many cross-team initiatives and inclusive platforms for employees to share their ideas.
"Opportunities often come in disguise. Grab them and grow!"
Leadership Principles
Agapol advocates for three principles that can be applied by human capital teams. The first principle is having faith in the immense potential of people. Agapol believes that every individual has the ability to achieve great things, and it is essential to trust in oneself and in each other.
The second principle is the belief that significant challenges will help individuals become stronger. Agapol encourages individuals to embrace challenges and use them as opportunities to learn and grow. When team members approach their leaders with complaints about the difficulty of their work, applying this principle involves assigning them even more challenging tasks. This approach can make their previous work seem easier in comparison.
Lastly, Agapol believes that by developing others, individuals can also grow themselves. Leaders and team members have a responsibility to support and mentor those around them. It is important to communicate to the team that when faced with a large challenge, opting to confront it will lead to personal growth. On the other hand, walking away from the challenge will result in shrinking one's abilities. Therefore, it is crucial to encourage and empower employees to confront challenges and continue to grow.
Seeing True Success in Empowering Others
Agapol's career started at the Boston Consulting Group in 1997. He spent eight years at BCG, where he learned about the potential to achieve significant impact through the power of ideas and working with a diverse range of decision-makers through effective communication. As a leader in a large organization like ThaiBev, Agapol feels that his best recognition comes from his contribution to inspiring the diverse workforce towards sustained self-development and the company's vision. Through the Dream Big programs, ThaiBev has helped thousands of employees rekindle their personal dreams and find relevance to their work, creating a culture where employees of all ages can strive for their entire long career.
Agapol takes pride in the belief that there are limitless opportunities within ThaiBev and within each individual and the culture that they have built to support this belief. Agapol believes that success is defined by the impact one has on others. He strongly believes that by helping others grow, one can also grow themselves. Therefore, he finds it empowering and rewarding to help others succeed, even if it means not being in the limelight. This is a context in which he lives both in his professional and personal life.
"Believe in human potentials for greatness.  Believe in unbounded potentials."