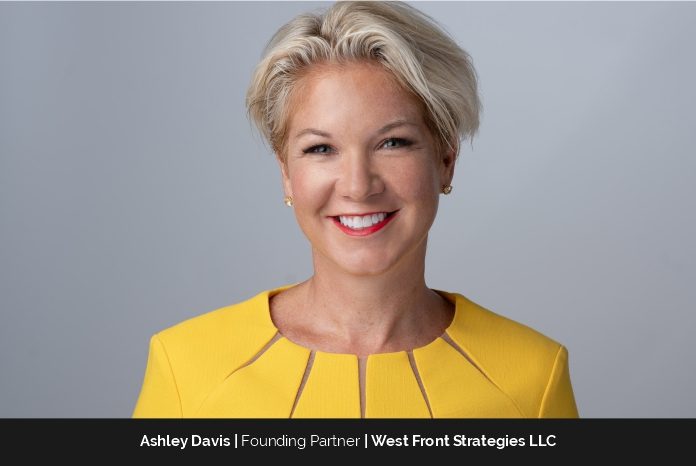 Ashley Davis is a business leader and U.S. public policy expert, who is also raising the awareness of women in art and fashion across the globe.
Ashley founded and scaled up West Front Strategies (WFS) from a start-up into a multimillion-dollar company. Today, WFS is a renowned Washington, DC, government affairs firm representing Fortune 500 companies in multiple industries, with a focus on healthcare, energy, homeland security, education, international trade, and government contracts. This year, the Washingtonian Magazine named her one of the 500 Most Influential People Shaping Policy. Her unique experience collaborating with members of both major political parties has helped her WFS clients achieve strategic policy and corporate goals.
Ashley works with and represents clients before the U.S. House and Senate Committees on Energy and Commerce, Health, Education, Labor and Pensions, Ways and Means, and Finance. She was a key figure in the passage of all of the most recent healthcare bills in Congress.
Prior to founding WFS, Ashley worked as a managing principal at Blank Rome LLP, where under the guidance of mentors she learned how businesses operated.
Ashley worked under the first Director of Homeland Security, Tom Ridge, and as the Deputy Director of Management and Administration in the White House. She worked on the Republican National Convention, Bush-Cheney 2000, and the Florida recount before joining the Bush-Cheney Transition Team.
Ashley holds a Master of International Business from McDonough School of Business, Georgetown University; a Master of International Business from the ESADE Business School (Spain); and a Corporate International master's Business-A Degree from the FGV EBAPE School (Brazil). She holds an undergraduate degree from Westminster College, where she is a Member of the Board of Trustees.
Ashley serves as an expert speaker for the Office of U.S. Speaker Program at the Department of State, Bureau of Educational and Cultural Affairs, sits on several non- profit and corporate Boards, including  Turning Point Brands Inc., Vital Voices Global Partnership, the Women's Democracy Network at the International Republican Institute, the Board of Trustees at Westminster College, Kennedy Center National Symphony Orchestra, the National Museum of Women in the Arts and is a member of Women Corporate Directors.
She is also the Co-CEO of the Belizean Grove, a preeminent global network of influential women committed to building collaborative, trusted partnerships. As Co-CEO, Ashley curates unique and purposeful meetings and experiences that bring members together to foster a better understanding of the complex issues of our time, share expertise, and find for solutions.
West Front Strategies
West Front Strategies (WFS) is a Washington, DC-based boutique bi-partisan consulting firm. They provide unique, out-of-the-box thinking to produce winning results for clients. They are an innovative, collaborative, and results-driven team with decades of experience in Washington, DC, spanning Capitol Hill and the executive branch. Notably, WFS is one of a handful of women-owned government affairs firms in Washington, DC.
Ashley asserts, "When you hire West Front Strategies, you get the whole team. With decades of combined experience, we understand government at all levels. Each team member has served in senior roles in government, providing the knowledge and the know-how to achieve results for our clients."
Experiences that Enabled Growth
As a young professional, Ashley learned the value of hard work early in her career. Her second job out of college was in the Bush White House, where she was working on September 11, 2001. This experience taught her volumes about the importance leadership, resilience, and working together around a common purpose and goal. She recalls, "In the days and months after the September 11, 2001, attacks, we worked around the clock 7 days a week." Even though the work was vigorous, it was worth it since the team not only believed in what they were doing, but also had outstanding leaders who taught them how to stay focused and committed on their shared objective of safeguarding the United States of America.
Ashley also attributes much of her early professional growth to a number of fantastic mentors and leaders who helped her establish an internal drive to lead with purpose. While opting to create her own business was a risk, she understood it was the next logical step in her professional career. She says, "I saw others branching out and starting their own businesses and knew that I had just as much talent that I could offer, so I decided to go for it." Finally, the team she works with is second to none. She adds, "I knew we would be most successful working with each other."
Championing our clients
According to Ashley, everyone at WFS wears many hats, from making sure the office is running and managed to making sure that all clients are well represented. "We all help each other out, whether it's working on a joint client pitch or project, to tag-teaming meetings on Capitol Hill, we have a great team that works hard together to make things happen for all of our clients," explains Ashley.
Despite a weak economy and the economic hardships caused by the COVID-19 Pandemic, WFS has maintained year-over-year sales growth. This track record of producing success for clients has been herald by Bloomberg Government, who named WFS one of the top- performing lobbying firms of 2020 and 2021. Every year, WFS expands, and Ashley anticipates that trend continuing in the future, including hiring more staff, enabling the firm to continue to support their growing number of clients.
Following Structured Routine
Every day, Ashley knows that she has to strike a balance between her career and personal life and that each new year will present new challenges and opportunities. She shares, "My motivation comes from seeing strong examples of excellence and leadership early on in my career that I have adapted." Ashley does have a very structured schedule where she wakes up at 5 AM, sends and responds to email, reads four newspapers, and goes to the gym before her son is awake. She adds, "This sounds very intense, but it gives me space in the morning before my day becomes too busy."
"Every day looks different but is usually a combination of being in the office to prepare for the day, spending time in meetings on Capitol Hill and around Washington, DC, with clients, partners, and key government stakeholders," says Ashley. In the evening, her husband and Ashley take turns doing pickup and homework with their 13-year-old son. On weekends, the pair usually travels to their son's hockey or football games, and she always makes time to pursue her loves, such as women in fashion and the arts. Ashley also hosts events and champions leading causes for women in the arts across Washington, DC.
The Importance of Empowering Women
As a leader, Ashley's personal objective is to work hard, produce impactful outcomes, and mentor other women who are coming up behind or around her. She believes it is critical to invest in the next generation of women leaders. She says, "It's on us and our generation to support and bring up the next generation of women." She firmly believes that women need to mentor, provide pipeline opportunities, and support other women. She asserts, "If someone reaches out to you for coffee or advice if you are in a position to help support them, you should say yes. The best thing we can do is help pave the path forward for those who will come up behind us."
Success for Ashley
"I am proud of where I am in my professional life. My success has not come without volumes of hard work and sacrifices. Success, for me, is being in a good place professionally and to be able to spend some of my time investing in other things I am passionate about, like supporting women in politics and business, fashion and art, as well as working to champion women around the globe. I am also passionate about women leading on corporate boards. Currently, I sit on a number of Corporate Boards and truly enjoy leveraging the skills I've developed throughout my career in this capacity. I would like to continue my efforts in that space."