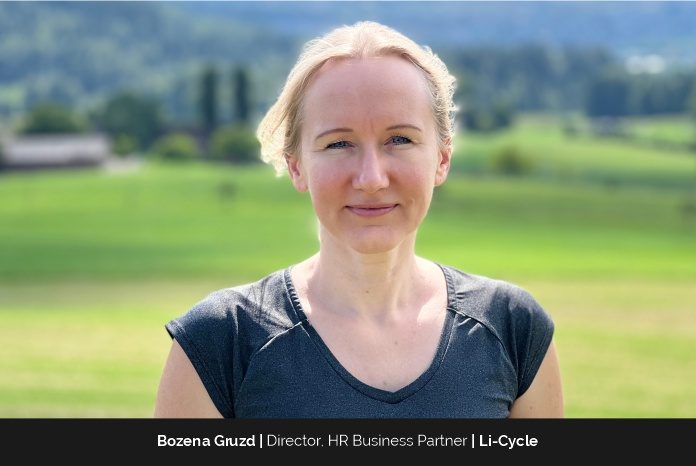 Bozena Gruzd, Director, HR Business Partner at Li-Cycle has two bachelor's degrees – one in Economics and one in Psychology. Bozena was in search of a profession that would combine both these disciplines and chose HR Management for her master's degree. She states that Human Resource was the perfect fit and gave her the opportunity to support businesses by utilizing her background in psychology.
Li-Cycle is a company that recovers critical materials from lithium-ion batteries and reintroduces them back into the supply chain. This technology allows for the safe processing of batteries without any landfill waste, minimal GHGs, and reduction of CO2 emissions. "This is fantastic news for the world as now, lithium-ion batteries can be recycled in a way that's safe and sustainable and supports the growth of EV industry," Bozena states.
Challenges cannot be escaped and facing them helps us grow
Bozena claims that she does not like challenges but knows that she cannot escape them. Every time she faces a new challenge, she reminds herself, "This is not forever, take a breath, do your best, you'll get there." And then she simply keeps going.
Once, Bozena was asked to conduct two days of training on communication skills for a group of senior engineers. She was about 25 years old and was scared of even the idea that she had to spend two days teaching something. She felt like she should be learning from her students!  Bozena started her preparation and got five versions of training scenarios and then ten versions of presentations. She states that she felt like she was preparing herself for the biggest failure of her life and promised herself that she would never agree to such a project and never conduct any training ever again. She couldn't sleep the night before the first training session and in the morning, she noticed the participants sitting while looking at her with encouraging smiles.
"I took a deep breath and said, 'Look, I know I am young, and you know I am young. You all are much wiser and much more experienced than me. And I know you would have probably found much better ways to spend these two days, but we cannot change it for now. So, what if I simply share all the good things I learned at university? I am young; I still remember all the books I read, and I have picked out the most interesting things for you!' They smiled and responded saying, 'Let's try. Go ahead.' Later they shared that I won their hearts with these words. They were actually listening and participating in the training 100%," explains Bozena.
Bozena further notes that her take away from this experience was to always stay humble and be honest. She was not manipulative; she was just very sincere and honest with them. She said what she felt and it worked out. "It always works out if I keep the same attitude," she states.
Life is like hiking and success is reaching the peak of YOUR mountain
"What I like is that mountains have many peaks, and your journey is never a constant ascension – you go up and down many times along the way. Life – like mountains – is full of ups and downs. The next peak will welcome you; reveal a new horizon and new opportunities and challenges," says Bozena.
This mystery of mountains is like an addiction to Bozena and she believes that this is also the mystery of our life's journey – every time you reach a new peak, you celebrate your success and face new obstacles. Such a journey becomes very rewarding if you choose the right mountain or path – the one that fits your character, talents, dreams, and passion. "Climbing a mountain will make you a successful person; climbing YOUR mountain will make you a happy and successful person," she explains.
The significance of innovative ideas at Li-Cycle
Innovation is crucial to the development and success of a company as everyone has to evolve to stay relevant. Bozena deeply believes that as people, we need to take conscious steps to keep growing and leaders have to show that innovation is a key component for the company's long-term success and culture. "I am happy to share that the management team at Li-Cycle holds firm to this belief as well," she states. For example, Li-Cycle recently announced a Shark Tank-style innovation contest where participants are encouraged to propose an idea for improvement at Li-Cycle from such categories as Safety Innovation, Operations, Communications, Tools & Technology and Process Improvement
Bozena's vision for the future of Li-Cycle and plans to influence change
In EMEA, one of Bozena's goals is to create a corporate culture that embraces diversity and enables the company to learn not only from different people, but also a wide range of nationalities and cultures. She says that she sees herself as someone who picks up the best work practices from each country and introduces them to the organization to ensure that they all benefit from them.
Li-Cycle is a very young company, and it has the potential to become one of the best companies in the world. Bozena states that she is literally in love with Li-Cycle. "We have great goals, great leaders, great team members, great technology, and are at the right place just at the right time. It is all in our hands," she notes.
Bozena's successful professional journey
Bozena started her career at an HR consulting company. Her first role was in recruitment, and she still remembers receiving more than a hundred resumes each day. "I had to read resume after resume – different people, different stories, and such different destinies. I felt like reading a book of life – and I enjoyed it so much," she states.
Later Bozena was lucky to gain experience in many areas of HR – not only recruitment, but learning & development, compensation & benefits, motivation, coaching, performance management. And after all, the best kind recognition for Bozena is when an employee shares their personal success story with her. A few months ago, for example, a former colleague reached out to share that he overcame challenges which they had discussed few years ago. "He almost shouted, 'You see, it worked out for me! I did it!' Such moments touch the bottom of my heart," she proudly states. Another thing that makes Bozena feel good is when employees tell her that she changed their perception of HR and made them believe HR can be supportive and encouraging. "To be honest, I do not hear this very often, but sometimes I do and then I know all the hard work has paid off. Then I am happy."
"If I were to define myself in one word, I would say "excited." I am super excited about my life, my work, my colleagues and the world I live in!" exclaims Bozena.
Responsibilities as the HR Business Partner of Li-Cycle
Bozena's is responsible for the EMEA region and they are currently in a period of rapid growth. Recruitment is her focus right now will stay so for some time.
She joined Li-Cycle in February 2022, as the second employee in EMEA and in December they will have hired 25 colleagues! At the same time, Bozena is also working to establish the HR infrastructure for the region.
Motivating herself and her colleagues to maintain a healthy work-life balance
Bozena claims that she is still learning how to maintain a work and life balance. It's easy for her to lose herself in her work, so she needs to be conscious about it. She reminds herself to take a pause at least every 8 hours per day.
Staying focused, Bozena says that she knows firsthand how important a supportive environment is. If she sees her team working hard, she'll match their energy, but recognizes they also need to look out for each other. "That's why I am so happy to be at Li-Cycle – a company which promotes a work/life balance," she further states.
Lauren Choate, CPO at Li-Cycle says, "Your health is priority number one, your family is priority number two, and your work is priority number three." Bozena believes that it is important to hear this kind of talk from leaders – and feels we need to make sure we also don't only say it, but also live it.
Her inspiring message to aspiring business leaders would be: Make mistakes and keep going. We all make mistakes, and that's ok. The world doesn't need perfect people; the world needs people who want to do their best. And it does not matter how fast or slow you are – just keep going. The horizon is there all the time, waiting for you today or tomorrow. The day after tomorrow is also fine. Next week also works, too!