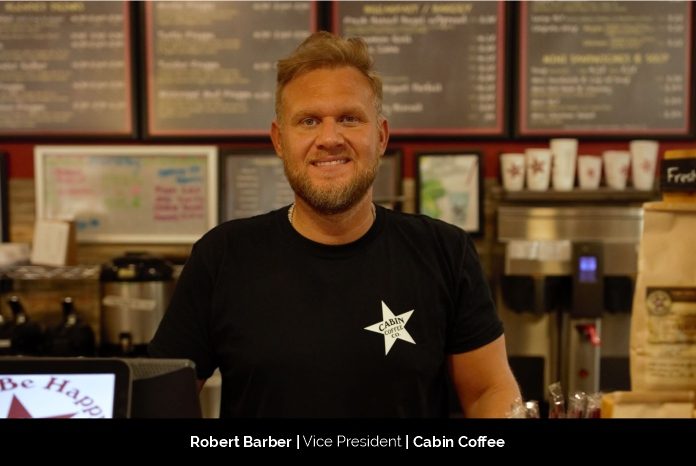 A perfect cup of coffee is the best way to start your day. Coffee has become an inseparable part of today's modern lifestyle, and now, it is also growing as a perfect business opportunity for Java lovers. Cabin Coffee Franchising Inc.'s franchise model has created a unique business model intending to provide success to its franchisees.
As per Robert Barber, Cabin Coffee Franchising Inc.'s Vice President, his parents are people of positive and loving attitude and having genuine care for helping others. They started the business with the same vision to provide a peaceful, unique, and friendly environment to coffee lovers for enjoying relationships. The family knows the importance of coffee and its many positive effects on health and wellbeing. Cabin Coffee Franchising Inc.'s franchise is serving the same now in 17 open franchise stores.
Joining the Family
At Cabin Coffee Franchising Inc., the quality and services of the brand are the highest priority. To its franchisee, the company offers complete services from construction and development to aiding the franchisee with advanced technology to better serve the customers in the store. Robert says, "Speed is the key in our industry, and implementing new tech has been key to our success."
Key to Achieve Success
Robert opines, "Everyone's measurement of success is different."  He further adds that finding out how people see and measure their success is the challenge in itself. For someone, it may be motivated by sales and for the other by team growth. He believes that identifying these in individuals allows one to pinpoint and aid to coach and lead a successful team to the vision he/she sees and making it all-encompassing to travel down one path together for success.
Owning the Business is not enough
Today, owning a business is not enough. It is vital that the person believes in the brand and is committed to success. As per Robert, when one owns the business, it's not just about him/her, and this is a hard realization. It includes everyone from the customers to the team members. He elucidates, customers always come first, but vendors are the keys to success as well. He asserts, "Aligning with everyone from the top down aids in success. It's the golden rule; treat others the way you want to be treated. For me, our franchisees are my customers. We work hard to support our franchisees so that they can focus on serving the store customers well. Because, if we can do that, then we will win every time. Let me handle the supplier issues, and such franchisees need to be customer-focused. The plan works, so follow the plan."
Customer-Centric Approach
Robert asserts, "We are not going to win at speed, but we are going to win at customer service."  At Cabin Coffee Franchising Inc., serving the customer well is the main priority. He adds, "If we take care of them, they will return. Customer intimacy and improving our technology to serve them better are our key items for success. Again, it's about the customer."
A Growing Business Opportunity
The franchise industry is one of the fastest-growing industries. In the USA alone, the industry has estimated to grow $494.96 billion and can add 232,000 jobs, increasing total employees to 8.67 million. Franchising allows an owner to start his own business with a proven plan. All it takes is to follow the tradition. Robert adds, "If the plan is followed properly then everything else will fall into the right place; as long as the customer is well taken care of."
Franchising allows for many different walks of life that are entrepreneurs to contribute to the success of one common goal or company. At Cabin Coffee Franchising Inc., everyone has different backgrounds, and they all bring a different perspective. Their ideas and views are valuable for the company and its success. Having this approach allows diversity, and for Robert as the leader of the company, it provides him an insight into different avenues to move the company forward. He asserts, "Franchisees just want to be heard, and I am an ear for them."
Journey to Join the Legacy  
Robert's parents started the company in 2002, the same year Robert graduated High school in Clear Lake Iowa. After that, he started college at the University of Northern Iowa and studied Biology. After college, Robert worked for a Biotech Company that was later sold to a larger entity. After a few years of working for the larger organization, he felt it was time to take what he had learned and joined his parents' business to aid in their success.  The best recognition for Cabin Coffee Franchising Inc. is winning runner-up for the Nations Small business of the Year award in 2019.
A Leader, Supporter and Guide
On keeping his team motivated and confident, Robert says that he is a coach and leads by seeking what the issues are, providing perspective, and being there when one needs him. He believes in leading by letting his team run and not holding them back. He adds, "We will fail, but we will get up and dust ourselves off and win the next time."
A Heart-warming Message
Robert prioritizes customer satisfaction and wants to serve them well and continue. In his message to all of Cabin Coffee Franchising Inc.'s customers, he says, "You're special. A lot of people drink coffee. But you're not just a lot of people. Coffee is savored, and it sends a feeling of warmth down to your very soul. It's the aroma that stirs an awakening in you, to those around you, and the community that you're a part of. It's the consistency in every cup, every time, that makes a rough day smooth and a great day a celebration. We know that more than the coffee alone, it's the warmth of the hands that prepare it for you; the care and detail that says every cup counts. These are the details that speak to who you are and a place where you feel appreciated. It is also a place where for a few dollars you can feel like a million bucks. Sit back, enjoy the comfort. Lean in, embrace the conversation. Coffee is not just a jolt for you but a joy. Cabin Coffee Company makes your day as special as you are. Coffee, conversation, and comfort; everything's better at the cabin." 
Plans on Global Reach; Slow and Steadily
According to Robert, slow and steady growth is the way. In the future, he would love to reach 50 Cabin Coffee Franchising Inc. stores by 2025. By expansion, the company can add staff and focus on improving HR, development, and marketing departments to continue to win.
Cabin Coffee Franchising Inc. already impacted globally, and it realized that.
It starts with the coffee farmer and funnels to its cup supplier and other vendors. Robert says, "We are thankful for our customers, vendors, and everyone we have touched along the way. We will continue to have slow and steady growth, which will further impact everyone globally."