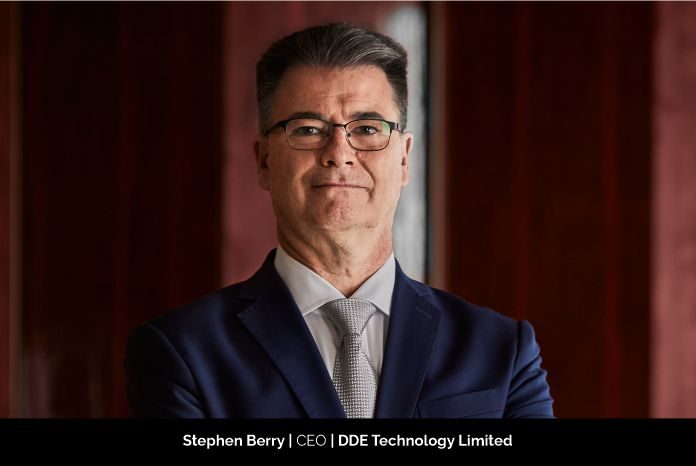 We are living in an age where technological advancements have brought greater efficiencies for businesses, particularly for those reliant upon critical industrial control and automation processes. However, with the increased interconnection of these systems, security concerns are also on the rise. Industrial cybersecurity is becoming a major focus of such companies.  Cyber threats are increasing at an alarming rate, and many are targeting critical infrastructure. It is necessity of the time that business leaders consider cybersecurity as a primary need and take the necessary precautions to safeguard their vital operations.
Stephen Berry, CEO of DDE Technology, established the company to help raise industrial cybersecurity maturity and awareness and to tackle the exponential rise in threats and attacks on critical infrastructure. As he has worked for major utility companies in the power, water, and gas industries, it became evident to him that critical industrial infrastructure is subject to unique security challenges and is increasingly being targeted by cybercriminals and malicious actors. The recent spate of attacks on fuel pipelines, water treatment facilities, power grids, casinos, and even meat processing facilities demonstrates how vulnerable the industrial sector really is.
Stephen further describes that companies whose businesses are about keeping the lights on, the water flowing, manufacturing plants running, and providing essential services cannot afford any downtime and the healthy functioning of society is reliant upon that. This is why we use the term 'critical infrastructure.' He opines, "Cybersecurity has a major role to play in protecting the industrialized sector."  
What Cyber Solutions Can Protect Industry
DDE Technology provides cybersecurity, advanced technology solutions, and professional services to companies around the world. These companies operate critical infrastructure in industries such as electricity generation and transmission, oil and gas, mining, water supply and treatment, manufacturing, transportation, financial services, building infrastructure, hotels, and casinos. "We manage risk on behalf of our clients by focusing on people, processes, and technology. As a trusted partner, we provide cybersecurity guidance, advice, project direction, and quality assurance to help safeguard our clients' assets, operations, revenues, and ultimately, reputation," says the company.
Success is Where Everyone Aligns with One Vision  
Stephen finds the ability to create a compelling vision that galvanizes people to work towards achieving a common goal, a hallmark of good leadership and a key determinant of success. He adds, working in a very technical and industrialized field where it is easy to get lost in the detail, it is important for leaders to step back and consider the big picture and why it is important. He deems, "Leaders need to champion the vision in a way that drives successful outcomes for project teams and instills confidence in stakeholders."
For him, success from a business perspective is evident where long-term relationships exist with clients. He says, "It is always reassuring when clients pick up the phone and call you to share their pain points and seek your guidance on the problems and challenges, they are dealing with."
A Sense of Purpose and Vision Drive the Success
Being at the forefront in any new field is challenging and requires a lot of determination and persistence to stay on the journey. Stephen recalls the phrase, "Pioneers are the ones with the arrows in their backs".  According to Stephen, his career started many years ago with a small startup called "Microsoft". He recalled the second day into the job, this guy called "Bill Gates" gets up in front of the team and talks about how at that time, computer hardware and hardware companies were all that anyone cared about but that in the future, the software would drive the world. And ten years later, that vision became a reality, and still, Stephen recalls the power of that message and the sense of purpose it engendered.
Stephen highlights the fact that every day, business leaders encounter new discoveries, challenges, and uncertainties. He opines that having a clear and consistent message about the company and its mission is important to keep employees and customers on the journey.
Each Customer Faces Unique Challenges
DDE Technology focuses on clients' specific challenges recognizing that no organization works similarly to others. The company states that there is no substitute for listening to your clients. A well-framed question such as, "what keeps you awake at night?" can provide excellent insights into the challenges and risks they are facing. Attending industry conferences that are user-led, rather than marketing-driven, are also beneficial. Forums at these events help to identify the common concerns that the industry is dealing with. The team says, "We take a very holistic view of cybersecurity by focusing on people, process, and technology as bad actors often exploit all three."
According to the team at DDE Technology, the control and automation systems used in industry today are designed for continuous operation and not necessarily for security. Retrofitting cybersecurity solutions into production plants is a highly specialized endeavor and requires considerable domain knowledge and understanding of the processes and controls that underpin the operation. Additionally, and unlike most IT projects, human safety is paramount in production plants, and this is the first consideration for the team in any project it undertakes.
DDE Technology assists its clients as a trusted advisor while recommending and deploying selected cybersecurity products and solutions. As there is no single cybersecurity solution that fits all companies, it becomes significant to understand the DNA of the client and the nature of the business. The company says, "This enables us to recommend and design solutions that are tailored to the unique circumstances of their business."
Serving with Trust and Agility
DDE Technology is leading with the mission of Securing an Interconnected World. The company recognizes that cloud services, Smart Grids, Industrial Control Systems (ICS), and Internet of Things (IoT) provide operators real-time, 24×7 monitoring, enhanced peer-to-peer communications, concurrency, remote control, maintenance, and diagnostics. The company also recognizes that cybersecurity needs to continually evolve to address today's rapidly changing technology landscape.
As cybersecurity is a sensitive topic, the team at DDE Technology strives to earn the trust of their clients to facilitate a robust, transparent, and honest relationship since dealing effectively with cybersecurity challenges demands it.
DDE Technology Limited – A Rising Brand
As Stephen observes, while DDE Technology Limited is still a relatively small company, it has been able to secure some large and iconic clients with whom it has successfully built long-standing and solid relationships. He asserts, "Being asked by leading product vendors to contribute IP and industry experience into their product development process is a good indicator that we are being taken seriously."
DDE Technology Limited will continue to grow in its existing markets by expanding its solution and advisory services and continue to open new markets working with its multinational customers. The company has established operations in different countries to support its customers in those markets. The team asserts, "We look forward to welcoming new clients to DDE Technology, and we are working hard to deliver exceptional outcomes to existing clients as we know that by doing that, the referrals will continue to come."
A Focused Mind for Growth
Stephen is recognized for leading large multi-geography technology businesses, building them from the ground up into viable operations. At DDE Technology Limited, he primarily focuses on the company's growth strategy and partnering with cybersecurity vendors that are synergistic with the company's business offering. His daily routine at the company involves focused meetings and communication with clients to stay relevant to the client's requirements and challenges. He believes, "For employees, it is important to create a clear and compelling vision of what we stand for and the mission that we are on. I want all team members to have a strong sense of purpose and be empowered to contribute to the success of that mission."