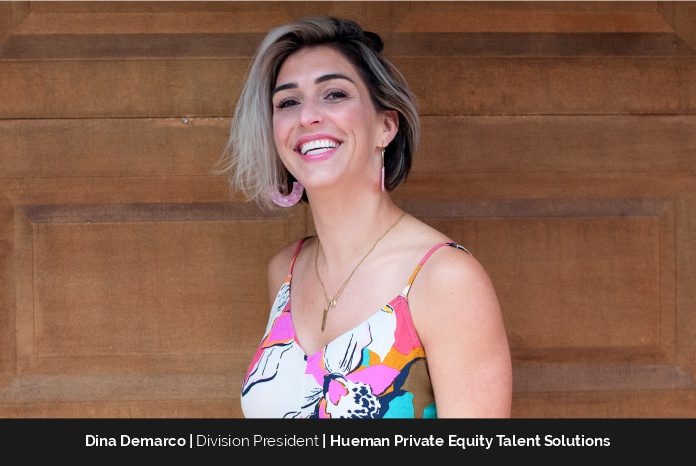 A well-integrated people management approach is essential for success. Employers may feel like old dogs learning new tricks when it comes to upgrading personnel management in healthcare. Not simply elderly dogs, but wary dogs that understand that new antics might jeopardize the health and safety of those in their care. Getting used to a new talent management system can be difficult in and of itself. As a healthcare employer, your personnel management responsibilities extend beyond training employees and assisting them in transitioning into new jobs. You must also check credentials on an ongoing basis, which is much easier to do with a single personnel management system. You may track credentials manually or utilize a platform like Apploi to check credentials both initially and regularly.
Dina DeMarco is the President of Hueman's Private Equity Talent Solutions Division. She has over a decade of recruiting expertise, and prior to her current role was the Vice President of Hueman's Recruitment Process Outsourcing business. Dina specializes in identifying and developing innovative talent acquisition strategies. She has excelled in placing top candidates in a wide range of sectors.
Dina's team was a National Finalist for HRO Today's Recruitment Team of the Year while she was the Director of Talent Acquisition at one of the nation's leading healthcare systems. In 2018, she also received HRO Today's Rising Star Award, which honors those who have exceeded expectations and achieved excellence. Dina has been a part of the Hueman family for nearly 13 years and received the annual Core Value Award in 2011 and 2017 for demonstrating the organization's core values of trust, service, excellence, teamwork, and transformation.
Dina graduated with honors from the University of North Florida with a Master's Degree in Business Administration with a specialization in Human Resources and Marketing. She enjoys spending time with her husband and rescue puppy, captaining her women's soccer team, and experimenting in the kitchen with new dishes. Dina, who works at Hueman's Jacksonville Beach headquarters, is involved in the community, working with organizations and sitting on non-profit boards.
Hueman
Hueman People Solutions consists of two businesses, Recruitment Process Outsourcing (RPO) and Hueman's Private Equity Talent Solutions. The RPO business is a strategic total talent provider to its partners. The PE Talent Solutions business specializes in accelerating value creation through direct recruitment, executive search, and consulting.  The Hueman leadership team has more than 100 years of combined recruitment experience.  They leverage this expertise to ensure best-in-class recruitment processes, and resources, with an emphasis on finding candidates who are a culture fit for their partners. Each professional recruiter ensure that every applicant is a long-term match and culture fit, from front-line staff to senior executives.
Hueman's fundamental objective is to provide "great employment experiences," and it has been doing so since 1996. Indeed, Fortune Magazine and the Great Place to Work Institute named it Best Workplace for the 13th year in a row as part of its previous parent firm, PPR Talent Management Group. The team is enthusiastic, empathic, and value oriented. Team members in operations, recruitment, IT, accounting and finance, human resources, and marketing all take pleasure in providing the best-in-industry customer experience while doing what they do best: helping people.
The organization understands that each candidate must not only be a good match for the position at hand, but also be additive to the company's culture. When hiring internally or on behalf of their partners, Hueman's consultative approach and excellent relationship with hiring managers to ensure that the candidates they are providing are committed to being a positive part of the company's culture as well as their specific function.
The engaged recruitment team of nearly 400, is able to identify outstanding candidates by using the firm's proprietary technology stack.  Hueman recruiters engage passive applicants by utilizing the latest recruitment technology. The team also has a robust internal recruitment marketing agency that helps to expand job exposure and develop specific recruitment campaigns for roles. The combination of engaged recruiters, the latest technology, robust marketing, and streamlined processes, have enabled Hueman to save clients time and money by filling vacancies quickly, with top talent.
The Steps to Joining Recruitment
Dina didn't start her career in the recruitment space. In fact, she doesn't think she ever met anyone who said, "I always wanted to be a recruiter." But that's what makes recruitment so interesting. She says, "You have such diverse backgrounds and pathways to the profession.  It's interesting to see the personal perspectives that each of our team members brings to Hueman."
Dina had worked in marketing and advertising before joining Hueman. Her first journey into marketing was as a member of the Red Bull promotional team. Following that, she worked for a small firm whose team provided marketing services to healthcare institutions. Her experience in healthcare enabled her to segue into healthcare recruitment, as an Account Manager in Hueman RPO. "My career began in earnest when I joined Hueman, and we launched the RPO division.  It's during my tenure here that I've become a talent acquisition expert," says Dina.
There are a few times that Dina thinks of being recognized as a leader that really stands out. Occasionally, her team members will be promoted or transition to careers outside of Hueman, and when they leave, she'll often get a card or note saying how much she has made a difference in their lives.  She says, "I keep every one of these in my desk drawer and look at them often." They warm up my heart." Another recognition, Dina is very proud of is being named an annual Core Value Award Winner at Hueman. Every year at Hueman, all employees are invited to nominate co-workers for the core value award winner of the year. She has won this award twice, and she is so proud of that. She adds, "This recognition shows that your teammates value you and you're making a difference in the organization." As a leader, that's all you can ask for."     
Responsibilities at Hueman
Dina leads Hueman's developing companies, with a primary focus on the company's Hueman PE Talent Solutions division. She is also in charge of a small executive search and direct hiring section. Her responsibilities include ensuring the entire performance of these divisions, including strategic objectives, defining services and products, and providing world-class service and delivery to its partners. Dina has full P&L responsibility and is in charge of expanding the business by discovering and working with new clients. She is in charge of offering value-added resources to its clients, such as thought leadership, understanding current market trends, and evaluating the latest recruitment technology, among other things.
Meaning of Success
Success may be assessed in a variety of ways. Dina's concept of success is continuously evolving to reflect what will allow her to grow and be challenged, both professionally and personally. She is the sort of person that is always pushing to do better, always looking for ways to improve herself and her work.  Dina went on to say, "It's not easy for me to look at myself and say, "You're a success."  Success isn't static or finite, its ever evolving.  Just the other day I was meeting with Hueman's President and he reminded to look at back at what we created. He said, "you should be proud."  I guess that is a success."
That being said, Dina feels it is critical to acknowledge others' accomplishments, which includes recognizing components of exceptional outcomes and personal/professional progress.
Challenges make you Stronger
Dina believes that hardships make people stronger! She believes that obstacles force you to think creatively, push you out of your comfort zone, and force you to adapt. Every time she has felt "successful" in a project, it began as a struggle and something new or different.
She has endured several professional and personal problems. She recalls, "When we launched our new division, Hueman PE Talent Solutions, I had a medical issue that required me to take leave for 6 weeks (don't worry, everything is good now). It was very hard to make the decision to take leave, and even harder not to worry about what would happen to this fledgling division. That leave, however, was a blessing in disguise.  It forced me to re-evaluate the work I was doing on a day-to-day basis and really allowed me to home in on what I needed to do, and where I can provide the most value. It also helped me re-evaluate work-life balance." Dina is no longer a workaholic. This challenge forced her to rethink how she worked, and it undoubtedly helped her focus and realize where she could add the most value. "I realized I was putting so much on myself when I had an incredible team who was there and willing to help."
Enjoying 'Me' Time
As a reformed workaholic, Dina still finds work-life balance is not always easy. She likes work; likes what she does, so it doesn't feel like work to her.  She shares, "I definitely work some weekends and evenings, but I don't mind. I love what I do, so it doesn't feel like work. I have gotten better at understanding what I need to do versus what others on my team are better suited to do. This helps strike that balance."
Dina has also gotten very good at saying "I'm off," whether that means not checking emails this weekend or taking a vacation, when she is off, she really tries to put work aside and focus on her family, friends, and dog.
A Supportive Leader
Hueman, as a whole, has incredible employee engagement, and that helps with motivation. Specific to the PE division, Dina likes to make sure the team understands the bigger picture and how they fit into it. She also thinks it is important to check in with your team a lot and understand any challenges they are having. She tells her team that her job is to make them as successful as they can be, and if there are challenges and obstacles they are facing, she wants to know.
Creating a Place to Grow
Dina is in charge of the Hueman PE Talent Solutions division, which we launched in 2020. It has raised revenue 10X in 2.5 years (2020 to 2022 projected). It grew from one PE partner in 2020 to collaborating with over 20 PE companies now. Its services have now been expanded to include consultancy and talent acquisition training. As per Dina, PE Talent Solutions is Hueman's fastest-growing division. She states, "I will say, that the growth is not under my leadership alone, but a much larger team and everyone who intersects with this division.  Plus, we have some of the best recruiters I've met.   The team is so engaged and determined that they fuel the growth and success."
Hueman PE Talent Solutions is only one division of Hueman, but Dina wants it to be a much greater portion of the company's portfolio. The organization is also renowned as one of the finest places to work, and Dina wants to make sure that as it expands, it continues to provide a rewarding and exciting job for every Hueman. Hueman has developed substantially over the last six years, thanks to the efforts of the whole leadership team and our devoted and motivated staff.