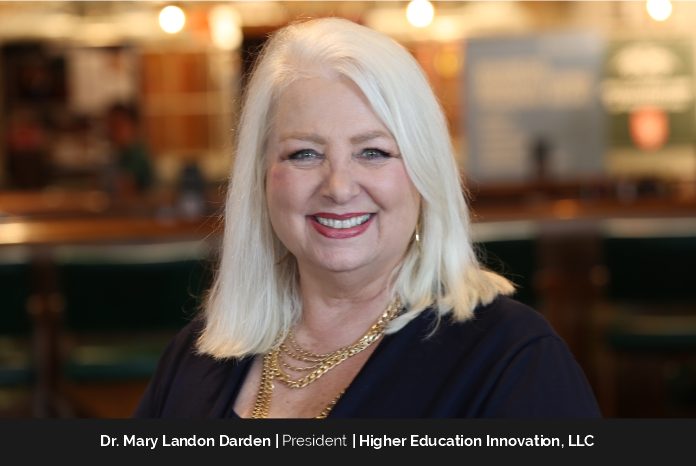 Dr. Mary Landon Darden, a renowned higher education futurist, author, and leadership expert, is the Founder and President of Higher Education Innovation LLC, established in 2015. With the mission to "transform higher education," HEI has been at the forefront of innovative initiatives. Dr. Darden has authored two influential books, co-published with the American Council on Education and Rowman and Littlefield.
With a keen focus on entrepreneurship and revenue stream development, she has been instrumental in guiding colleges and universities towards transformative change. Dr. Darden's expertise is widely recognized, evident in her two co-published books with the prestigious American Council on Education and Rowman and Littlefield.
Beyond her impressive professional accomplishments, Dr. Darden is also an advocate for social justice. Her outstanding efforts in mobilizing churches in Central Texas to address the aftermath of Hurricane Katrina garnered national recognition. As she continues to lead an executive coaching team at HEI, Dr. Darden remains at the forefront of shaping the future of higher education, inspiring others to embrace innovation and drive positive change.
From Early Leadership to Academic Achievement
Dr. Darden recalls that her career truly commenced at the age of three when she would independently ride the Chicago city bus to and from nursery school. One memorable day, she arrived home with a note pinned to her shirt from the principal, stating, "Mary is doing very well in school, but you need to explain to her that she cannot run the school." This anecdote never fails to elicit uproarious laughter from those who know her. It seems that even at a very young age, she not only embraced leadership roles but perhaps even commandeered them. Over time, she learned to temper her assertiveness and complement it with humility.
As her father's job involved frequent transfers, Dr. Darden experienced numerous relocations throughout her lifetime. Eventually, her father settled into work in New York City, and she spent her formative years growing up in the Connecticut suburbs. She received an exceptional education attending public schools in New Canaan, followed by Sweet Briar College, The University of Texas, Permian Basin, and ultimately earning her master's and doctorate degrees from Baylor University. At one point, she ventured into running her own business before eventually finding her way to the academic world in 1993 when she accepted a coordinator position at McLennan County Community College. During her tenure there, she achieved several remarkable successes.
Revolutionizing Higher Education for Sustainable Success and Innovation
HEI's mission is centered around the transformation of higher education. The company initiates this transformation by collaborating with college and university presidents, as well as their leadership teams. Through extensive research and practical experience, HEI has discovered that maintaining the status quo in higher education will result in the failure of numerous American institutions. Clayton Christensen, formerly of Harvard, once predicted that approximately half of all colleges in America would face closure within a 15-year timeframe. While this statement has been adjusted to some extent, the underlying concern about the precarious state of many institutions remains valid.
HEI offers tailored services to assist each institution in fostering innovation, cultivating unique niches, enhancing student recruitment and retention, ensuring program relevancy in light of emerging job markets, and meeting the hiring demands of businesses, industries, and government. These services take the form of assessments, training programs, coaching, collaborative innovation processes, and relationship building.
Harnessing the Power of Higher Education
Dr. Darden dedicated a significant portion of her adult life to higher education administration. Despite being an entrepreneur and visionary, which might seem more aligned with business ventures, she firmly believes that higher education holds the greatest potential for changing the world. She sees it as a vital tool for addressing and resolving issues such as poverty, hunger, war, disease, and more. After spending 25 years working within the system and striving to bring about transformation from within (culminating in her role as a university campus dean), she was compelled to establish HEI. This organization's purpose is to conduct crucial research, develop solutions, and provide training methods for today's leaders, particularly presidents and administrators, enabling them to transform their institutions into what is most needed in contemporary times.
Overcoming Challenges
Dr. Darden often finds inspiration in a quote from Conan the Barbarian: "That which does not kill me, makes me stronger." She has faced moments where she felt she was teetering on the edge of danger. Starting a company is undoubtedly one of the most formidable challenges one can undertake. During the initial three years, the company faced multiple instances where it was on the verge of collapse due to insufficient funding. Thankfully, several individuals, both financially and in terms of expertise, emerged as angels. Without their support, the company would not have survived. While these challenges undeniably made the company stronger, they also imparted wisdom and improvement. From this experience, Dr. Darden learned that journeys are not meant to be traversed alone. Other people can serve as mentors and guides, and if one focuses on a great mission and wholeheartedly strives to achieve that goal for the betterment of all, the right people and opportunities will manifest themselves.
Integrity and Innovation in Higher Education
Launching a venture like HEI necessitated possessing foundational expertise and credibility as a scholar in the field of higher education, holding a terminal degree, and having accumulated years of successful administrative experience. However, it also demanded the mindset of a visionary entrepreneur, someone willing to take risks and deviate from conventional norms within academia to forge new paths towards success. Fortunately, Dr. Darden possessed the required credentials and felt a deep sense of calling towards the mission, which motivated her to embrace the risk. Undertaking such an endeavor is not for the faint-hearted.
To foster a culture of integrity and innovation within the team, HEI actively seeks out individuals who exhibit both innovative thinking and a lengthy track record of successful practice, while maintaining the highest levels of integrity. It is paramount that every action and decision align with the most rigorous standards of integrity. Dr. Darden recalls one of her beloved mentors, Robert C. Cloud, who used to emphasize that being merely "clean" is insufficient; one must strive to be impeccably clean, or "squeaky clean."
Striking the Balance
Dr. Darden admits to struggling with maintaining a healthy balance between her personal and professional life. Throughout her career, she consistently dedicated excessive hours to work, believing it necessary to achieve goals and advance missions. While she acknowledges that she may never truly know if such intensity was essential, she does not recommend this level of overwork to others. Although she always made time for her children and grandchildren, she realizes that she likely neglected her husband and herself. Balancing personal and professional aspects can feel like a daunting feat, particularly when overseeing a campus around the clock.
On the other hand, the team at HEI finds it relatively easier to stay motivated and deliver their best. Continuous research efforts keep them engaged and enthusiastic about what is possible. Moreover, they recognize that the success and, at times, even the survival of an institution rest on their shoulders. This knowledge serves as a powerful motivation to stay dedicated and focused on their work.
Empowering Lives, Inspiring Dreams, and Making a Meaningful Impact
Dr. Darden cherishes the awards and recognition she has received, but what truly brings her the greatest joy is when a student or staff member tells her that she made a difference in their life or helped them achieve their dreams. It is these moments that hold the utmost significance to her, surpassing any other form of acknowledgment. Such heartfelt expressions bring her immeasurable satisfaction and fulfillment.
Today, Dr. Darden gauges success based on the impact she makes on individuals and the world. Her ability to facilitate transformation and growth in colleges and universities, empower people to pursue their dreams, assist her community in meeting their needs, and support her children and grandchildren in finding their passions are all criteria she uses to measure success.
Inspiring Aspiring Leaders to Pursue Passion and Excellence in Higher Education
Dr. Darden's personal goals include transitioning into semi-retirement, passing on the leadership of HEI, engaging in part-time consulting, embracing travel, nurturing relationships with family and friends, and making meaningful contributions to her communities.
Aspiring higher education leaders can draw inspiration from her message, which emphasizes the pursuit of passion, the acquisition of credentials, the pursuit of excellence, active listening, the embodiment of high values, kindness, proactivity, courage in innovation, mentorship, work-life balance, self-care, and lifelong learning. By incorporating these principles, aspiring leaders can chart a fulfilling and impactful path within the realm of higher education.