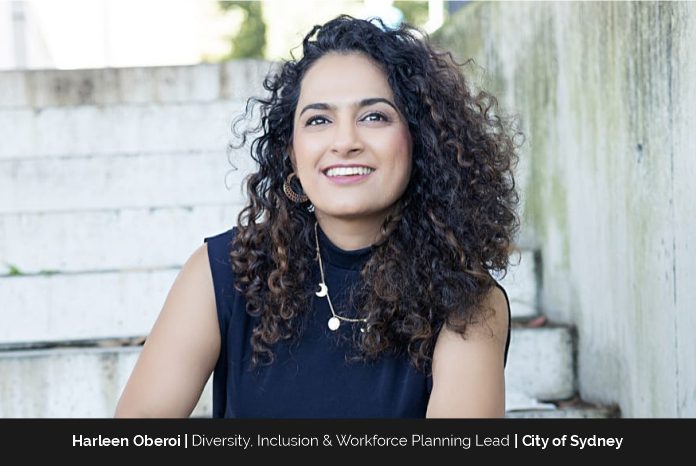 With a wealth of experience in Human Resources, Organizational Development, and Diversity & Inclusion, Harleen Oberoi has a proven record of effectively implementing long-term strategies. She possesses extensive skills in program management, policy development and change management, enabling her to drive organizational transformation.
Harleen began her career in HR operations and swiftly transitioned into HR consulting, working with the likes of Ernst & Young, Hewitt and KPMG on large programs, for global clients. She then moved to Banking and specialised in the area of Organisational Design – Diversity & Inclusion, Talent and People Analytics.
Harleen now heads the multi award-winning D&I and People Analytics team at the City of Sydney. By the time this article is published Harleen would have moved to a new adventure as the Group Head of Diversity, Inclusion, and Talent at Crown Resorts, a company with over 25,000 employees across Australia. Harleen sees this as a fantastic opportunity to make a greater impact and effect change in the transformational journey of Crown under the leadership of Blackstone Inc.
Preparing organisations for the 'new world of work.'
Harleen has been working in the field of diversity and inclusion for over a decade, well before it became a popular topic. As a woman of color, she took a 'leap of faith' in trusting her ability to understand and connect with the challenges faced by individuals from diverse backgrounds. Coupled with her skills as a consultant to bring a business perspective, Harleen is well versed with providing tactical solutions to complex business problems while keeping the big picture in mind.
In her career, like most leaders Harleen also encountered numerous obstacles, but she chose to see them as opportunities to learn and grow.
The most important lesson Harleen has learned is the value of engaging others in the process and using metrics to advance the business case. She emphasizes the need to use data not only to measure diversity but also to measure effectiveness of all strategic interventions.
It is also crucial to use 'intelligent metrics. Questions like what development opportunities we provided after we hired that Indigenous candidate? Or is there equity in development opportunities that we offer? Or why is the churn for women higher in this business?
When inducting people of color or people with disabilities into a leadership team, the correct metric needs to be beyond tokenism – not just how many do we have. Organisations need to ask question like; did the person get an opportunity to contribute to the discussion, did they feel heard (when they got a chance to speak)? How many of their ideas were adopted, and whether they were given leadership opportunities?  We need to look much beyond 'Diversity' in the room – we need to measure inclusion belonging, equity, psychological safety, as a start.
Enhancing Knowledge
Harleen enjoys reading extensively to stay up to date with the latest developments in her field.
Additionally, when she is invited to speak at conferences and proactively connects with thought leaders and peers from the industry to learn from their experiences. However, what she values most is connecting with people and listening to their stories of exclusion and their views on fairness and privilege. This helps her gain a better understanding of the perspectives and challenges faced by different communities.
Harleen also invests her time in keeping up with new technologies (some that she has picked up from her children). She also has a keen interest in learning about how the younger generation perceives the world, how they view their identities and whether they feel different due to physical and cultural differences. This allows her to keep a pulse on evolving attitudes towards diversity and inclusion in the future workforce.
Aiming to Bring Change
Despite winning several awards and accolades for her work, Harleen still feels she needs to a lot more. In her experience, some leaders in the Australian context fail to acknowledge the importance of diversity and inclusion. From their privileged positions, they might view someone with a diverse background; (mostly in an administrative role) as a "token hire" and pat themselves on the back. However, Harleen has noticed a significant shift in attitudes over the last few years.
In terms bringing about big change in the organisation – Harleen recognizes that D&I practices are often based on individualized, small initiatives that can make a significant impact on a person's journey at work. These initiatives aim to create a fair, equitable, and psychologically safe environment for employees. And making incremental progress towards creating a more inclusive workplace. It's not always about grand gestures; sometimes small systemic changes make a big difference.
Harleen fondly talks about a heartfelt message that she received from an employee of City of Sydney, who had been accepted into a prestigious MBA program. The employee, who is a woman of color, expressed her gratitude for the work Harleen has done over the years to create role models of change and various other programs that inspired her to dream big. She shared that she never thought she had the "permission to dream". This message reinforced for Harleen the importance of her work and the positive impact it can have on individuals' lives.
Success is synonym to continuous growth.
Harleen believes that success is a continuous pursuit. It involves striving towards one's goals and putting in the best effort to achieve them. Success is a journey that requires constant effort and improvement. True success lies in maximizing one's potential and acknowledging own progress. The crucial factor is to relish this journey of self-improvement and personal growth.
"Success for me is also about enriching lives of the people around me, the people who are impacted by my work. It's about what difference I have made in the world and what legacy I am leaving for our future generations," says Harleen.
Being a Woman Leader
When Harleen was younger, she used to wish for grey hair to be noticed and acknowledged in meetings. However, she now realizes that external appearances do not hold as much significance. At the end what matters is 'how you see yourself'. If we go down the track of finding things that you don't have, the road would be endless.
One needs to find their passion and always stay curious. Constantly pushing to learn and never settle for the status quo. I always think like an entrepreneur – ask myself, how can I turn my obstacles into opportunities? How do I create the need, who are my customers, and how best to serve them. My competition is with myself – every day I ask myself how I can be better today?"
Harleen believes that as a woman, and particularly as a woman of color in Australia, she has a responsibility to bring about change for her daughter and other girls like her. Misogyny, sexism, and racial bias is deeply ingrained in our society today, and it will require efforts of many women like herself to effect a lasting change.
Starting the Diversity and Inclusion journey
Today, it's well accepted that companies that embrace diversity and inclusion, are more productive and profitable. Diverse teams lead to more creativity and innovation, which leads to new ideas and solutions to ensure organisations remain competitive. Companies that embrace diversity also tend to be more successful in reaching a wider audience. All in all, it's clear that embracing diversity is not only the right thing to do, but it's also good for business.
Harleen advises organizations that are beginning their diversity and inclusion (D&I) journey to give Diversity and Inclusion a seat on the table. The leadership team needs to articulate the right reasons for committing to D&I and rally behind the cause. They need to identify their sponsors at the top and understand the 'concept of privilege'.
She highlights the privilege that comes with one's last name, skin color, hair, post code, and socio-economic status. Additionally, she emphasizes the privilege of not being stereotyped or patronized because of one's English-speaking ability or sexuality or physical ability. Harleen suggests that one significant shift organizations can make is to view D&I not just as a desirable goal but as a fundamental aspect of their culture and organizational values. By adopting D&I as a way of working, organizations can make a sustained and meaningful impact.
Message to Aspiring Women
Harleen's message to other women is to stop focusing on their flaws and recognize their inherent perfection. "Our diversity and differences deserve to be reflected and represented." She urges women to support and believe in 'sisterhood and to refrain from judging other women unfairly. She also strongly advises women to invest in support networks: mentors, advisor, sponsors all that you can get and more. In addition, like-minded friends and allies play an important role, not only to support you when things are tough, but to ensure your views are tested and challenged, to make sure you are representing people and their ideas as well as your own.
Equality is arguably the greatest human rights challenge of our time- Harleen personally has two long term goals that she wants to work towards: first is to ensure that all women have financial independence and the other, is to eliminate the use of the term "Immigrant" from Australian culture.