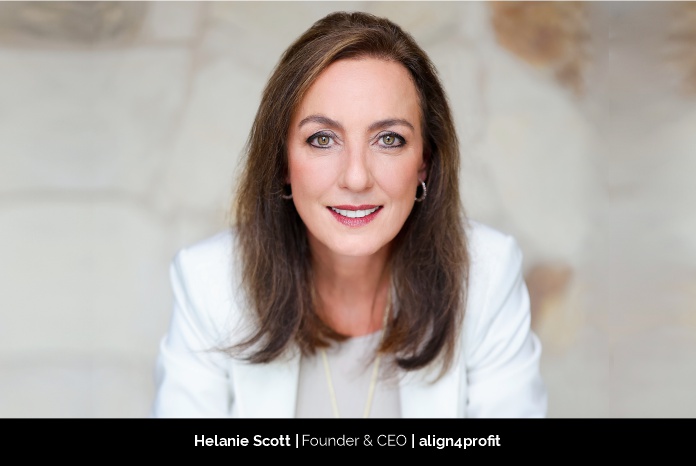 Helanie Scott, CEO of Align4Profit, helps leaders create workplaces where everyone profits. Driven by her lifelong desire to make a positive impact on the world, Helanie has found her own unique way to satisfy that drive by helping people, especially rising leaders, improve their leadership skills.
Journey to success
Raised in a small, South African mining town, by the age of 21 Helanie had set out on her own in Johannesburg, learned the ropes of the big city, and purchased the business that hired her. She began training actors and presenters for TV commercials and films. She also trained executives how to act more agreeably in public, behind a microphone, and in interviews. It was then she saw how leaders obsessed with rank and politics could hold back organizations from success. She soon realized that to achieve success, some leaders needed more than surface improvements in the way they interact with stakeholders and employees.
In response Helanie began researching and studying leadership and organizational development, emigrated to Canada and then to the United States, where she opened her Align4Profit consulting firm.
Looking back on her journey from mining town to Dallas, Helanie reflects, "The culmination of my life experience, years of business consulting, and colorfully diverse background manifests itself in my deeply personal Leadership Intimacy® philosophy, which serves as the foundation of our CoachQuest Leader-as-Coach training program and all our development solutions."
Helping leaders develop good habits.
In her ongoing research, Helanie has learned that 45% of the activities people perform daily are habits. She explains, "Everyone has a mix of good habits and not-so-good habits in their personality. It's the not-so-good habits that get in the way of individual and organizational success. For this reason, Align4Profit offers leadership development, coaching, and culture transformation services that instill the habits, practices, and actions to make strategy execution possible while engaging employees in meaningful ways."
After 25+ years in the Human Capital Industry, Align4Profit incorporates best practices, uses science-based methods, and other lessons learned from their multi-industry and global audience experiences to deliver sustainable behavior change. That is, behavior change that becomes habit.
Helanie adds, "We take habit change so seriously that we track it. Tracking tells us where change is taking place in your organization, who are your super engagers and influencers, and what impact the habit change has made to further growth. This data-driven approach to development also provides insights into how to pivot in real time."
The priceless value of failure
Helanie has also learned that strength, resilience, and ultimately success, often emerge from failure. She believes that failures in life mold a person's personality, and she goes so far as to call failure the heartbeat of success.
She tells the story of how, "As a young girl learning to ride a horse, I fell off, determined never to mount again. My father had other ideas. He made me get back on the horse and try again. I fell off again, and again, and again. Back in the saddle for the 13th time, I succeeded, never to forget the lesson repeated failure taught me."
Helaine advises that, "Failure builds the fortitude you need to surmount the obstacles between you and success. Today's leaders need to understand that courage, grit, and learning from failure point the way to success."
The positive impact of integrity
"Creating a positive impact is necessary for successful leaders," Helanie advises. "Our programs help leaders thoroughly appreciate the "Why" of what they do and rarely, if ever, to stray from their stated beliefs."
To keep Align4Profit on the path of integrity, the team is guided by experienced consultants with the moral compass and values that support diverse workforces. The programs they deliver are based on solid science and tested methodologies. Each program's integrity is revealed in its ability to achieve desired outcomes.
The company's emphasis on integrity manifests itself in programs that help leaders find their own way to execute their organization's strategic plans. This emphasis, Helanie explains, "helps leaders align their personal beliefs to make a meaningful difference to their employees, stakeholders, and even vendors, and ultimately, they have a positive effect on society.
Growing Align4Profit with innovative ideas
To stay competitive, Align4Profit embraces innovation. When it comes to trying out new ideas, the team is not afraid to grab new opportunities. Progressing with the agile and flexible approach, they try out different ideas.
"Our vision drives us to involve the younger generation in crafting leadership for the future," Helanie says, "incorporating lessons learned from the pandemic, and helping leaders understand and instill what it takes for people to perform at their best."
"Learning and development is a crowded space," Helanie realizes. "We set our differentiation based on behavioral science. Our habit-building technology provides a data-based approach to training and development. These insights are unique in helping HR and executives make sound decisions regarding people and culture."
Life as the CEO of the company
An early bird, Helanie likes to spend the mornings in the natural environment of her ranch, "feeding our pig, turtles and now our young peacocks. Tending to the vegetable garden and extensive flower garden. Then I dive into research and reflection. Most days I deliver virtual workshops to audiences around the world."
Helanie's curious nature attracts her to other activities like new program development, digging into behavior changes and interacting with participants via the Align4Profit habit-builder platform, coaching other consultants on best practices, and engaging with her external consultant network on industry-specific changes to watch and share innovative ideas and best practices.
Being a successful leader, Helanie knows the value of motivation in pushing everyone to progress. With two years of research, she developed a motivation model, called RAMPP, and uses it to spark motivation in herself and other people around her.
As a leader Helanie insists on, "being clear on my organization's purpose and telling the purpose story in a compelling and consistent way. At Align4Profit, our purpose means making a meaningful difference in the lives we touch, every life, every time. That's a hard purpose to follow daily but keeps my team and myself inspired. Staying true to that purpose, we often discuss how we are meaning-makers."
While guiding aspiring leaders, Helanie pushes them to have courage and take action, to chase their dreams without fearing failure. She cites the words of Nelson Mandela, "I learned that courage was not the absence of fear, but the triumph over it. The brave man is not he who does not feel afraid, but he who conquers that fear."
Balancing professional and personal life
Discipline and intentional actions are the key traits in Helanie's personality that allow her to create a balance in her life. She says, "I try to introduce new experiences in my family and my life. My latest included skydiving. For me the exhilaration of new, interesting, or unusual activities keeps me balanced. I also take time to travel (41 countries to date), entertain, see shows, even just watch a movie."
Future prospects for the company
The Align4Profit team has a strong growth strategy in place, in which they will continue to scale learning that drives leaders and their teams in more profound and cost-effective ways. The most immediate focus is on bringing younger talent up to speed to become even more relevant to all generations.
Looking at Helanie Scott's approach to life and work, it's clear that her experience working and thriving in many different cultures has made her particularly adept at understanding the nuances of how leaders of all ages and from around the world can rise to the heights of extraordinary performance. In her words, "We still have a long way to go in our society to capitalize on the unique points of differences people bring to the table and truly create inclusive organizations."