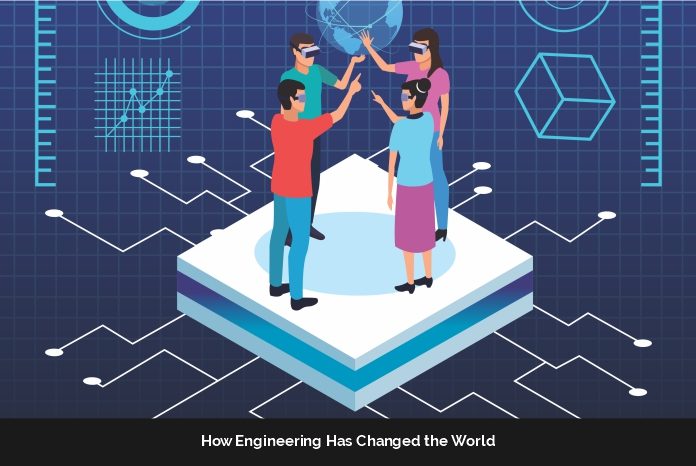 Engineering is crucial to human development – and it always has been.  
Engineers have been revolutionizing the world for thousands of years, breaking new ground, defying physics, and creating groundbreaking inventions such as smart cars, space travel, architecture, and antibiotics. Their focus on innovation is evident in their ability to find creative solutions to our problems, ensuring our continued reliance on their contributions.
Engineers play a key role in shaping our future. They design and build the infrastructure and systems that support our communities and economies. Without engineers, our society would not be able to function because it would be impossible to build, maintain, and operate all the necessary facilities. In the last few decades, engineers have been in charge of developing solutions to the most pressing problems.
Scientists dream of doing great things.  Engineers do them. – James A Michener
The business world often lacks resources and budget for engineers to solve specific problems, and even with great ideas, management often lacks the resources and budget to implement these solutions effectively.
Here are some ways engineers have changed our world and why we need to invest in their continued innovation:
Engineering has significantly benefited hospitals, doctors, and the medical industry by enabling early disease detection, early treatment, and the development of devices like pacemakers. These advancements also track data, enabling predictions about societal health issues and improving processes. Engineers have contributed to understanding medical issues in society by learning from history rather than treating individual issues on a case-by-case basis.
Engineers have significantly influenced technology throughout history, including the end of World War 2 through Enigma and the defeat of Germany. Their contributions have allowed us to access the world from anywhere, conduct business, and build satellites and machines that impact our daily lives. The Hadron collider in Switzerland has allowed us to study the universe and its principles, providing insights into our world.
Engineers have significantly improved communication through the development of computers, laptops, tablets, and smartphones. This has led to increased global reach and improved business and social interactions. The first transatlantic radio signal was laid in 1901, and the first television transmission occurred in 1962. Today, Facetime allows for global communication, enabling businesses to conduct business from thousands of miles away without feeling the effects of being in the same room.
Engineering has resulted in breakthrough developments in transportation across land, sea and air around the world.
Mag-lev trains, self-driving electric cars, planes, and boats are revolutionizing transportation. As the world's population grows and urbanization intensifies, new transport solutions are needed to efficiently move large numbers of people. Engineering careers offer a rewarding and vital solution to these challenges, as they focus on finding innovative, sustainable solutions to these problems.
The advancements in industry, including steam engines, jet engines, and airplanes, have revolutionized business operations, enabling smarter, faster, and harder work. These advancements have also facilitated global trade, bringing countries closer to each other, and transforming human connections and business methods.
The international space station is a groundbreaking engineering innovation that revolutionizes the world. As the largest and most complex international scientific undertaking, it allows scientists and analysts worldwide to conduct unprecedented research, finding answers to centuries-old questions and even new ones. This unique laboratory has transformed the way we understand and interact with the universe.
Why is innovation so important?
Innovation drives industry growth and inspires freedom through blue sky thinking. It allows engineers to tackle real issues, allowing them to tackle challenges beyond daily ones.
Modern existence would not be feasible without innovation in all fields. Enhancing living standards, worldwide: Innovation can provide enormous value to almost everything; it does not always have to be monetary, which is why it is vital in engineering.
Innovation is the difference between changing the world, and changing a thing. By relocating resources and departments for innovation, organizations can address problems without waiting for clients' requests, enabling them to reach out to the appropriate organizations, governments, and individuals.
Without extraordinary engineers, the world would be at a standstill.
The Importance of Engineering Today & In the Future
Engineers work in various settings, including offices and outdoors, and their knowledge is crucial for advancements in various industries. The internet has significantly contributed to this progress, and engineers utilize their expertise across various industries to create magic.
Engineering is expected to significantly impact our lives in the future, as engineers are tasked with creativity and identifying solutions to improve human life. Students with a passion for making others' lives better are likely to choose engineering. Engineers' knowledge and responsibility will be crucial in creating products and services, with the field expected to grow in the coming years.