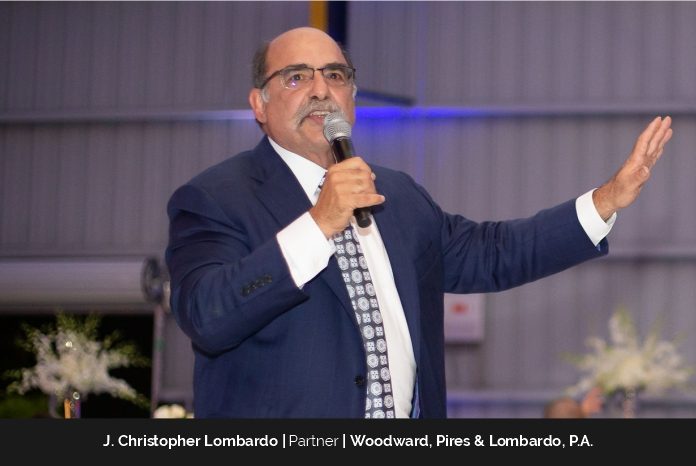 J. Christopher Lombardo, Partner at Woodward, Pires & Lombardo, P.A. has almost four decades of experience practicing law in the state of Florida. Chris received his Juris Doctorate from Florida State University College of Law. He serves clients in marital and family matters in Collier County; He also provides legal services in civil litigation. He is a Certified Financial Litigator and Founding Member of the American Academy for Certified Financial Litigators. Chris also holds the AV Preeminent Peer Review rating by Martindale-Hubbell.
In addition to his legal practice, Christopher Lombardo has served on the Board of Fire Commissioners of the North Collier Fire Control & Rescue District since 1999 and is the current Vice Chairman. Active in the community, he is on the Board of Directors of Shy Wolf Sanctuary and Golisano Children's Museum of Naples.
Chris believes that success is helping others and enjoying what you do, and at the same time building a successful business to the benefit of your employees and your clients. He feels success is the knowledge you have of accomplishing and achieving the best possible result for those individual circumstances – small or large.
WPL and its growth under Chris' leadership
In 1971, Arthur V. Woodward, Esq. founded the first law firm on Marco Island, Florida which emphasized the importance of superior work ethic, collegiality and respect among their peers, and a special conscience that commands participation in opportunities for the good of the public. These guiding principles formed the tradition of excellence that the attorneys and staff at WPL work hard to uphold today.
Today, WPL is proudly celebrating 50 years of providing legal services with offices in Marco Island and Naples. The attorneys at WPL provide an array of legal services to individuals, businesses and local and state government agencies throughout Florida.
As leader of the Family Law & Litigation Services group at WPL, Chris states that they are proud of the law practice they have built and their network of colleagues in Collier County as a result of a great reputation and their extensive legal services.
Overcoming challenges professionally
Chris recognizes that everyone will always have challenges and obstacles in life. He defines himself as an innovative person and believes that it is how we creatively maneuver around those obstacles that teach us something. "It also helps to keep the obstacles in perspective, and to recognize the resiliency we didn't realize we had," he explains.
Achievements as a legal professional
Chris claims that he has achieved almost everything that he has ever dreamed of, but he also says that there is always more to achieve and he aspires to do so.
While Chris recognizes that he has sanely led hundreds of divorce clients away from their pre-existing tumultuous relationship to help start the next chapter of their life, he feels his greatest accomplishment as a leader was safely delivering 23 teenage girls over the rugged 10,000' elevation of the Sangre de Cristo Mountains of New Mexico for 10 days without incident, at least not a major one!
Maintaining a work-life balance and staying motivated
Chris states that he has many hobbies such as creative welding, reading, kayaking and ranching. He enjoys exploring off the beaten path new places and discoveries. In his personal time, he tends to his ranch and cattle. Chris previously enjoyed being a scoutmaster as well.
He keeps himself and the staff motivated by the quality cases they receive which he claims are very interesting. "We work as a team effort and celebrate our successes together and recognize our legal talent," he states.
Plans for the future and growth of WPL.
At WPL, they recently expanded their space with new offices so they continue to grow and change with the times. In their new space, they have installed a state-of-the-art "Zoom Room" for video hearings, trials, meetings and depositions.
Chris' message for aspiring lawyers is: Tend to your clients and employees earnestly and be sure to also tend to be marketing and business development of their practice along the way.