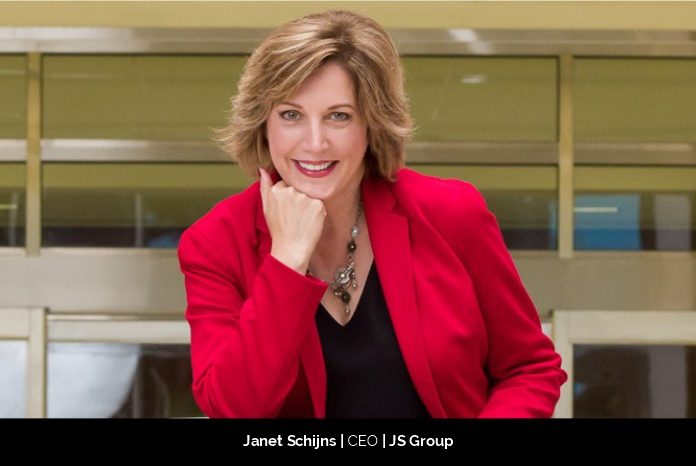 Being a firm believer in the saying of Thomas Edison, "Opportunity is missed by most because it's dressed in overalls and looks a lot like work," Janet Schijns, CEO of JS Group, knows that the road to success is long and full of twists and turns. She believes success is not measured by money or power. Instead, it is a perfect combination of fulfilling one's promise to the team and customers while staying true to one's morals and living the best possible life.
The golden recipe to achieve success is to have a clear and concise plan, talent to fulfill the plan, and willingness to outwork one's competition to get to your goal. A person has to perform against all the odds to achieve victory and be willing to change when conditions change to achieve their goals.
Long journey to success
Janet stepped into the tech industry by accident. In the early phase of her career, she was working in the cosmetic industry. She was working at L'oréal and was involved in an early CRM project for her sales team where she helped the technology vendor better translate their product to business-speak. The company then asked her if she would be interested in consulting for them to help them win more deals and expand their business share. She took the offer and never looked back. This way, she pivoted away from marketing to the technology sector.
Before JS Group, Janet served as a CVP and EVP at several large firms. She mentions, "I was the Chief Channel Executive for Motorola, Chief Channel Officer for Verizon, and Chief Merchant and Services Officer for Office Depot.
During my tenure in these firms, I launched and grew multi-billion dollar businesses that were key to the transformation of the company."
Leading JS Group is a dream come true for Janet. She is able to disrupt the technology industry working with a highly talented team and create winning game plans that produce rewarding results.
She adds, "As we have built the company, we stay driven by a simple mission to #savethechannel; in other words, to ensure that the routes to market for technology are strong and capable of driving the needed technology adoption that drives the needed change in our world."
Tackling the battles upfront
Janet believes, "Leaders are not born; they are carved out of their life-long experiences making mistakes, learning from the mistakes and finding a way to win." Thus, she takes all the obstacles coming her way as a way to learn valuable lessons and advance towards new opportunities.
She quotes, "What does not destroy us propels us to growth – it is our ability to see this and act on this belief that separates successful people from those who just desire to be successful."
Being a female in the technology industry came with its own challenges. Janet was all alone, forced to quit or create her path. Having a strong will and determination, she structured her own path and tunneled through all her roadblocks.
To help other women in technology, she designed and created Tech Worlds Half, a safe space for women in technology to discuss their issues, career needs, and project needs and come together to keep women in the industry. She offers a piece of advice to all of us trying to navigate challenging times "be kinder than the situation calls for, show empathy and understanding in every situation, once you listen and learn the real reasons for change you can innovate".
Redefining tech industry
The tech industry is always changing and evolving, and as a leader, one needs to bend that change to one's will. Besides being focused on the change, it is necessary to take a course of action that will lead to the desired outcome.
During her leadership tenure, Janet has evolved the channel approach for several Fortune 500 firms, taking slow and low growth via traditional routes to market and finding new routes to market that led to double and triple-digit growth.
She adds, "Shifting the industry towards recurrent revenue, as-a-service solutions sold and marketed digitally has been a huge undertaking for our industry.
JS Group has developed and designed services to ease the journey for distribution, partners, and vendors. "
JS Group is a leading technology go-to-market consulting firm. They offer services for channel evolution, marketing innovation, and sales enablement. Their industry-leading programs include their PartnerExpert program designed to equip organizations with the skills and tools to sell via an indirect channel, their Market Action Planning Process (MAP) developed to accelerate revenue and growth, and their 40x ROI Social Selling Program that helps firms get leads and close business in a location independent work environment.
Maintaining a perfect balance between Work and Home
Working as the CEO of JS Group, she has to wear multiple hats to ensure high company growth. She firmly opines, "Results are what matter. No amount of progress matters if the end result is not what was desired." She leads the team towards their responsibility of delivering the results that they commit to for their clients while maintaining the team's wellbeing.
She states, "My regular day starts with reflection: What do we need to achieve? How are we progressing on our goals? How can I better support the team? My day then moves into a hectic schedule of client, industry, influencers, and mentees meetings as I look to ensure we are relevant and strongly positioned in the market."
Janet is a team-oriented leader and knows that her team is a driving force in the industry as the technology sector faces unprecedented changes in sales, marketing, and channel. They work in restructuring the company's go-to-market, proffer innovative programs to capture share as well as open doors to the growing market. Capturing the growth that is inherent in the current market while building long term value is a key focus for the team.
Being a tenacious leader, she never gives up and always keeps moving ahead with her head held high and a sense of humor. For her, the best recognition comes from her daughter, who takes her mother as an inspiration and has recently joined the technology space with great results building a successful digital practice for clients.
However, in giving her best efforts, she sometimes has to make sacrifices at home. Nonetheless, she feels there is no such thing as work-life balance, it is a myth.  As a leader it's more about a successful work-life blend in which she needs to ensure a healthy lifestyle that includes all the things that make her the person she is. To achieve this, she believes discipline is the thread that helps her in prioritizing herself both at work and at home. Also, when she makes a personal commitment she sticks with it, keeping her word is especially important. Her persistent efforts help her gain self-worth, which enables her to prioritize what is important without any guilt or FOMO.
Charting the Future of JS Group
The world is on a new path as we exit more than a year of isolation and remote work.  Growth is now the name of the game and Janet and her team have evolved their offerings to ensure channel acceleration in the market while simultaneously being a good partner and excellent member of the industry. For that, they are on edge of innovation, building creative new ways to maximize channel capacity while maximizing growth and crafting new ways to generate high margin revenue for their clients.
Personally, she looks forward to continuing mentoring women and supporting the cause of diversity in the industry.  Helping others is a cornerstone of her leadership in the industry and one that she wants to ensure is her legacy in the technology space.
For aspiring business leaders, her special message is, "Write a plan, and document what you want. Then, go work on the plan changing it when needed but always keeping true to the plan's purpose. You will never achieve what you don't plan for, so this is the way to personal growth."