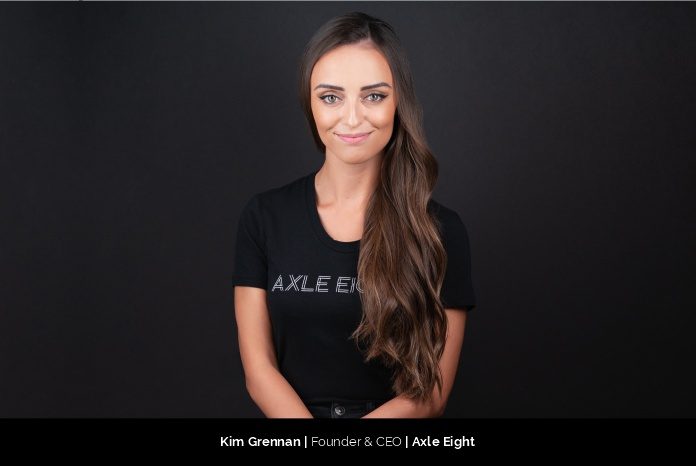 "Axle Eight has been my first business venture where I have hired a full-time team to support the entire business," says the Founder & CEO of Axle Eight, Kim Grennan. Kim began her career in marketing as a freelancer with a desire to learn more about how to convert a company's concept into a profitable reality. She was always fascinated by business and how to make money and develop it from an early age, and it wasn't until she was older that she realized how important marketing was in that formula. As a result, Kim began to self-teach herself marketing by reading articles on Google, watching YouTube videos, and other methods. She eventually improved to the point that she could contract out her talents to small businesses through sites like UpWork, and her business took off. And before she knew it, she required a full-time staff to assist her with managing the marketing demands of her many clients. That was the beginning of Axle Eight as a marketing firm.
Being an entrepreneur
Starting a business, creating and leading a full-time team to support the entire business is more challenging than it looks. Kim has always operated well on her own in entrepreneurship, but she never had a true opportunity to manage a full team of people until Axle Eight. And this is still a daily learning experience for her. She says, "It's really hard to get out of your comfort zone and try to do things or make decisions that could impact not just you, but your team and their families. And to me, this is something that weighs incredibly heavy on my heart, and I don't take it lightly."
There is a lot of stress that comes with running a business. And for Kim, it has been by far the hardest thing she has ever done, but certainly the most rewarding. She opines that as leader there are many decisions one has to make for the greater good of own people, and one can't be selfish. She says, "I've also learned that sometimes the right decision is not so black and white, or sometimes the best decision for your team doesn't always equate to the best business decision."
Kim thinks being a CEO in a small firm means to wear many hats to benefit the company, staff and customers. But she mainly emphasizes on her team; the people who make up the family. She believes that the key to any successful business is hiring people who are far smarter than the employers, then figuring out how to keep them happy so they stick around. "Being a CEO is without question far more than the title," says Kim.
As per Kim, to outsiders who aren't living in the day to day of it, entrepreneurship and running a business or a team can sound easier than it is or be glamorized. Kim emphasizes, "I'm here to tell you, it is not. It is hard, and it is something that will make you question yourself every single day. But when you pull through, there's nothing more satisfying than seeing what you have been able to accomplish." 
Axle Eight
Axle Eight has been a fast-growing marketing agency for the past 5 years, and it is in pursuit of continuing to do so. It is a boutique agency that works with companies across paid media, content, email, PR, social media and SEO. The company quotes, "People love working with us because we prioritize relationships AND results. We don't operate like a typical agency. We're down to earth, relatable, and work hard to earn your trust and prove our value from day one. That's in our DNA, and one of the many reasons we like to call ourselves the anti-agency, agency." 
There is competition in every corner of the universe in marketing. The team at Axle Eight knows that how they operate is different from most agencies. Kim says, "It doesn't cost anything to get started working with us. We offer 100% money-back guarantees, and you get to work directly with your account subject matter experts." 
Working as a Family 
For Kim, her proudest accomplishment as a leader is the team at Axle Eight. The people who make up Axle Eight are everything because, at the end of the day, people want to work with other people who they like and trust. "We are very particular about the people we hire, which is why I am so proud of our little family. We all care so much about the work that we do and supporting one another. Without them, we would not be Axle Eight, "says Kim.
Rest is as Important as Work 
Work-life balance is something that isn't always the norm for some other agencies. But at Axle Eight, the management really tries to make this a reality. Working over the weekend, after hours, or on early morning calls is, unfortunately, a reality at many other organizations. She herself feels the need to have to do that as the owner of an agency. But it's truly something that no one at Axle Eight ever expected to do or asked to do. She describes, "After 5 pm, we unplug. You won't hear from me over the weekend regarding work, and I would never ask an employee to get on a call before our 9 am start time each day, unless this was something that was 100% agreed upon by the whole team and it was a one-time exception.
According to Kim, at Axle Eight, every team member trusts one another. "We know that we won't let anyone on the team drop the ball," say employees. "It's so easy for employees to see that you might be working overtime, so it might be expected for them to do so. I don't want that. I want people to prioritize their personal lives so they can bring positive energy to their work lives," says Kim.
Success: Stability and Freedom 
Kim views success as a critical element of her work as an entrepreneur. However, it is not something that is personally expected when starting a new firm. She isn't scared of attempting new things and falling flat on her face. If she has an idea, she will attempt it right away. She says, "If it is successful, great. But if it is not, I don't get hung up on it. I don't spend too much time overthinking things because that can equate to analysis paralysis and that's something that I view as an entrepreneur's biggest enemy." 
She asserts, "I have never questioned whether or not I would be successful." It was a faith she had established in herself since she was a kid. Finding a way had been a lifetime study for her. She goes on to say that everyone has their definition of success. Kim doesn't want showy vehicles or lavish mansions. Instead, she wants to be financially independent, able to choose how she spends her time and not be reliant on a job to get by. "If I could be quietly successful my whole life with that element of freedom, I would be happy," says Kim.
A Vision for the Future 
Kim expects Axle Eight to expand at a rate of 35 per cent to 65 percent each year over the next five years. This has been the case for some years and will continue to be the case in the future. The team places a lot of attention on the company's top-line development, and this is the year it is focusing even more on the bottom line and setting precise targets. She asserts, "Our bottom line will be an even larger focus over the next 2-3 years as we have proven that we can perform well and retain clients. Now we want to prove our internal operational excellence." 
Message to aspiring Business Leaders 
To make a business successful, connections and good relationships are vital. Kim says, "You never know what one cup of coffee can lead to. It could change the course of your career path. Be crafty and figure out ways to get things done or get the funding you need to get started. Relationships, more often than not, will help you in some way or another – perhaps not in the short term."