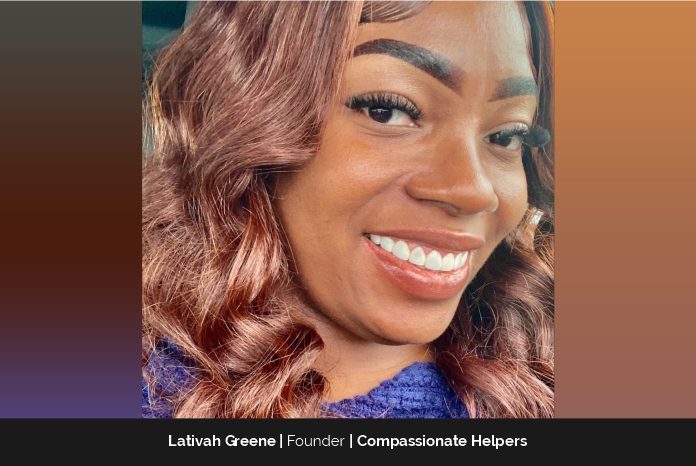 Lativah Greene, Founder of Compassionate Helpers is the first black woman to become a Senior Care Franchisor. Her vision and mission are to help seniors and disabled individuals around the world receive the best health care services in the comfort of their own homes. While helping other entrepreneurs become CEO of their own Compassionate Helpers territory.
Lativah Greene began Compassionate Helpers based on her personal story. She was inspired by her grandmother because she was diagnosed with heart failure. As a teen, she was her grandmother's caregiver around the clock providing reliable care and compassion. Lativah could not find a senior care facility that would accept her insurance nor one that employed reliable caregivers. She sought to change this. Using her foundational medical experience and background in nursing, she began a dependable and reliable source for senior services. That is when Compassionate Helpers was born.
Roadblocks and challenges are essential for success
Lativah believes that every leader has a unique way of creating strategies, tools, and resources to help them achieve their business goals. "Keep going no matter what, see the vision and pursue your passion," she says.
Like other entrepreneurs Lativah has also faced plenty of hardship, obstacles, and setbacks. She did not allow these devastating events to discourage her from chasing her dreams. "In the past when thoughts of giving up occurred to me I reminded myself of the importance of my mission and how many lives I can change," Lativah says.
Lativah was involved in other great works within her community and gained recognition by volunteering at Neighbourhood Service Organization, Helping Hands Women org, and American Red Cross Located in Detroit. MI by Donating clothes and food.
Her mission is to help other entrepreneurs become CEO of their own Compassionate Helpers territory. While providing reliable senior care services to baby boomers and disabled individuals in the comfort of their own homes.
As a company, the roadblocks they have faced and overcome in the past were to make sure that they communicate effectively with the clients, doctors, staff, and families always.
Compassionate Helpers – Redefining the Health care Industry with its services
"I wanted to help fill in the gap that other agencies were not providing. I wanted to provide affordable care to low-income families and take frustration off families," Lativah states.
Compassionate Helpers is a home health care agency that offers short-term and long-term services to ages 0-123yrs old with reliable and affordable care services. They accept most insurances such as worker's compensation, auto insurance, Medicaid, private pay, and out-of-pocket pay. Their team has over 15 years of experience and diverse business. The service provided by them includes personal care, companion care, respite care, housekeeping services, physical therapy, outpatient therapy, speech therapy, etc in the comfort of their client's own home. They tend to ensure that they stay in compliance with company policies, ensuring that all staff is trained and qualified to provide high quality care.
Compassionate Helpers contribute hundreds of employment opportunities for healthcare professionals. "During COVID-19 a lot of agencies closed their doors to the public we did not. We provided services to clients following all safety procedures during state emergencies. Our agency has provided free meals to seniors once per month and a $1,000 discount on any services. We have provided services to hundreds of clients around the world," Lativah explains.
Lativah's journey as far as a Health care professional
Prior to starting Compassionate Helpers, she attended University to earn her Doctorates in Clinical Nutrition and she was working at a Nursing Home Facility as a CNA (Certified Nurse Assistant).
Motivation from her family and clients Lativah cared for at Nursing Facility told her to start the business to help others who are in an indistinguishable situation as her grandmother. Lativah's biggest recognition was to be handpicked by A-list celebrity Judges as Forbes Next 1000 Honoree, Healthcare 2.0 Conference Honoree, featured on Forbes, Fox News, Fox Soul, Afro Network, Entrepreneur, and more. "Compassionate Helpers is the fastest growing new senior care franchise corporation with 14 franchise locations around the world," says Lativah.
Lativah's future plans for herself and for Compassionate Helpers
Compassionate Helpers plan to continue to build home health care agencies around the world. Lativah states that they want to build communities with affordable and dependable home health care services.
Her personal goal is to help Compassionate Helpers franchisees become successful business owners within the healthcare industry. She claims to be proud of the millions of testimonies they receive from clients they provide care for.
Motivation to maintain a work-life balance
Lativah's responsibilities as a Franchisor now is to assist Compassionate Helpers franchisees with resources, training, and leadership to help build their dream business. Lativah defines herself as an 'Extraordinary' woman with Vision and Purpose.
To maintain a balance in her personal and professional life, she ensures to put GOD first, organize her priorities, and timely fulfil her family commitments. "I separate my work schedule from my personal life and stay committed," says Lativah.
To keep the employees motivated and valued at Compassionate Helpers, they love to give their employees recognition certifications such as Employee of the Month including bonuses and salary. Their team likes to send out weekly reminders which further helps the staff to be motivated.
Lativah's message to aspiring Business readers is Focus on helping others by providing great services even when times get hard. Serve Humanity!
In her free time, Greene enjoys spending time with her fiance and children, traveling, reading books, and eating.