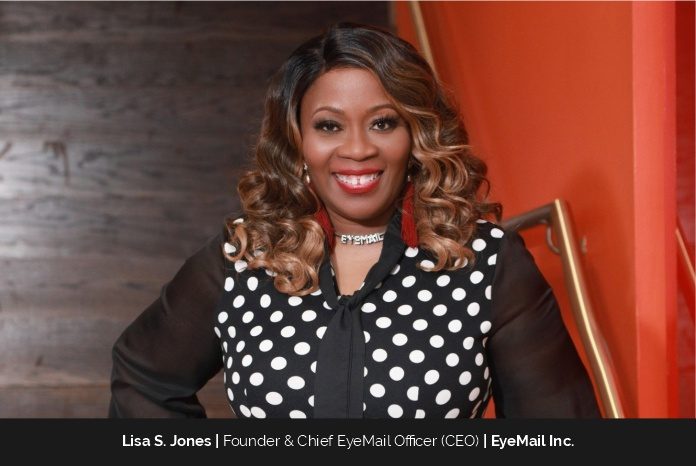 Digital disruption is when an industry undergoes a fundamental transformation in traditional processes and practices. This transformation is invariably caused by emerging business models and new digital technologies.
Women are continuing to emerge and lead digital disruption — the ones penetrating the distinctly male-dominated tech and digital marketing industries with a special type of courage, imagination, passion and strength.
Meet Lisa Jones
Lisa S. Jones, Founder & Chief EyeMail Officer (CEO), EyeMail, Inc. is a female disruptor carving a new route in the email space. She is breaking down barriers, challenging the status quo and evolving her industry.
From being a Logistics Specialist at NASA, managing shuttle payloads, and validation of mission critical shuttle initiatives, Lisa forged on to build a global brand that is engaging, inspiring, and creates immediate value.
A fascination with entrepreneurship
Originally from Alabama, Lisa received a B.S. in Logistics and Procurement and an MBA in Marketing Mgmt. from Alabama A&M University, advanced certification from the Tuck School of Business at Dartmouth, and is current attending Harvard Business School.
"I have always been fascinated with becoming an entrepreneur, but I was never sure how it would manifest to reach this stage of my journey. My greatest fear was living my life without having the ability to reach my full fabulous potential," says Lisa.
After working at NASA, she worked in the telecommunications industry and moved to Atlanta. As a Corporate Executive, Lisa managed technical architects in support of development and deployment of many mobile application releases, including support of the launch of the Blackberry and area code splits. She also gained in-depth knowledge and expertise in the area of infrastructure management, product management and Supplier Diversity.
Serving in the Office of Supplier Diversity helped Lisa develop an in-depth understanding of corporate initiatives to ensure an inclusive supply base, the importance of supplier partnerships, and advancing support of diverse and women-owned business enterprises to facilitate equal access to contract opportunities and introductions.
"All of my career roles and responsibilities over the years have helped to expand and shape my vision, outreach, focus, understanding and determination to see EyeMail Inc. to continue to grow globally," she states.
The 'Aha moment' when EyeMail was born
Lisa's life changed when she received the news that her Mom had suddenly passed away at home, alone at the age of 61. "I remember the impact this pivotal moment of her passing had on the re-definition of my journey forward," she recollects. "I decided I wanted to live my best life everyday and create a legacy in her honor."
Mindful of how that one communication changed her life and how important communication is to our global society, Lisa wanted to build a brand that highlights the importance of human connection, in the email inbox.
EyeMail was born out of Lisa's necessity to re-engage in society as a vibrant happy person living life on her own terms, with a purpose to deliver excellence and to make a difference in the global marketplace.
"I thought about the fact that we communicate in writing, verbal, non-verbal, and then I thought about the power of email communications and was fascinated with the fact that with one-click, a message could be sent anywhere in the world," says Lisa.
In her efforts to understand how major Fortune brands, Non-profits and mid-tier business engage and connect with their audiences, Lisa signed up for 150 brands' email communications. "I learned that all of these brand communications had similarities, I did not feel special or engaged or inspired to take the next step for a call to action," she recalls.
The email communications included words only or a static image, or a hyperlink to click on, or just an image with a big play button to click to open a browser and to click again to view the content.
"I realized my Aha moment where I could make a global impact," says Lisa. "I said what if Email could have a personality? What if Email could be brought to life with automatic play video in email to increase engagement? EyeMail was born!"
It was clear, before television there was only radio – before EyeMail there was only email!
Bringing email to life with EyeMail
EyeMail Inc. was founded in Atlanta, GA, in 2004, with the core focus being to deliver compelling, memorable video experiences that inspire action in the email inbox, mobile and beyond.
EyeMail believes your messages deserve to be Seen, Heard and Felt. This patent-pending, customer-centric marketing communications technology enables full video (up to 60 seconds) to play automatically inside the email and mobile, to increase customer engagement and conversions.
Delivered at 15kb in size with no downloads, thumbnails or hyperlinks, through firewalls, built agnostic and performs with all email service provider systems.
"We have an iconic formula that helps brands to extend their video storytelling to the email inbox to capture attention, engage audiences, and inspire action to increase open and click-thru rates and build a stronger bond to brand offerings," says Lisa.
EyeMail's key focus areas include customer communications, event marketing and employee engagement initiatives. "This positively impacts any industry in any language, as in one click, an EyeMail delivers greatness and innovation in bringing Email to Life," states Lisa.
With EyeMail, video-in-email campaigns yield an average of 60% unique views and an average of 38% click-through rate, compared to standard email rates of 20% and 4% respectively. The Call-to-Action Buttons remain with the video increasing conversions and EyeMail also auto-plays in preview pane view and mobile.
"We partner with forward-thinking progressive brands who are Early Adopters, and Market Leaders seeking to elevate their email effectiveness in communications with customers to reach and engage internal and external audiences quickly," says Lisa.
EyeMail customers include Porsche North America, PepsiCo, Microsoft, Delta Air Lines, Harvard Business School, The Coca-Cola Company, Make-a-Wish Foundation and several other organizations.
EyeMail has added multiple product lines like EyeCon, which reinvents the email signature line to be engaging and interactive, as another brand touch-point in company messaging. EyeCon brings the logo to life with animation, or to celebrate a featured milestone.
The Signature Collection brings a handwritten or selected customer signature to life as a personal stamp of approval on documents and email communications.
Making email personalized, accessible & profitable
Email still provides one of the best returns on investment and remains the preferred method of communication by 74% of all online adults. 99% of email users check their inbox every day, and 58% check their email first thing in the morning, yet 73% remain unread.
"It's inspiring to see the longevity of email, but after 50 years traditional email has remained largely static," notes Lisa. "Reading email is like watching a black and white silent movie. Today's consumers are visual." It's time to capitalize on every email marketing opportunity with EyeMail.
Video provides a way to show emotion, tone, and to personalize a communication experience, and has shown us the importance of building and sustaining the need for human connection.
"The advancement of video in email technology with EyeMail will allow brands to deliver compelling storytelling experiences directly in the inbox and mobile, inspire action and personalization, and an increase in open and click-thru rates, driving ROI," says Lisa. "It will also allow for the repurposing of commercials and videos to leverage email and add value to the consumer engagement."
EyeMail's patent-pending technology has removed the limitations and challenges with video-in-email, such as file size, email transmission limitations, and deliverability, automatically playing video up to 60 seconds in the inbox and mobile. Its compression engine is able to compress up to 300MB video to an average of 15kb, as a key differentiator.
As a Microsoft Mentor Protégé company, EyeMail collaborated with Senior Architects at Microsoft's Innovation Lab in support of EyeMail's technology roadmap. Their Closed Captioning feature allows recipients to follow along with the words or captions, delivering enhanced engagement for over 1.3 billion visually impaired people worldwide, and 430 million impacted by hearing loss.
"We constantly think about how we can continue to expand our footprint to ensure inclusiveness and accessibility to reach a broader audience, as everyone deserves an engaging email experience," says Lisa.
Leading with compassion and empathy
As Founder and Chief EyeMail Officer of EyeMail Inc. since 2004, and a disruptor in digital communications over 18 years, Lisa defines Executive Leadership within EyeMail by consistent proactive actions of delivering excellence and value.
She leads a purpose-driven organization and is responsible for the strategic direction and vision of the company. Additionally, she oversees and manages the global expansion of the EyeMail brand in international markets.
"We've expanded operations to Canada, Mexico, Pakistan, Africa, India and the UK. My role also is to inspire creative ideas and concepts to deliver innovative experiences centered on communications in email, webmail, mobile, and text messaging," she says.
Lisa's compassionate leadership and empathy for others has been instrumental in building their corporate culture and leadership perspective. The company's foundation has been planted on the premise to understand and share feelings with open dialog and communication.
"This includes going beyond comfort zones and refusing to stay on the sidelines, as we continue to develop innovative communication solutions at EyeMail," states Lisa.
Lisa believes that as a leader, it is important to have a super-talented team that understands there are times to lead and times to follow. She credits her faith even in the absence of light, with providing her with the courage to believe, that she can achieve what she sets her minds to accomplish.
Her goals are to observe, listen, guide and develop a strategic plan to action to execute in support of organizational goals. This focus of empowering others to encourage strategic thinking, innovation, and action and practice effective communication, further shapes the perspective and narrative for ensuring the alignment and connect points happen for successful outcomes and to measure the impact.
"I believe human connection is the core to building exceptional experience and teams," she says. "This further manifests in leading by example and seeking to empower others for the greater good of the team and the organization."
Overcoming bias as a visionary, female digital disruptor
Lisa believes that setbacks set the framework for growth forward and allow you to be one step closer to your desired outcome, because you've learned what doesn't work and how to calibrate your next strategic move.
"My journey as an African American female innovator has been a journey of several peaks, many valleys, and even more curves," she states. "My experiences have provided their own unique set of challenges but have shaped my perspectives and opened doors for opportunities. I am so fortunate I was raised to know it's Ok to challenge the status quo, ask questions, stand confidently, and to never settle for less than I deserve."
Lisa made the decision to bootstrap her company, allowing her the flexibility to innovate without restrictions, educate the market on a technology that didn't exist before, and find resources with the right skills to support a future technological vision.
"A few of my challenges included being advised repeatedly that automatic play video-in-email is a dumb idea, that you can never make it happen as a female, and to top it off, you are not a coder or developer," she reveals. "I realized that indeed I was not a developer, but I knew I was a visionary and a female digital disruptor with a dream."
Lisa did not allow these limiting beliefs to stop her and actively chose to remain focused. After several failures and restarts, she was able to assemble her technical dream team onboard EyeMail.
"I knew when I started, my journey would not be an easy road, but I made a commitment to light a trail forward and to create a new space for digital innovation and the advancement of women in tech," says Lisa.
Further challenges included lack of funding, limited access to introductions and opportunities, lack of an immediate support system, and technology challenges with compatibility issues.
"As a black female technology innovator, with patent-pending technologies, I still experience unconscious bias as the CEO and Founder," Lisa explains. "I remain inspired to know I have sustained and thrived through adversity, and my life has help me learn, grow, and fuel my fire, because I know I can win, continue to build an empire, make a global impact and difference."
"Greatness can be born from anywhere in the world and Significance is not geographically defined." ~ Lisa S. Jones
A personal journey of discovery & accomplishments
Lisa believes that success is a personal journey of discovery, accomplishments, goals, and life's motivations. "My driving force over the years has been shaped by my beliefs and definition of success and the many touchpoints it covers," she elaborates.
Lisa measures her success in terms of whether she has lived up to the goals and promises that she sets forth, in terms of gratitude, delivering her best, facing her fears, being kind, paying a good deed forward, correcting mistakes, delivering viable solutions, adding value and learning from other thought leaders.
"We sometimes place a lot of pressure on ourselves to define and reach success but if we focus on the daily work, it's a lot easier to achieve and celebrate each milestone, along the way in the journey," she affirms.
Among her many key achievements, Lisa includes the following:
Launch of Super Bowl EyeMail communications to millions.
EyeMail pre-launch of Microsoft Windows 11, to millions of inboxes.
Delta Air Lines 'Catalyst of the Year' award for impact on digital email strategy.
Stevie Award for 'Innovator of Year'.
Microsoft Mentor Protégé Company and collaboration Microsoft Innovation Center Senior Architects.
10 Most Iconic Business Women to Watch, 2022
Atlanta's Top Influential Innovators, 2022
Billion Dollar Roundtable – Minority Women Business Owned Strategic Partner
Forbes Magazine article on Compassionate Leadership at EyeMail
The 10 Most Inspiring Businesswomen Making a Difference, 2022
20 Innovative Companies to Know in 2021
Top 29 Email Marketing Experts
10 Businesswomen to Admire in 2021
Top 10 Thought-Leader, Marketing, Thinkers360
EY Entrepreneurial Winning Women Honoree
10 Most Influential Leaders to Follow in 2021
Influential Businesswoman Award 2021
Black Enterprise Innovator of the Year Honoree
Madam C.J. Walker Business Achievement Award
Most Influential Email Communications Specialist
Board member of the Technology Association of Georgia Diversity & Inclusion
"I am humbled, grateful, and inspired to celebrate and reach key milestones in the journey and proud of our long-standing partnerships with Fortune 500 brands," says Lisa. "I am proud to have created a successful company, in honor of the memory of my Mother, Gladys D. Jones. This was a core goal that inspired me to keep going and to keep reaching for excellence. I am also honored to have collaborated with such a talented diverse global team, several amazing mentors, and excited about the continued international expansion of the EyeMail brand."
Making EyeMail the standard of personalized marketing communication
As the Chief EyeMail Officer, Lisa ensures that the global team keeps an eye on innovation and market trends. Q2, 2022 will reveal EyeMail's release of their SaaS Platform, to empower customers to create an account and upload their videos in seconds.
"The EyeMail SaaS platform will deliver a key step forward to connecting our world-class customers direct with a state-of-the-art automated portal," she says.
EyeMail will continue to shake things up, with the premiere of their Video-in-Text release, will enable video messages at 15k in size with no downloads required, to be sent in-text messaging to play automatically on mute in-text and play within the text message string.
In future release, EyeMail will be infused with AI to create something even more magnificent, taking everyday human interactions to the next level. Their on-going roadmap includes continuing to align with more early adopters and market leaders in multiple industries globally, who seek to explore and experiment with new and innovative ways to communicate and engage with customers.
These forward-thinking brands also seek to stand out from the inbox clutter and deliver iconic experiences that inspire action, and will also expand into additional industry sectors for entertainment, healthcare and hospitality.
"It's an exciting season in motion!" exclaims Lisa. "EyeMail will continue to redefine the industry standard for video-in-email, and perhaps become an entry in the Oxford dictionary. Looking forward to one day hearing, 'Did you receive the EyeMail I sent today?' We believe EyeMail is to Email, what modern day cinema is to silent films."
Remember you are great, no matter what
Lisa's message to her younger self is "You Got This" and you are great no matter what. In addition, her inspirational advice for aspiring women entrepreneurs includes the following thoughts:
Don't be afraid to try new things frequently, don't' be afraid to hit the send button, the world will not fall apart if you don't get everything right today, tomorrow is always just a day away, forget about being a perfectionist.
It's perfectly fine to be vulnerable. It's ok not to have all the answers and seek mentorship from multiple diverse sources. It is OK to be uncomfortable. Speak positive thoughts into existence.
Definitely learn about Imposter Syndrome and how it may affect our thinking and learn solutions and strategies to overcome and manage these negative thoughts, when they may arrive from time to time.
 Stay true to yourself and your vision and keep pressing forward with laser focus. Remember to read inspiring stories of others and know that all things are possible.
Realize you are enough, trust your intuition, find an inspiration, remove negative energy, when you get lonely connect with successful images, celebrate the small and large wins, listen more than you talk, it's ok to show emotion, enjoy the journey, be bold, embrace your fabulousness, be unconventional and happy.
Continue learning from others, always be willing to help others and remember in all things and no matter the season, to practice gratitude! Every single step counts towards reaching your goal.
Lisa S. Jones is a Female Disruptor, not only because she represents all of the ingredients required to win and excel with the right perspective, attitude, and product lines, but because she and her thoughtfully cultivated global team demonstrates passion, tenacity and vision required to actively execute as primary in the best interest of Customer's needs, goals and objectives.
Remembering to serve in gratitude and always placing customers' needs ahead of their own interests, has proven to be a golden factor in EyeMail's magical success.