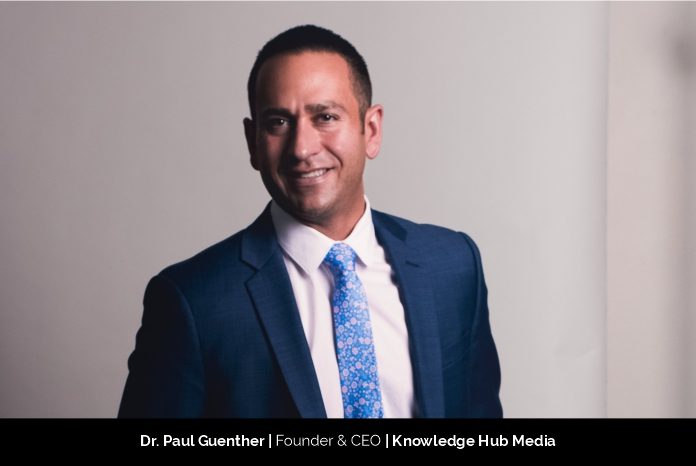 To serve demand generation and content syndication as its core competencies, Paul Guenther founded Vertical Insider, a b2b advertising company. In the fall of 2002, he enrolled at Penn State University. Paul was undecided about what he wanted to do at the time. After considerable consideration, he decided that he wanted to attend law school and chose the major of Crime, Law, and Justice. In the spring of 2006, he received his B.S., which was followed by a (brief) stay in law school. Paul was enrolled in a part-time evening program at the time, but he wasn't quite ready for it. He says, "I was working full time during the day, going out with my friends at night, and not at all focused on what I should have been focused on. Whether or not it was a blessing in disguise, I'll never know, but I ended up going back to school in 2008 to get my MBA with a concentration in Marketing Management (Wilmington University)."  
Paul shares, "Once I had my MBA completed, it was off to the races with the company. During that timeframe, somewhere in 2012, I started working on what would become "Vertical Insider." I worked pretty tirelessly throughout most nights to get the thing up and off of the ground; everything from sales to marketing to accounting and website development. I was truly a one-man shop back in those days. But (very) fortunately for me, over the next couple of years, I was able to bring my first few employees on board–most specifically, Lauren DiMondo, who was extraordinarily instrumental in helping me achieve my goals; on both the client services and sales sides of the business. I cannot stress enough how important Lauren was/is to the company. I also went back to school around that time to get my Doctorate in Business Administration, finally graduating in January of 2020."
Perspective on Industry, Business and Customers
The greatest strengths, according to Paul, are found in a few particular areas. First, he'd want to discuss analytics. Working with big data and business analytics is something that people have done for a long time and have always taken seriously. He says, "We have been analyzing data and creating our own models and simulations internally for several years now—way before the term "analytics" became mainstream (and frankly overused). A few years back, we actually started an intent data analytics platform internally. We called it: Intent DataCloud."
According to Paul, Intent DataCloud (IDC) tracks B2B content consumption across a variety of channels, including content syndication, white paper and webinar registrations, website and landing page analytics, and social listening, among other things. In a nutshell, IDC examines firms' (and their employees') digital behavior in order to understand when and where active demand for certain products, services, and solutions exists. As a consequence, IDC's intent data analytics provide unique insights into which firms are likely to be in "research mode," as well as the active purchase cycle, for a variety of technological solutions.
Paul goes on to say that the consumer is always the most essential consideration. That's just the fact, which is why he'll tell you that providing a fantastic customer experience is the organization's top priority.  He states, "Without customers, you don't have a business, and by proxy, you don't have a business. Enhancing the customer experience is always at the top of our list, and at the end of the day, we always want to make sure that everyone is completely satisfied. It usually comes down to a few things: responsiveness, quality of the product, and customizability. When a customer has a question, we're there to answer it immediately – even in cases when we don't yet have a complete answer."  He further adds, "Over the 12+ years that we've been doing this, we've evolved our practices and QA/QC measures to ensure only the finest in data quality – in terms of both data integrity and lead scoring mechanisms."
Some of Vertical Insider's clients choose to utilize more traditional lead distribution methods, while others prefer the firm to employ bespoke API interfaces, lead import systems, and form post technologies, according to Paul. To go above and beyond the customer's expectations, the team is always delighted to tailor a product in terms of both targeting and delivery technology.
Seeing Pandemic as a New Learning
The onset of COVID-19 ("the pandemic") was an uncertain time, and it definitely impacted Vertical Insider just as it did virtually everyone else on the planet. But Paul feels fortunate, fortunate in that the company was affected less than a lot of other companies out there. He states, "We felt it a bit in the advertising/technology world. As you might imagine, some companies do cut their advertising budgets when times get tough. But the industries that really took a pounding were those like restaurants, hospitality, travel, and retail. We're very fortunate that the effect we felt from COVID was relatively minimal compared to a lot of other companies out there."
In terms of corporate operations, however, the outbreak of the pandemic did not trigger too many adjustments. Prior to COVID, Vertical Insider was already working remotely at 40%, so the transition to 100% telework was pretty simple; that is, everyone had previously been working remotely at least two or three days per week prior to COVID. It was simple to become completely remote.
Because all of Vertical Insider's clients and prospective customers were abruptly evacuated and "out of the office" by mid-March 2020, the company's crew placed a greater focus on email marketing. Email marketing analytics became very important; as they helped the company establish best practices for send times, send days, and subject line content to encourage increased engagement rates. Paul says, "This was honestly a blessing in disguise, as it gave me an opportunity to take a "data deep dive" into our email metrics."
Initiatives to Assuring Success
As for the company and how it started, Vertical Insider was established in 2012. At its inception, Vertical Insider was a more niche B2B technology platform that focused on audiences within Value Added Resellers (VARS) and Managed Service Provider (MSP) companies. However, the firm soon expanded to include a larger clientele in the advertising-technology industry. It has been a major participant in the B2B advertising industry ever since. According to Paul, the company's key expertise is lead generation, often known as "demand generation" and "content syndication" in the business. It generates highly focused leads for its clients by using content syndication through assets such as white papers, webinars, case studies, and other similar assets. As Paul mentions, "Most of our clients are in the software and technology industry – and when they're not, they are usually advertising/media agencies working on behalf of the former. Most of our clients are promoting technology platforms and software solutions that they are looking to find net new customers for."
Motivated by Friends and Family
As per Paul, his family helped him to shape his success. He states, "My wife is one of the smartest and hardest-working people that he has ever met." He further says, "On top of all that, she's a great mother to our son, and she even puts up with my non-sense. I really can't think of anyone more perfect—or more inspiring—than Allison Guenther." In Paul's mind, she is as close as one gets to perfection. For the most part, Paul thinks of his employees as family, too. He asserts, "I think it's my family and my employees that keep me motivated to carry on and do better. After the initial few years as a startup, it really has been my family, friends, and employees. Those are the folks who have been motivating and driving me these past several years."
Principals to Get Success
Vertical Insider has had a lot of major accomplishments over the years, including making the Inc. 5000 list three years in a row (Inc. Magazine), being honored as an Entrepreneur Magazine Entrepreneur 360 company, and being named one of the best privately owned companies in America  also three years in a row. On top of this, it was named one of the most innovative advertising technology companies of 2020-2021 at the InterCon awards conference and has appeared in many big-name magazine publications over the years. Paul says, "We have also been featured on several radio programs and podcasts and have even been the subject of chapters in a couple of different book publications (non-fiction books, of course)."
Paul thinks his goals as a business leader and his messages to aspiring business leaders really boil down to a lot of the same things. A list of principals that Paul does his best to live by. Paul breaks down all the principals, which are below:
Believe in yourself, whether you think you CAN or think you CAN'T. Either way, you're going to end up being right about it.
Take ownership Hold yourself accountable.
Always learn from your mistakes: Don't ever make the same mistake twice.
Don't get too confident: "Smooth sailing" is a real thing – but it's not a permanent thing. It's allusive, and ultimately, it's a temperamental construct.
Live in the now: When you think about it, the present is the only tense that you can actually control. The past has already happened. And the future is basically just a goal. A projection for what you want to happen down the line. The present is actually happening (right now).
Don't burn your bridges: You are a lot more successful when you're building and cultivating relationships. And generally speaking, you're usually happier for it, too.