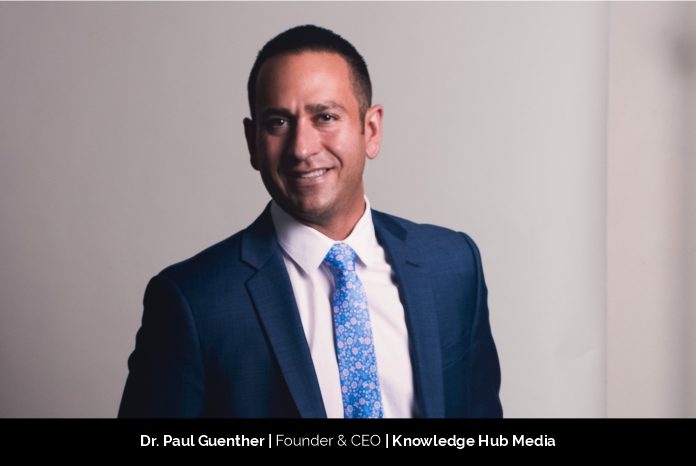 A true leader's leadership approach rarely changes based on wavering circumstances or external forces, including this current era of ever changing, ever improving technology. External factors may undoubtedly have an impact on the organisation, or they may force the organisation to follow other courses in specific instances. However, if a leader maintains a goal-oriented mind-set, never allows emotions to cloud judgement, and refuses to make excuses for failures, these changes pass with time. Dr. Paul Guenther, the Founder & CEO of Knowledge Hub Media, is an example of such unwavering leadership who never feared pressure and always tried to crave pressure and thrive under it.
Knowledge Hub Media
Knowledge Hub Media's offerings are diverse by their very nature. The company's core competencies fall into the areas of demand generation and content syndication. The company states, "We promote our clients' white papers and webinars to generate and deliver highly targeted, highly qualified b2b sales leads. As each of our clients has different products, solutions, and services, they each target different segments of people (and companies). "
The company's offerings are customized, fully tailored to target folks within the right job roles at the right companies that are typically already in the buying cycle for its clients' solutions. The leads that the company generates originate from companies that are, at the very least, currently researching the solutions offered by the clients. In most cases, though, they are in the process of evaluating vendors and getting ready to make a purchase decision. This is where Knowledge Hub Media' come in, where it really shines by promoting to its targeted groups of people. The team says, "We line our clients up with the perfect buyers, at the perfect time. That is, companies that not only have a need and budget for the products and services that our clients offer, but are also ready to pull the trigger and make a purchase decision. "
Focus on what the consumer wants
New ideas are sometimes the result of a lot of forethought and experimentation. Paul describes how many of the finest ideas have come from just listening to customers. He believes that investing time in learning more about customers' desires and needs, what they have now, what they don't have now, and what they wish they could have, is critical for developing and verifying new ideas, products, and services that drive performance metrics and are well received by the partners.
Even though the company's clients are mostly in the B2B technology industry, Paul considers them to be rather distinctive. Each customer has a unique solution, or set of items, that is tailored to a certain demographic. Enterprise software solutions, for example, are utilised by IT experts, marketers, sales teams, HR professionals, and financial specialists. In fact, the targeting has become a lot more specific than that. Then there's the fact that not only are the job positions unique to each client, but so are the sorts of businesses they target. As a result, some businesses may target SMBs, while others may target mid-market corporations or enterprises with 5,000+ people. Paul says, "Being at the helm is always interesting because I face new challenges almost every day. Not just from a standpoint of sales, but also marketing, operations, finance, and handling our technology infrastructure. There is truly never a dull moment. "
Fulfilling Promises to the Clients
Paul sees clients and partners as the source of inspiration for the company's goods and services. According to him, the majority of the company's challenges revolve on campaign fulfilment issues, such as meeting very challenging specialised targeting requirements and meeting lead volume targets before the campaign's deadline. He mentions, "We are a B2B firm, which means we sell directly to companies rather than consumers. Anyone who wants to learn more about our goods may typically do so, as can anyone who wants to provide feedback on our products. They're more than welcome to offer it up. "
However, the team at Knowledge Hub Media makes it a point to never "overpromise and under deliver." The team anticipates lead output and delivery better than anybody else in the business. He opines, "Nonetheless, we are usually conservative in our forecasts for our clients. This adds another degree of security, ensuring that everything runs well and that we stick to our goals. "
A Casual Work Environment
Knowledge Hub Media's workforce had always maintained a great work-life balance, even before the COVID-19 outbreak. Employees only needed to come into the office two or three times a week, depending on the time of year, and for a total of four hours on those days; otherwise, everything was done remotely. Paul says, "Let's jump to POST COVID-19, and believe me when I say that we aren't there yet, but once we know, I believe our approach will be even more casual than it was before the epidemic. Knowing what we all know today, what we're capable of even after three months of working remotely, it would be stupid of me not to loosen things up even more. "
As a leader of the organization, Paul makes an effort to treat everyone with the utmost deference. He asserts, "Treat them like you would a member of your family or close friends. We haven't lost a single employee in 11 years. Nobody has ever been fired or laid off, and no one has ever given up their job. "
A Keen Sense of Living  
To keep a balance between personal and professional life, Paul does not allow the two things to get intertwined in any way. He says, "I do not work weekends. I work long and hard hours, all week, Monday through Friday, and to that point, I owe it to my family and myself to ensure that I don't get wrapped up in business dealings on Saturdays and Sundays. The weekend is my time for leisure and personal experiences. "
Aspiring to Advance with Every Passing Day
The marketing and advertising industry is inherently based on technology, and, as such, it is always changing. For this reason, the team at Knowledge Hub Media, too, always aspires to change and innovate. The company has experienced annual revenue growth year over year for 11 of the last 12 years, but Paul's vision of the future is never revenue or sales based. He deems, "I like to think that in five years, we'll be at least five years more advanced than we are now as a company – just as technology advances each and every year. Optimally, though, I like to think that we'll be closer to 10 years more advanced in five years by staying ahead of the curve, just as we have been since our inception. "
Advice for emerging business Leaders
As per Paul, if one can't get things done one way, one tries doing them a different way. He states that if path A is blocked and path B is too cumbersome, entrepreneurs better be ready to dig out a path C. He advises, "Take responsibility for everything, audit your time, and treat everyone with respect. Treat your employees the same way that you would treat your clients. Treat your vendors the same way that you would treat your employees. Everyone plays an important role in business, and everyone deserves the same level of respect, politeness, and encouragement. "
Also, he adds, "Make money. That's the name of the game. If you are making money, and your employees are making money, and your clients and vendors are making money as a result of your business process, you are doing a damn nice job. "