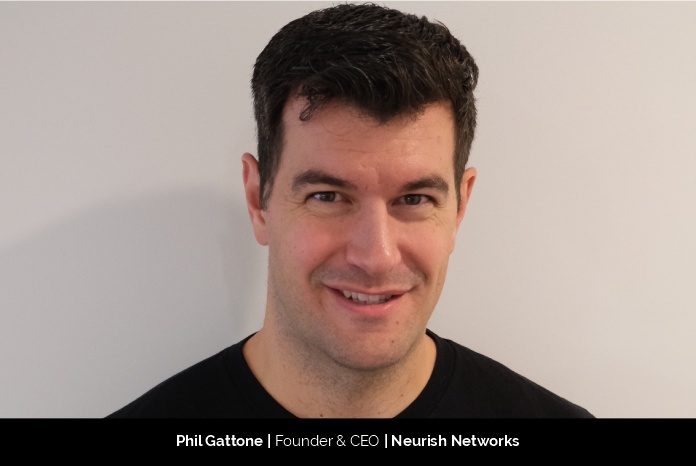 Doctors are currently mostly concerned with people's medical problems. They write prescriptions, conduct tests, and do operations, among other things. There isn't much in the way of social assistance. When you've just been diagnosed with a chronic illness, knowing someone else who is going through the same thing may be quite beneficial. That's where Neurish comes in. Founded by Phil Gattone, Neurish builds applications and tools to assist patients, caregivers, families, and friends impacted by epilepsy and other chronic conditions. The company's applications give doctors something to refer their patients to for social support. Imagine getting diagnosed with a chronic condition and being prescribed medication along with a reference to a Neurish application for connecting to others with the same condition. Phil envisions Neurish becoming a part of every visit to the doctor's office.
Personal Experiences that Became the Reason for an Extraordinary Journey 
Neurish Networks was created based on a personal experience Phil had growing up. When Phil was four years old, he was diagnosed with a seizure disorder called epilepsy. He recalls, "My first seizure happened in the middle of the night, and it came out of nowhere. It was frightening. My parents thought I was dying. The doctors thought it was just going to be a single seizure, but I went on to have thousands of more seizures and, at one point, I was having almost 300 a day. " 
The medical impact of the seizures was terrible. But the social impact was even worse. He was isolated, bullied, and made fun of because of the seizures. He struggled with things that were normal for other kids his age. Luckily, Phil had an amazing support system that included his parents, brothers, and sister. They were there to support Phil and were always there for him when things got hard. He says, "They would be my friends when I felt isolated." 
Phil asserts, "Because of my support system, I was able to graduate from high school and go to college where I graduated with a degree in electrical and computer engineering. After graduating in 2009, I moved to the east coast where I developed software for defense contractors and other government organizations. I owe much of my success to my network of support. "
He also adds, "Growing up with epilepsy, I have met thousands of people impacted by epilepsy and very few have the support system I did. I saw this as a valuable opportunity to create something that could directly impact people's lives. So, using my background in technology, I created Neurish Networks. " 
He continues to say, "My life before Neurish was different. I had more free time, but I didn't feel like I was doing anything meaningful. Now, I am much busier, but I enjoy my work and feel like I am doing something that matters. "
Phil is proud of graduating from several startup accelerators and making a lot of valuable connections. He is most proud of the growth the company has had despite its setbacks. He says, "Our user base is small, but it has grown 62% in the past 7 months and our user engagement has skyrocketed. I am proud of the perseverance and determination we have shown while moving forward. " 
Roadblocks that Motivate Improvement 
Phil thinks the biggest roadblock has been trouble finding support. He says, "This roadblock has just reinforced the belief we have in our mission and that belief just motivates us to move forward." The team asserts, "We learned that we truly have a passion for what we do, and we are willing to do whatever it takes for us to succeed, no matter how long it may take."
Neurish Networks
Neurish Networks develops applications, tools, and other software that helps improve the lives of patients, caregivers, friends, and families impacted by epilepsy. So far the company has developed two applications:
FriendsWithEpilepsy.com is a social network for patients, caregivers, friends, and families impacted by epilepsy. The company states, "When you join, you can create a profile and connect with other people with similar experiences locally or globally. You can connect with others based off seizure type, medication, year diagnosed, and other epilepsy criteria. You can share your experience and post questions or discussions and receive responses and feedback from the community. "
EpilepsyDocs.com is an application that lets you browse, rate, and review epilepsy specialists around the country. It provides a map that displays epileptologists located all around the country. The team says, "If you're looking for a new specialist, want a second opinion, or just want to share your experience, you can do that at EpilepsyDocs.com." 
According to Phil, Neurish Networks is constantly on the lookout for new competition within the digital health industry. It uses sites like Crunchbase and Pitchbook to stay aware of new companies and technologies being developed. It also has a large network within the healthcare community and communicates with its connections to learn of any new developments within the industry.
The CEO of Neurish Networks
Phil has a lot of obligations as the company's CEO. He explains the company's objective as well as the measures required to achieve it. He focuses on recruiting top talent, creating business values, and maintaining positive company culture. He's discovered that giving the company clear vision and building a positive corporate culture inspires employees because they feel like they're part of a team and know where the company is headed.
At the office, he spends the first hour of the morning checking emails and setting mini-goals he wants to meet by the end of the day. These goals can be anything from answering several emails, developing part of an application, or meeting with several clients or investors. He spends the rest of the day trying to meet those goals.
The right person can fill the gap between work and life
Phil believes that finding the perfect person in one's personal life may make a significant difference in one's work life. He says, "I am getting married in a few months and my fiancé has always been supportive of my work with Neurish. She makes it very easy for me to find the right amount of work-life balance. "
Impactful Service is the True Success 
Phil defines success as the number of individuals he can assist through the company's platform. He thinks that, as entrepreneurs, the aim should be to do something that will have a lasting impact on the world. He wants to create something that will impact society.
In his opinion, the best way to do this is to assist others. People don't always remember what a company offers them; instead, they remember how they felt and how it affected their lives. "The more people we impact, the more success we will have," says Phil.
Concentrating on Steady Progress and Development 
Neurish Networks is in the process of raising seed money and is seeking investors. To incorporate into its services and give a means for consumers to interact with the information they find important, the company has been working with a seizure watch startup and a conversational AI company. According to Phil, the company aims to build mobile applications to complement its online applications in the next few years, as well as branch out into other chronic diseases such as stroke, Parkinson's, and Autism.